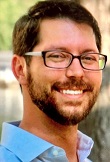 Daniel Bowling, a doctoral student in Marine, Earth, and Atmospheric Sciences at North Carolina State University, will study oyster habitat over the next two years at the North Carolina Coastal Reserve & National Estuarine Research Reserve as a Margaret A. Davidson Fellow recipient.
Bowling, who holds a bachelor's in environmental science and marine biology from the University of North Carolina Wilmington, will assess the effectiveness of using remote sensing to monitor intertidal oyster habitat during the fellowship. This work is to advance his dissertation research to develop methods for a fishery-independent survey program for oysters in the state.
The Margaret A. Davidson Fellowship provides funding to graduate students to conduct estuarine research within one of the 30 reserves in National Oceanic Atmospheric Administration's National Estuarine Research Reserve System.
Recent estimates find that North Carolina has nearly 5,000 acres of intertidal oyster reef habitat, but reefs are often hard to access, and mapping is very labor intensive, according to the Coastal Reserve.
Bowling is to help develop an approach that uses remote sensing to map the distribution of intertidal oyster reefs with unoccupied aircraft systems, or drones, and high-resolution satellite imagery. He will pair on-the-ground sampling with high resolution drone images to verify the efficacy of employing remote sensing to measure the distribution and health of intertidal oyster habitat at the Rachel Carson Reserve.
His research will provide the information and analytical tools to facilitate the development of new population assessment techniques for the Reserve's resource managers and beyond.
He has worked with a stakeholder committee of representatives from North Carolina Division of Marine Fisheries, North Carolina Coastal Federation, The Nature Conservancy, commercial fishermen, and academic partners.
Through this partnership, he will ensure that mapping protocols and proposed sampling design also meet the needs of the Division of Marine Fisheries to sustainably manage the North Carolina's oyster fishery.
He also plans to provide hands-on research experiences for undergraduates during the summer through the N.C. State's Bob Simpson Minority Scholars program, which provides opportunities for North Carolina undergraduate students who identify as belonging to groups that are typically underrepresented in marine science.