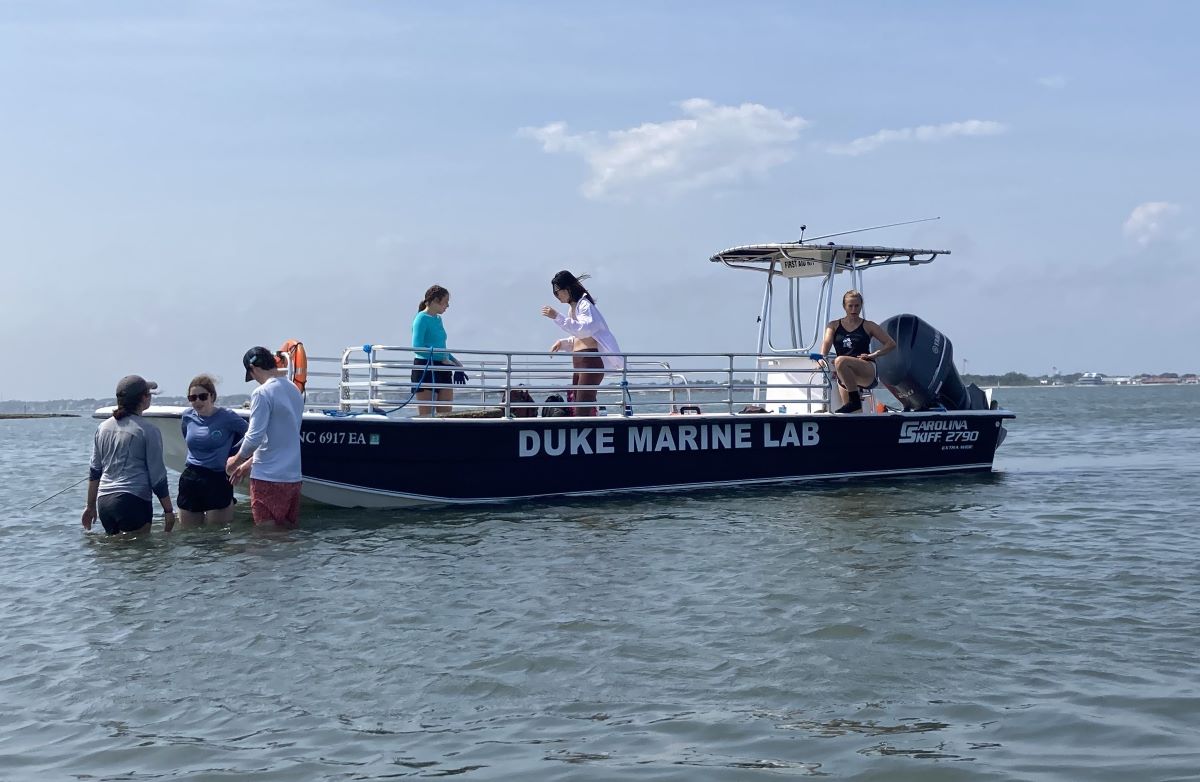 BEAUFORT – From tagging sea turtles at Cape Lookout National Seashore to writing stories on personal and ecological resilience for Carteret County middle and high schoolers, nine Duke University undergraduates were immersed in the community this spring and early summer during the DukeEngage program at the Duke Marine Lab on Pivers Island.
The program May 8 to July 3 titled "Conservation and Community: Working with education and conservation organizations in rural, coastal communities," is one of the numerous Duke University DukeEngage programs taking place across the country and beyond. The program's goal is to have students and faculty "collaborate with communities – locally and globally – to address critical social issues through an immersive summer of community engagement."
DukeEngage's Conservation and Community program supports coastal organizations with educational and conservation missions. Students in this program will work with the Community Science Initiative at the Duke Marine Lab, an initiative that increases community engagement through research, according to DukeEngage.
In its second year, the Beaufort program students worked with six area organizations, many of which have small staffs, to accomplish much-needed projects. The students were also able to go camping and take field trips to see Carteret County.
Two groups focused on youth in the community. One group worked with the Boys & Girls Clubs of the Coastal Plain's Morehead City and Beaufort locations to create hands-on science programs for club members. Another group designed a resiliency curriculum for Carteret County Public Schools.
Another two groups worked to protect sea turtles. One group created a way to track how light pollution affects sea turtles for Cape Lookout rangers while another worked with the state Wildlife Resources Commission, based in Raleigh, to create content about protecting sea turtles.
The students spent time working behind the scenes as well. At the Core Sound Waterfowl Museum and Heritage Center on Harkers Island, one group archived material for a yet-to-be-launched website about Carteret County communities. Students working with Coastal Carolina Riverwatch helped plan one of that organization's major annual events and collect resources for educators.
The last meeting for DukeEngage was July 3, when community partners were brought together to discuss and celebrate the work.
DukeEngage Site Coordinator Laura Givens, a marine science and conservation doctoral candidate at Duke University's Nicholas School of the Environment, said that the final meeting went well.
"Most of our community partners were able to attend and expressed how much they enjoyed working with the students and how impressed they were with the work they completed," Givens told Coastal Review.
She said the wrap-up session was one of her favorite parts of the entire experience.
"Our partners were really engaged with their own students, which was unsurprising since they'd been working together closely the past eight weeks, but they also seemed to be inspired by the other projects and their enthusiasm for the whole program was encouraging. All of them have said they want to work with the program again next year as well, which is great," she continued. "The students did an incredible job with every single project that we had them working on and the output will be truly helpful in our community. They were great to work with and it was sad to see them go."
Early in the morning of the last Friday in June, which was the seventh week of the eight-week program, the students were seated at tables for two in a semicircle discussing their progress with DukeEngage organizer Liz DeMattia, who led the meeting remotely. DeMattia directs the marine lab's Community Science Initiative put in place to increase community engagement through research.
During the meeting, the group helping with Coastal Carolina Riverwatch excitedly shared the details of their recent field trip to look for new water sampling sites. Coastal Carolina Riverwatch is an advocacy organization working to protect and enhance the waters of the White Oak River Basin.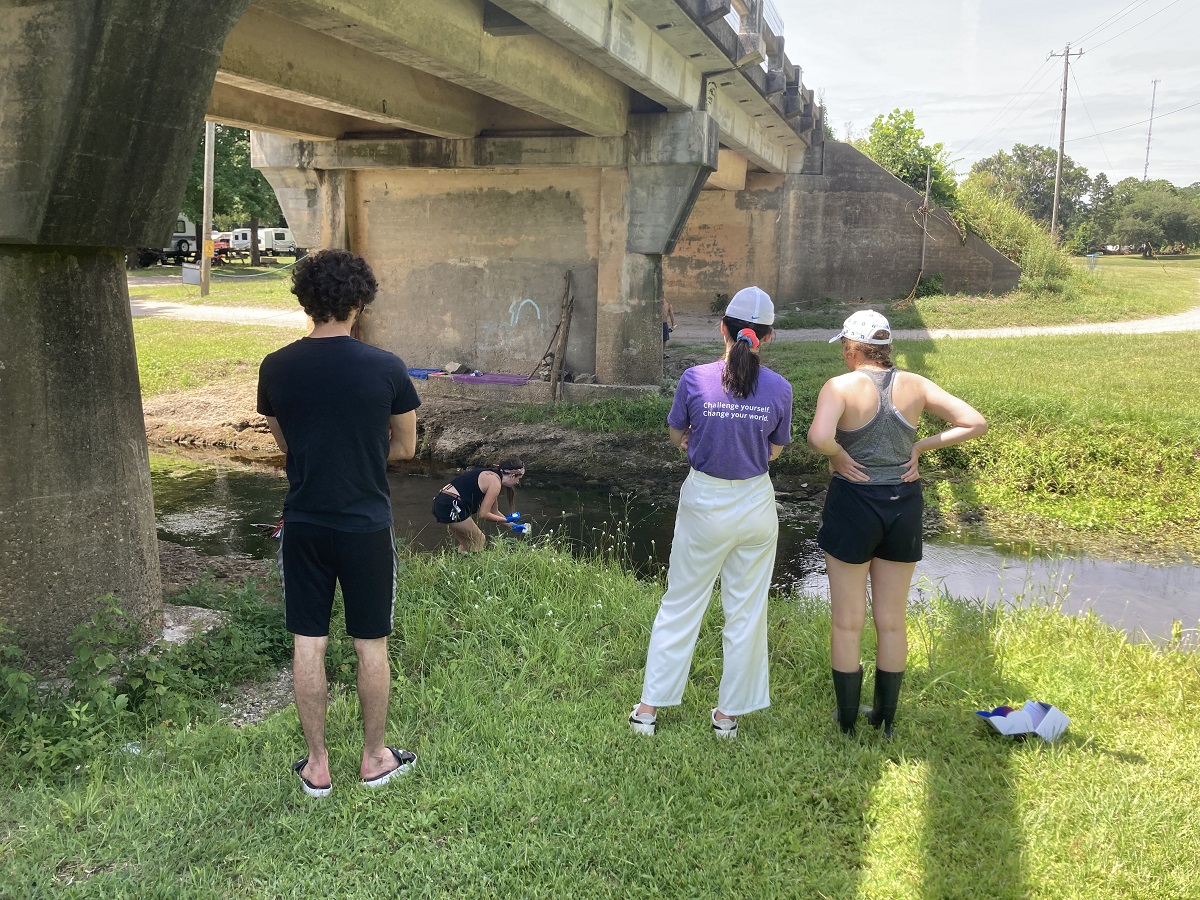 Undergraduate Amy Buckalew explained that in addition to helping with sampling, the group compiled a list of activities and resources on subjects such as stormwater, wastewater, plastic pollution and marine debris for educators to use in their classrooms. This group also helped with the annual North Carolina Marine Debris Symposium to be held in October.
Lisa Rider, executive director for Coastal Carolina Riverwatch, told Coastal Review that the organization was grateful to be a part of the student engagement and community support program offered by Duke University.
"This program is a huge value to our community environment," Rider said. "We have a small staff and as a growing organization, we are incredibly grateful for additional support and work for the mission."
Rider said the DukeEngage students pulled and consolidated educational resources on water quality issues, prioritized concerns and prepared public outreach materials including creative content. Students were also efficient in leading the due diligence efforts of comparing venues for the North Carolina Marine Debris Symposium.
Spencer Moyle, an environmental science and policy major, said during the meeting in June that the Core Sound Waterfowl Museum group was making progress digitizing material for the Carteret County community history website.
DeMattia explained that the website effort with Core Sound began with the DukeEngage program last summer. "Then this year, this group has just exploded and put even more staff and more resources onto it."
One objective for DukeEngage is to work with community organizations that do not have the staff or resources to take on large projects, such as the website, DeMattia said. Not only is it a great product these students have created but, she said, it's something that the community wants. The museum didn't have the human and monetary capital to do this without DukeEngage. "It's been a nice win-win."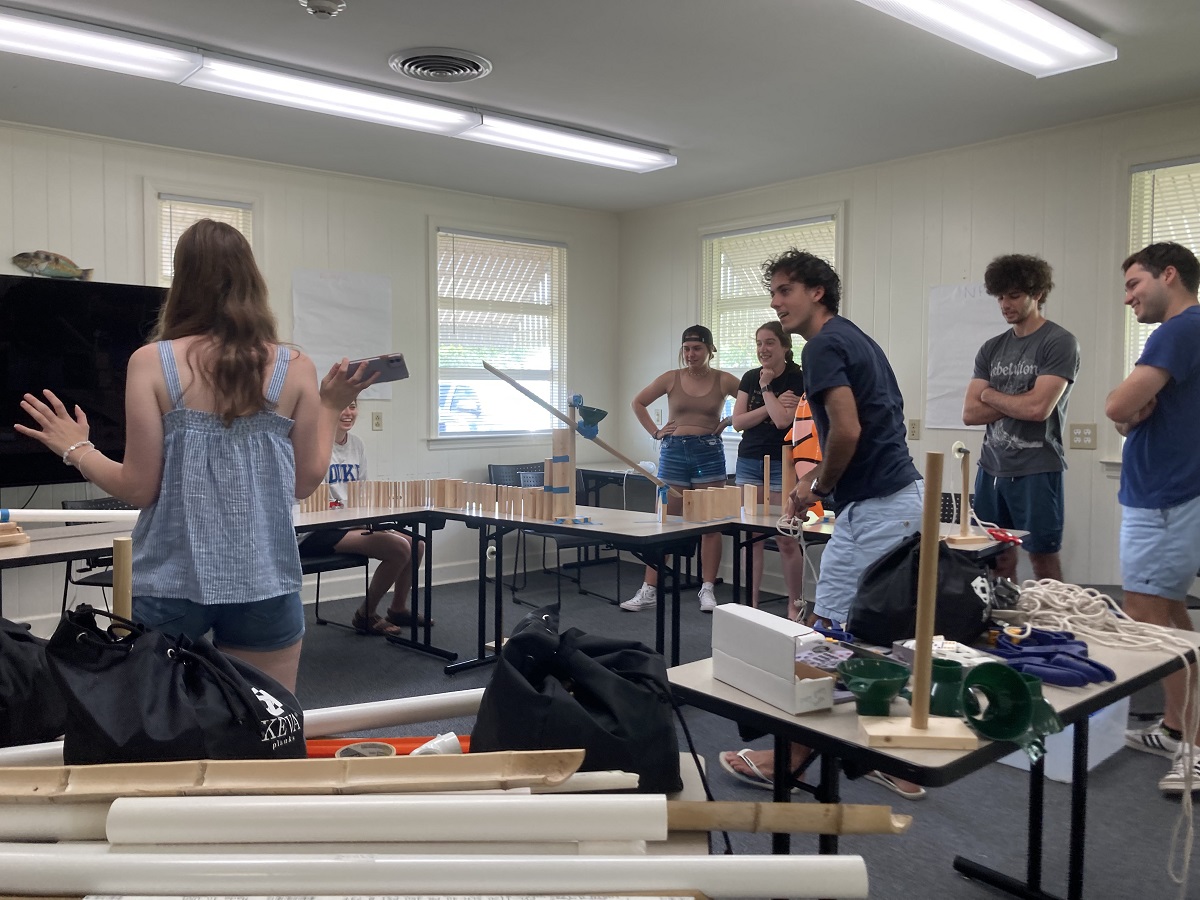 Museum Executive Director Karen Willis Amspacher told Coastal Review that this second summer with DukeEngage "was another great team of hard workers."
"Our focus was on a website that serves as a community archive for the Core Sound communities that involved website design, formatting and editing, but most of all, provided the students with a glimpse of how Down East's past has helped shape the communities we are today," Amspacher said. "Students this year got to visit many of the Down East communities in person, giving them a real-life experience to balance all the historical documents and photos the website work included."
Participant Blake Todzo, a psychology major, said the group working with Cape Lookout had been surveying activity on the protected seashore, helping with turtle tagging and researching how light affects sea turtles.
DeMattia added that the National Park Service wanted to figure out how to measure light. The group worked with scientists and created an instrument that the students used to collect data to share with the park service. "And again, this was something that rangers really wanted to do but didn't have the time or energy to do because it always comes up in the middle of the nesting and tagging surveys."
Cape Lookout National Seashore Superintendent Jeff West called it an outstanding project.
"One of the foundations of our protection efforts is that we have science to back up any regulations that might be imposed upon the public. One of the concerns we have is specific nighttime driving habits at this park," West said in an interview
The work this group did is laying the framework for understanding local habits, behaviors and impacts, West said. "What we found, although preliminary — it will need more research – is that typically nighttime drivers at Cape Lookout are few, tend to locate a camp or fishing spot and stay there, and are cautious when driving at night."
They also identified potential problems with the way campers use light at night, West said.
"Some camps leave lights burning all night, and some have brighter lights than are necessary for safety around the camp. Based on what we learned, we are putting together educational information to use next year on camp lights — what to use, why it is important to avoid bright fixed lights and when it is appropriate to use light in a camp based on sea turtle protection and safety," he said, adding that it was a great effort, timely and beneficial to the park.
Undergrad Andreas Hernandez said his group worked on sea turtle conservation projects with the Wildlife Resource Commission, "essentially just getting the word out about protecting sea turtles on the Atlantic Ocean. We've been doing that through a website that has the dos and don'ts of sea turtle conservation," she said. They also worked on a documentary.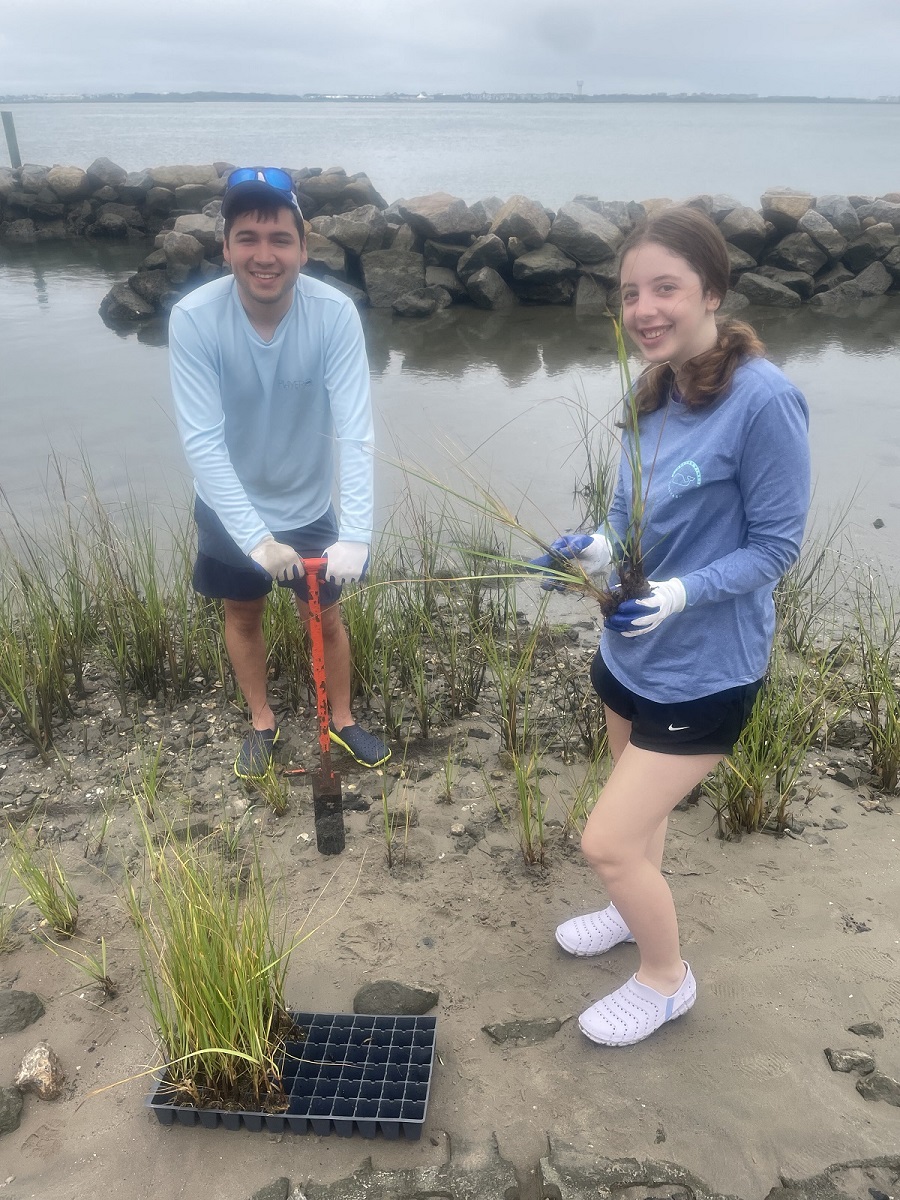 The students were able to spend time with and create programming for county youth, as well.
Participant Emma Lofgren said that the Boys and Girls Club group had worked on creating programs for members. She said the group went weekly to Morehead City and Beaufort club locations to engage in activities with the children, such as hands-on science and creative problem-solving exercises. For the older students, Lofgren said there were drone days at the Duke Marine Lab.
Spencer Moyle, an environmental science and policy major, said the group that worked with the Carteret County school system began the program by writing stories with personal resilience and ecological resilience woven together. The group read their stories to teachers during a recent workshop and developed a curriculum on resilience. He said they worked to publish their stories and create a podcast.
Moyle said during the meeting that he had joined DukeEngage for the experience. As an environmental science and policy major, Moyle said he knew that after college he would be focused more on policy. DukeEngage provided a chance to experience the community in a different way.
Other students piped up that they enjoyed camping, collecting data while spending time in nature and seeing the community's youth participate in science.
DeMattia said that DukeEngage is one of her favorite programs "because it pairs amazing Duke students with community organizations that need and love having the influx of their brains and energy during the summer. So it's such a win-win in a positive situation that is really fun to be part of."
DeMattia said the program was set to go in 2020 but was canceled because of COVID-19. Last year, the program was held virtually, and this year, they were able to do it in person.
"Last year was great and this year, it has been phenomenal," she said
DukeEngage works with the same community organizations that the university's Community Science Initiative does during the regular school year. The initiative was started as a resource for conservation and education groups here on the coast and to connect the Duke Marine Lab with the community.
When DeMattia asked the community groups whether there would be interest in DukeEngage, the answer was a resounding yes.
These partnerships deepen "the connection the Marine Lab has with the community in ways that isn't just research but is a kind of human capital into our community," she said.