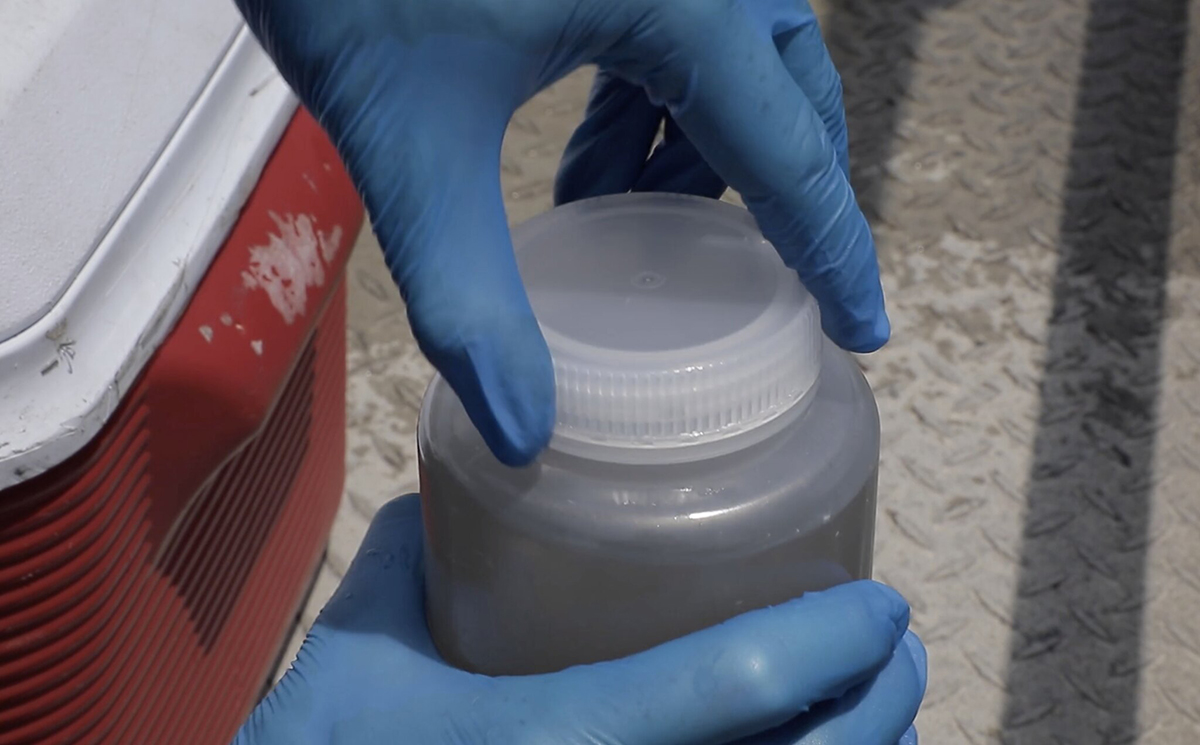 MOREHEAD CITY — The COVID-19 virus has been showing up in eastern North Carolina's wastewater during the past two weeks at levels not seen since the peak this past winter — a troubling early warning sign for community spread and illness.
The latest wastewater sampling data on the state's COVID-19 dashboard, which shows trends among people who use toilets connected to selected sewage treatment sites and is updated every Wednesday, indicate that the prevalence of the virus has significantly increased over the past 15 days and particularly in the coastal region. And the detection rate is at or above that of early 2022, when more than 200,000 new cases were being reported each week in North Carolina and more than 4,000 people were being admitted weekly to hospitals with confirmed cases.
Dr. Rachel Noble is a researcher at the University of North Carolina Institute of Marine Sciences in Morehead City. Her lab analyzes wastewater samples for pathogens and works with other academics, the state Department of Health and Human Services, wastewater utilities and public health departments to provide the data driving the dashboard. She told Coastal Review Friday that the trends mean we are still in the upswing of the pandemic.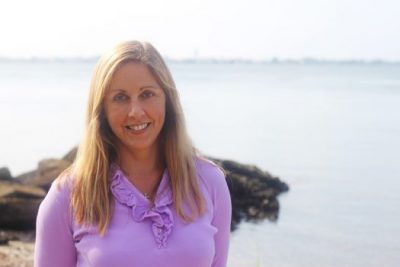 "The numbers that we're seeing now are either equal to or similar to the very highest numbers that we've seen since we started monitoring," Noble said.
The wastewater samples are screened for the genetic material in the virus that causes COVID-19. Researchers can detect the viral RNA using a polymerase chain reaction, or PCR, test.
The dashboard's latest 15-day rate of change shows detection increases of more than 100% in wastewater in Wilmington, New Hanover County, Beaufort and Roanoke Rapids. The latest percentile data show that most of the above sites are at or nearly at the peak levels seen in January, as indicated on the dashboard map by red or orange dots. But Noble said that because of recent heavy rains on the coast, the data may not fully reflect the extent of the virus' spread in the communities where sampling is done. She said it's likely a conservative estimate because of stormwater infiltration of sewer lines, a common problem with aging infrastructure.
"One of the reasons why I would interpret those numbers a little bit cautiously is that we know that — definitely in the eastern part of the state, if not in the majority of the state — our wastewater in the summer months here has been diluted more by rainwater. And so those concentrations are still reading as being high, but if we were accounting for the dilution from rainwater, they would look even higher to us," she said.
"Our sewer systems are not closed systems. They were actually engineered to be closed systems, but the sewage systems in North Carolina, they suffer from a lot of inflow that comes from rain."
Also flowing into coastal areas are throngs of tourists each week. The influx of summer vacationers means a lot more people are contributing to the wastewater systems here. And in coastal communities where there is wastewater monitoring, there are more and more viruses detected in the systems, Noble said.
"We are getting this constant influx of new community members and a portion of those are infected. They might be asymptomatic. They might do what a lot of people are doing and say, 'Oh, I have just a little cold,' and keep going through their vacation, but they're still contributing viruses to the system," Noble said.
The more people who are exposed to the virus, the more opportunities the virus has to evolve and become more easily transmissible or cause more severe symptoms.
Viruses constantly mutate and these changes sometimes result in a new variant. According to information from the Centers for Disease Control and Prevention, the omicron virus spreads more easily than other variants but has generally less severe symptoms. And while omicron is still a variant of concern, it has evolved with numerous sublineages. These are still referred to as being in the omicron family, "But we've gone all the way from BA.1 to BA.2 and now we're at BA.4 and BA.5," Noble said.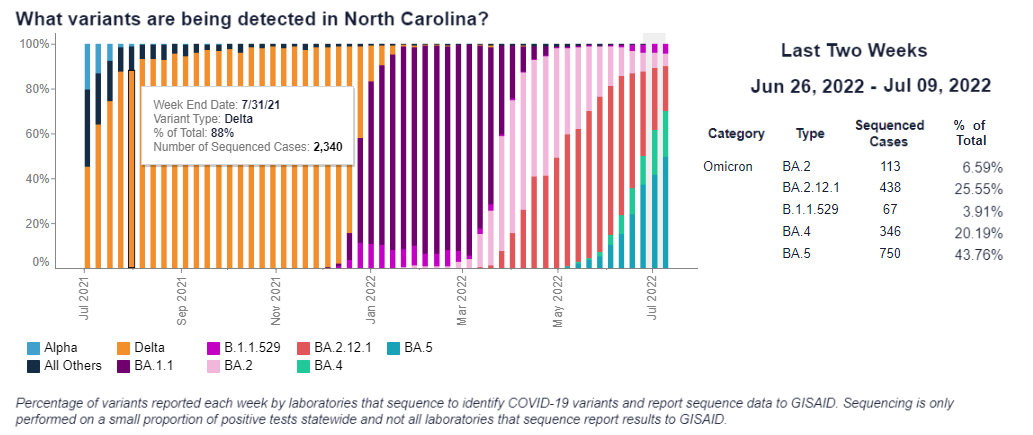 "When we do our analysis in the laboratory, we're trying to basically figure out what the most dominant current lineage is or what the most dominant current variant is in any given location, and what we're seeing in North Carolina right now is BA.4 and BA.5. They're still an omicron-type virus, but they're not the original omicron that we saw in December and January," she said.
And while the BA.5 variant is highly contagious, the trade-off is that for most people, symptoms have been milder, especially those who have had a previous coronavirus infection or were vaccinated.
The CDC has labeled 41 of North Carolina's counties as high COVID-19 community levels because of BA.5. The number is up from 18 the previous week. These counties have a high risk of illnesses that could strain the healthcare system. Many of these counties are on the coast, especially in the northeastern part of the state. The BA.5 variant is causing repeat infections, including in people who have recent past infections from other variants or were vaccinated.
Meanwhile, many — all of us — are suffering from pandemic fatigue and some may be letting down their guard. Others may be resigned to the fact that everybody will at some point get the virus. Noble said she understands the mindset.
"I think everybody is going to get it," she said. But, she added, there's still the problem that if people think, "Well, everybody's going to get it, put away the masks, go to concerts, do what you're going to do — normal life," the virus spreads and mutates even more.
"We keep on giving the virus opportunity to mutate in a way that actually sends us right back to those really dangerous variants like delta and like alpha, which caused a lot of hospitalizations and a lot of deaths and a lot of very, very serious illness and long-term illness for people that were either obese or had diabetes or some in some cases, just genetic diseases," Noble said.
A premature return to pre-pandemic life comes with the risk that new variants will mean hospital beds are unavailable and elective surgeries must be postponed, she said.
"I feel like we're playing exactly into the virus' hands by allowing that circulation," Noble said.
Officials say vaccines remain highly effective in preventing severe outcomes including hospitalization and death from COVID-19.
"While Covid variants continue to infect people, we have the tools to protect ourselves from the most serious effects of this virus," Gov. Roy Cooper said last week. "Get vaccinated and boosted, wear a mask indoors in crowds if you believe you need better protection and if you become infected, talk with a health professional quickly about effective treatments like Paxlovid. Cases are on the rise with this latest BA.5 variant so I encourage all North Carolinians to know their risk and take steps to protect themselves."
The CDC and FDA announced last week that the Novavax COVID-19 vaccine, a different type of coronavirus vaccine, may be used by adults ages 18 and older when it becomes available in the coming weeks.
"Today, we have expanded the options available to adults in the U.S. by recommending another safe and effective COVID-19 vaccine. If you have been waiting for a COVID-19 vaccine built on a different technology than those previously available, now is the time to join the millions of Americans who have been vaccinated. With COVID-19 cases on the rise again across parts of the country, vaccination is critical to help protect against the complications of severe COVID-19 disease," CDC Director Dr. Rochelle Walensky said in a statement Tuesday.