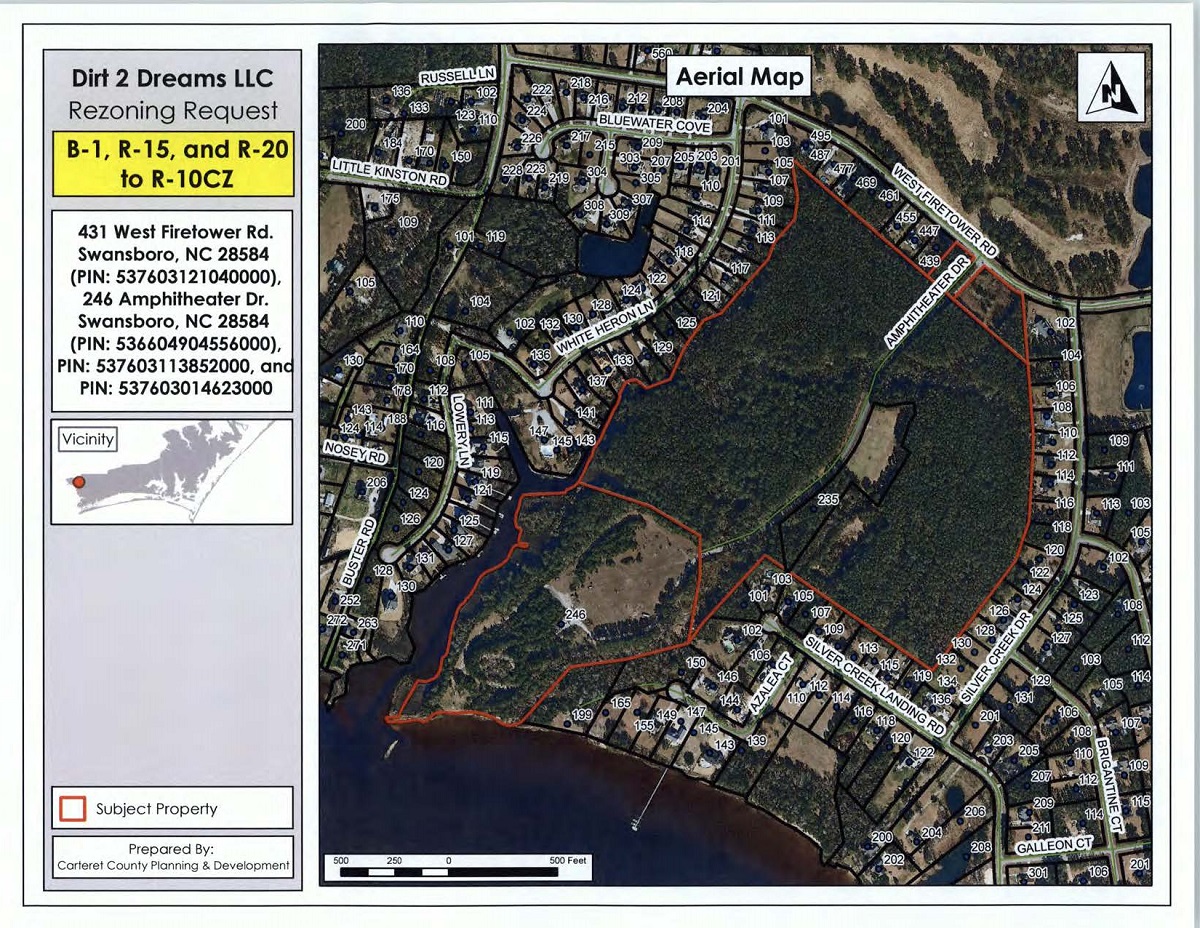 Reprinted from Carteret County News-Times
Carteret County commissioners Monday night cleared the way for the next major development in the western part of the county.
During its monthly meeting in its chambers in the administration building on Courthouse Square in Beaufort, the board voted unanimously to rezone 82.31 acres of property off West Fire Tower Road and Amphitheater Drive near Peletier from B-1 (General Business District), R-15 (Single-Family Residential District, and R-20 (Single-Family Residential District) to R-10CZ (Single-Family Residential Conditional Zoning District).
West Fire Tower Road is off Peletier Loop Road, which connects to N.C. 58.
The county planning commission meeting had recommended approval of the rezoning request during its meeting in May.
There was little discussion and no debate before the vote to rezone the waterfront property for Dirt2Dreams LLC. County Commissioner Jimmy Farrington of Emerald Isle is a principal in the LLC and was recused from voting. The North Carolina Secretary of State's office lists Keith Byrd of Emerald Isle as manager of Dirt2Dreams.
Commissioner Robin Comer, who like Farrington represents a portion of western Carteret County, praised the plan for the project, which is known as The Hamptons on the White Oak. It is proposed to include 167 single-family homes, townhomes, bungalows and cottages with possible amenities of a tennis court, chapel, dog park, bocci ball, pickleball courts, walking trails and a marina.
"I like the open space," Comer said. "It looks like a great plan."
The site was formerly known as the "Worthy of the Lamb" area after a long-running religious play performed in an amphitheater.
Engineer Ron Cullipher of Morehead City, who represented Dirt2Dreams at the meeting, said he is working with the State Division of Coastal Management to obtain the necessary Coastal Area Management Act, or CAMA, permits for the development.
Comer made the motion to approve the rezoning and got a second from Commissioner Chris Chadwick, who represents Down East on the board. The vote was 6-0.
Dirt2Dreams is the same development company that in August 2021 got county commissioners to rezone more than 67 acres of land off N.C. 58 near Peletier for business use, despite some residents expressing concern over the impact of increasing development in the area.
That property is across N.C. 58 from a 156-acre parcel the board of commissioners agreed to rezone to recreational camper park district for Dirt2Dreams in May 2021.
This story is provided courtesy of the Carteret County News-Times, a twice-weekly newspaper based in Morehead City. Coastal Review partners with the News-Times to provide our readers with news of the North Carolina coast.