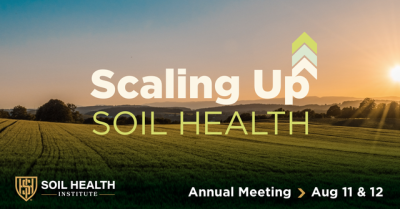 A two-day virtual meeting for those in the agriculture industry to share their knowledge, experience and ideas for soil health is set for Aug. 11-12.
"Scaling up Soil Health" is the seventh annual meeting for the Morrisville-based Soil Health Institute, a nonprofit charged with safeguarding and enhancing the vitality and productivity of soils.
There will be practical information, research, and actionable takeaways offered that is relevant to farmers, agribusiness, consultants, scientists, field conservationists, government and nongovernmental professionals.
Sessions will be from 10 a.m. to noon, and 1-3 p.m. both days.
Related: Climate change sharpens focus on NC farms' soil quality
While the meeting is free to attend, registering online is required.
"'Scaling Up Soil Health,' reflects both the urgency and opportunity for scaling adoption of regenerative soil health systems to mitigate climate change, improve water quality, sustain farms and rural communities, and bring widespread environmental benefits for all of us," said Dr. Wayne Honeycutt, president and CEO of the Soil Health Institute.
Sessions will address the following topics:
Farmers' experiences with regenerative soil health systems.
Engaging commodities for scaling regenerative soil health systems.
Climate change mitigation through soil health: integrating local to global initiatives.
Institute's recommended measurements for scaling soil health assessments: scientific basis and practical application.
Creating impactful learning opportunities in soil health education programs.