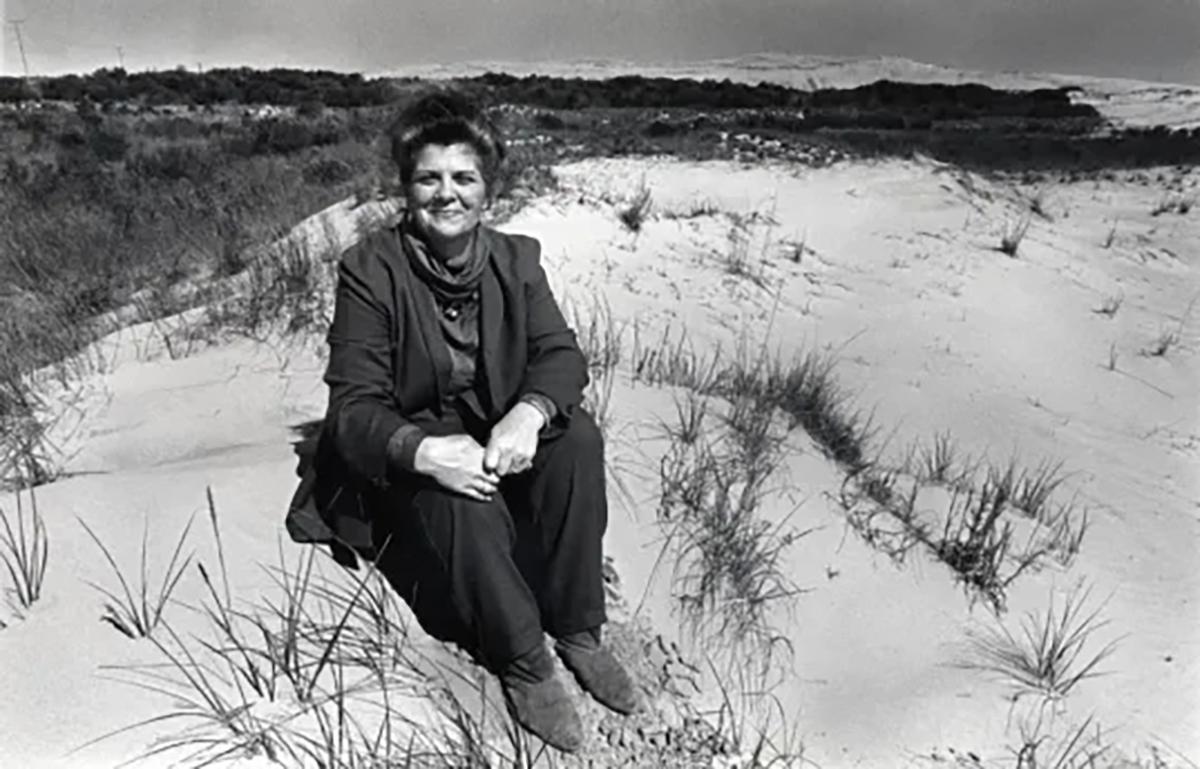 Reprinted from the Ocracoke Observer.
Hannah Bunn West has shone a spotlight on some little-known, impactful women in the history of the Outer Banks.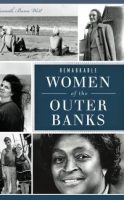 Her new book, "Remarkable Women of the Outer Banks" (The History Press, 2022), reveals seven such women, from the arrival of the first Europeans to the recent past.
The first chapter begins with the Lost Colony and features Eleanor Dare, wife of Ananias Dare and the daughter of John White, the colony's governor.
In her third trimester of pregnancy, Eleanor arrived on Roanoke in July of 1587. On Aug. 18, she gave birth to Virginia Dare, the first English child born in North America. Little is known as to what became of them.
Back then, mother/infant mortality even in England was high and that Eleanor gave birth in such a primitive setting with no medical help caught the author's attention.
West, who grew up in Kill Devil Hills, provides meticulous detail about the time and the theories of what happened to the settlers. There are 29 footnotes to the first chapter alone.
"We have observations from some of the men at that time from surviving journals of John White and Thomas Hariot and other sources, but we have very little record of the women's experiences," said West in an interview. "I chose Eleanor Dare mostly because a big aim of this book was to widen the lens and look at some different perspectives on the commonly known history that we have on the Outer Banks."
The other women featured with their own chapters are Chrissy Bowser, Irene Tate, Nellie Myrtle Pridgen, Carolista Baum, Cheryl Shelton-Roberts and Virginia Tillett.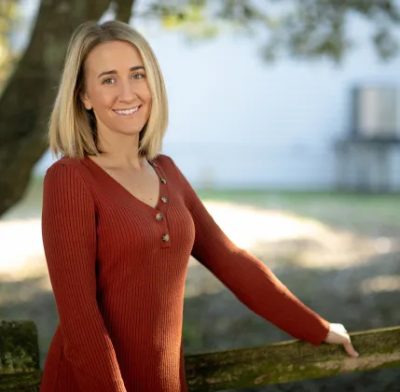 Prior to the book's conception, two of these women, Chrissy Bowser and Irene Tate were unfamiliar to the author.
Chrissy Bowser was selected as a post-Civil War African American landowner. West first learned of her while visiting Island Farm, a living history site on Roanoke Island that depicts life in the mid-1800s.
While making cornbread, a docent talked enthusiastically about Bowser, the Etheridge family's cook, who went on to own property. "She started telling this incredible story of this woman," West said. "I have spent my childhood out here and I have always had an interest in history, but I had never heard of (Bowser). So, that was kind of one of the ways in which one of these women was chosen for my book."
Researching Bowser's life was not easy. There are still questions surrounding some basic aspects of her identity, birth year, and whether she was born enslaved or free.
Articles and story sources West found in the local press mostly say that Bowser was born free, but West's research, which involved poring through census records, marriage records and Freedmen's Colony documents, did not reveal obvious signs pointing to that.
"So, instead of definitively coming down on either side, I wanted to just present the information as objectively as I could, and make the point that, hundreds of years ago, the details of certain people's lives were well documented, and others were essentially considered insignificant," West said.
Despite the many footnotes, 186, at the back of the book, the book is not a dry historical reporting.
West has a degree in creative writing with a concentration in nonfiction from the University of North Carolina Wilmington and a lifelong passion for history.
By way of introduction, West colorfully begins Chapter 4 this way: "The image of a woman striding alone on the seashore is called to mind at the mention of Nelly Myrtle Pridgen by anyone who knew her. The sight of her lean figure slightly stooped like a stock of sea oats, habitually combing the stretch of sand in front of her Nags Head home was as constant and reliable as the rise and fall of the tide for nearly seven decades."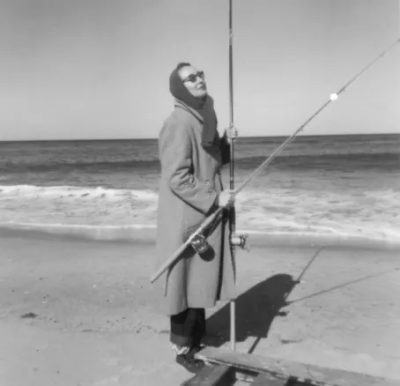 Pridgen, who died in 1992, actively opposed development on the Outer Banks and would walk every day gathering items that would turn into an invaluable collection.
How is this for a childhood memory:
West writes: "On the morning of September 12, 1900, there was an unexpected knock on the door of the Tate family, Kitty Hawk residents. They answered it to find their neighbor boy, Elijah Baum, standing with a strange gentleman who looked travel worn and weary. The stranger took off his cap and introduced himself as Wilbur Wright, from Dayton, Ohio. Little did the Tates know that the man they had received would become world famous, along with his brother Orville, for humankind's first flight."
Irene Tate was just three years old that morning, but the impact of his visit influenced the course of her life. She took to the sky herself becoming the first female pilot to fly round trip from New York to Miami. Her first time in an airplane predates that of the Amelia Earhart, who was also born in 1897.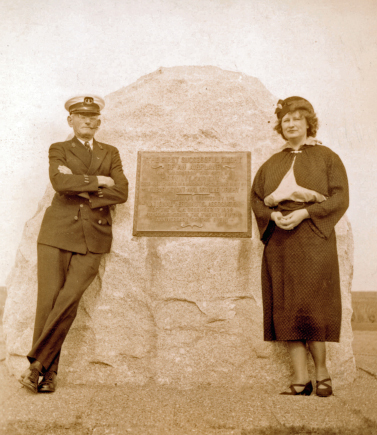 Tate had many other accomplishments throughout her lengthy career, logging more than 50,000 flight miles and the chair of the Women's Division of the National Aeronautic Association.
The writing and selected photos of this chapter makes one realize how remote and stark Kitty Hawk was at the turn of the 20th century — a far cry from what it is today.
The book is laden with black-and-white photographs drawn from many sources and which match the historical tone of the book.
Two of the better-known women garnering lots of popular press articles were Carolista Baum and Cheryl Shelton-Roberts. Baum is well known for getting in front of a bulldozer that was to level the high sand dune at Jockeys Ridge and replace it with a condominium project. She forced the workers to cease that day and the developer later agreed to its historical importance. Baum spearheaded the efforts to turn it into a state park.
Shelton-Roberts, the only surviving woman in this book, is a life-long lover of lighthouses and through much turmoil, played a key role in moving the Cape Hatteras Lighthouse in 1999 to a safer location. Had she not been successful, the lighthouse would have fallen into the ocean. Whether to move the lighthouse or leave it to nature drew strong feelings on both sides. This chapter includes a lot of inside details, including Senator Marc Basnight getting then-President Clinton's ear to secure funding.
This well written book is successful on two levels. The women merit inclusion for their accomplishments, and each chapter serves as a historical chapter on the evolving history of the Outer Banks.
The book is getting attention. It seems like almost every day someone is asking if a particular woman was included or will be in the next volume, West said.
I, along with many others, have suggestions for other women to be hailed as a remarkable woman of the Outer Banks. But having read this book, I would not substitute any.
West may oblige with further volumes, but that hasn't been decided.
"Remarkable Women of the Outer Banks" is available for purchase at local independent bookstores on the Outer Banks, including Books to be Red, and through Arcadia Publishing's website. For a full list, visit the author's website at www.hannahwestwrites.com.
This story is provided courtesy of the Ocracoke Observer, a newspaper covering Ocracoke island. Coastal Review is partnering with the Ocracoke Observer to provide readers with more environmental and lifestyle stories of interest along our coast.