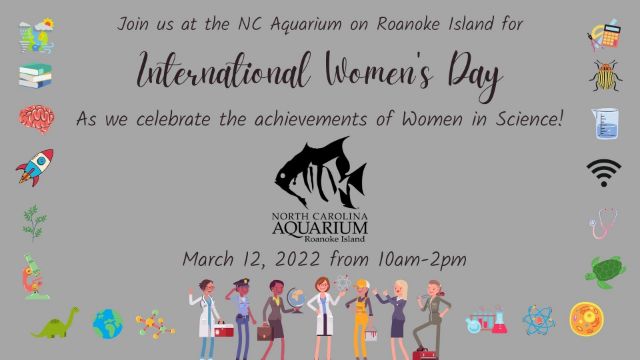 The North Carolina Aquarium on Roanoke Island is celebrating the achievements of Women in Science.
An event is set for 10 a.m. to 2 p.m. Saturday, which is International Women's Day.
Throughout the day visitors of the aquarium will have the opportunity to hear about the women who have contributed to various science fields through virtual and in-person activities. There will be presentations from area professionals, activities to help understand career paths, and videos in the aquarium's Neptune's Theater.
The North Carolina Aquarium at Fort Fisher will host a Women in Science event in September.
Activities are included with general admission tickets. To purchase tickets, visit the registration page.
Last month, the North Carolina Aquariums joined with other institutions to encourage women in science, technology, engineering, mathematics, or STEM, Feb. 11 during International Day of Women and Girls in Science.
At the North Carolina Aquariums, women in STEM are scientists, biologists, conservationists, researchers and veterinarians and engage in shark research, butterfly and frog conservation, marine animal husbandry and enrichment, and sea turtle care.