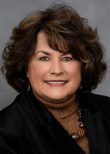 From a Carteret County News-Times report
Rep. Pat McElraft, of Emerald Isle, who has represented Carteret and Jones counties in the North Carolina General Assembly for eight consecutive two-year terms, said Dec. 28 she will not seek reelection to the state House of Representatives in November.
McElraft's term expires on Jan. 1, 2023.
Before being elected to the state House in 2006 to replace Rep. Jean Preston, who successfully ran for the state Senate, she served three terms as an Emerald Isle commissioner and part of a term as a Carteret County commissioner.
 "I think it's time to let someone younger and with new ideas come in," the soon-to-be 75-year-old Republican legislator said in an interview. "I've done more than 20 years in public service and had a sales job for 30 years. I think it's time to spend more time with my husband, children and grandchildren."
McElraft said she has enjoyed "every minute" serving the people of Carteret and Jones counties and is proud to have represented them and helped them during often hard times, including hurricanes and the COVID-19 pandemic.
McElraft said she's proud of her record of good constituent service and credited her great staff for that.
"I've always stressed how important constituent service is," she said.
McElraft said she's also proud that while she's been in office, the state has lowered taxes and yet dramatically improved its financial situation.
"When I came in, our 'rainy day fund' had never been more than $100 million," she said. "Now it's $4 billion. We all worked hard to do that. That's how we've been able to help local governments with money for things like (climate) resiliency and dredging and beach nourishment and water access.
"I've tried to balance the environment and economics," she continued. "If they're not balanced, then you lose jobs, and if you lose jobs, then you can't pay for the ecology. There has to be a balance."
She's especially proud of this year's 2021-23 budget, which was passed by a bipartisan majority and included millions of dollars for specific projects in Carteret and other coastal counties.
This term, McElraft has served as vice chairperson of the House Appropriations Committee, chairperson of the House Environmental Committee, and co-chairperson of the House Environmental Review Committee.
"I think our coastal legislators have been able to show those inland legislators how important the coast is to the state and get their support," she said.
This story is provided courtesy of the Carteret County News-Times, a newspaper published in Morehead City. Coastal Review partners with the News-Times to provide our readers with news of the North Carolina coast.