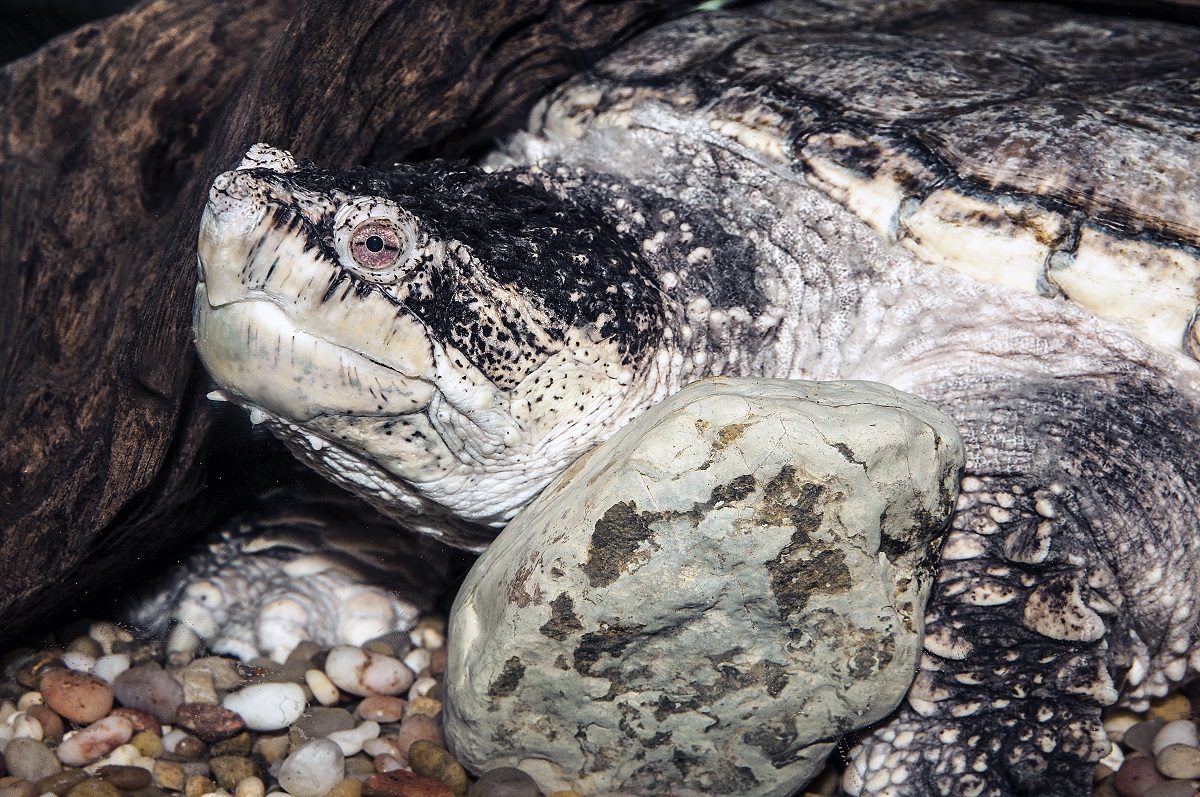 Freshwater turtles sometimes seem invisible, yet these cool critters are found in practically every freshwater body in North Carolina.
Sea turtles seem to get all the glory, but most people are not aware that the state is also home to 17 species of freshwater turtles. For the purposes of this story, we will be investigating the 12 species that live within the Coastal Plain waters of the state.
Snappers
The common snapping turtle is one of the most frequently seen freshwater turtles in North Carolina. This species is found in every county of the state.
"The snapper is North Carolina's largest freshwater turtle. Its large head, long tail and wary nature make identification easy," said Jeffrey Hall, biologist with both the Partners in Amphibian and Reptile Conservation and the North Carolina Wildlife Resources Commission. Hall is the state herpetologist, who specializes in the study of reptiles and amphibians.
"Snappers are so named because they defend themselves by snapping and biting when handled or disturbed. They are top-level predators in many food chains and are important components in most aquatic ecosystems," Hall continued.
He explained that snapping turtles have large heads with powerful jaws and necks.
"The top shell, or carapace, has a jagged posterior edge and three longitudinal keels, which are most prominent in young specimens. The plastron, or bottom shell is small and cross-shaped. The tail, adorned above with large, saw-toothed scales, is much longer than that of any other North Carolina turtle," Hall said, adding that the shell offers limited protection to the head and limbs, so these turtles rely largely on their strong jaws for defense.
"The skin and shell are usually brownish above and whitish or yellowish below. The skin is thick, with numerous tubercles, and the powerful limbs have large claws. The carapace is often encrusted with algae. Male snappers are on the average larger than females," he said.
In North Carolina, this species averages between 8 to 14 inches in length. The record is 19.3 inches long. They weigh between 10 to 35 pounds. Fattened captive specimens have exceeded 80 pounds. The largest North Carolina specimen on record weighed 64 pounds. Snappers will feed on invertebrates, fish, amphibians, reptiles, birds, mammals, carrion, and a wide variety of plant material.
"Mating usually takes place in spring and normally occurs in water, with the pair often snapping savagely at one another. In late spring, the female deposits about 25 spherical, white, leathery-shelled eggs in a hole excavated with her hind feet, sometimes far from water. The nest is then covered and abandoned, and the eggs hatch in two to three months. More than one clutch may be laid during a season. Hatchlings are typically 3⁄4 to 1 1⁄4 inch in carapace length. The young are dark brown with prominent keels and ridges on carapace and a blackish plastron," said Hall.
Snapping turtles can live 40 years and possibly much longer.
Eastern painted turtle
The eastern painted turtle is a small aquatic turtle with bright markings. Adults have a smooth shell of between about 4 to 7 inches in length. The top part of the shell is pretty flat when compared to the land-based box turtle. It has a relatively flat upper shell with red and yellow markings on a black or greenish-brown background, according to the N.C. Wildlife Resources Commission.
The eastern painted turtle has obvious pale seams between layers of shell called scutes, especially along outside edge margins. These are usually fairly straight lines across the shell that can be seen on turtles that are basking on rocks, or fallen tree branches near water. The joint between the dome of the shell and bottom of the animal does not have any hinges like the box turtle and is usually plain yellow or has a smeared look of reddish, or reddish-brown coloration.
Although records are lacking from certain sections of the upper Piedmont and the mountains, eastern painted turtles were most likely found in most of the state except on the Outer Banks, in the southern coastal plain and at high mountainous altitudes.
"Eastern painted turtles are found in lakes, ponds, freshwater marshes and other bodies of still or slow-moving water with soft bottoms and often plentiful vegetation, which may include slow-moving brooks and streams. They are some of the most commonly observed of the native basking turtles in the state," Hall said.
"Large numbers of this species can often be seen and photographed catching some rays on partially submerged logs and similar objects, particularly in the spring and during the morning and afternoon in the summer. On occasion, as with many species in the family of basking turtles, you may even see a painted turtle sunning themselves on warm, sunny days in the middle of winter too," he added.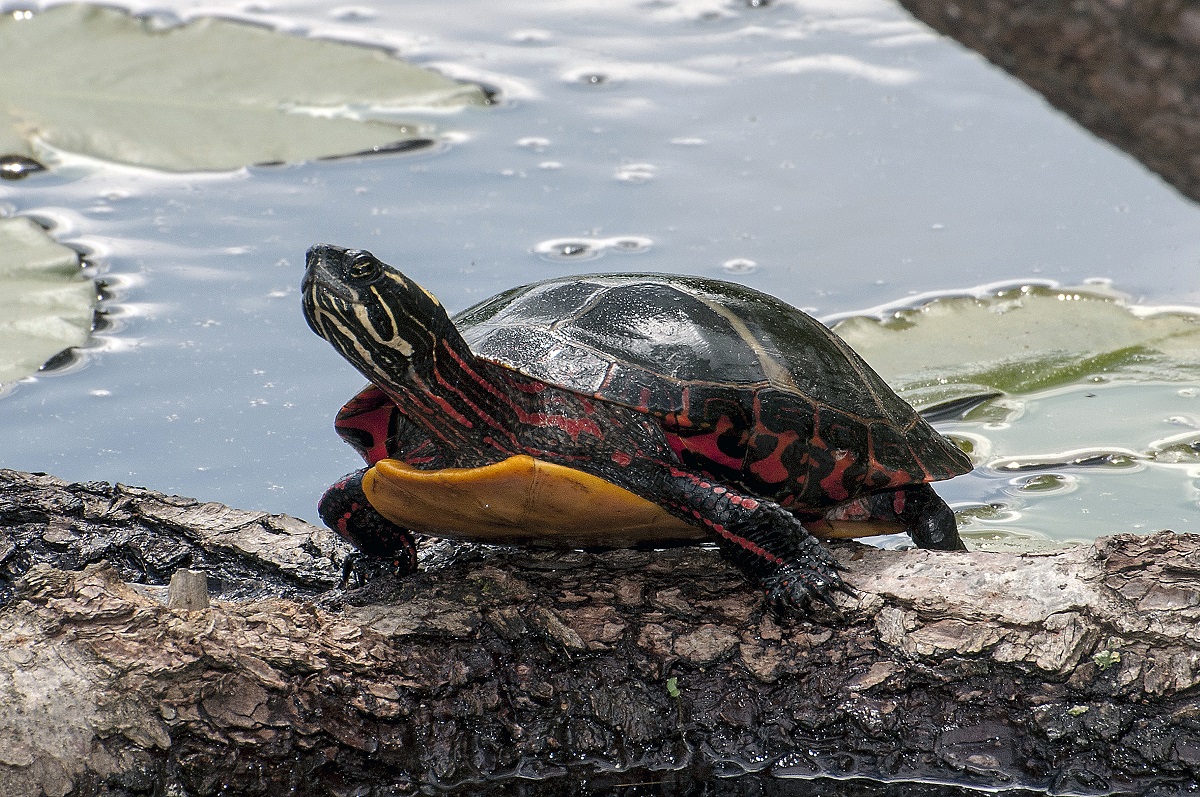 Box turtles
The eastern box turtle is probably the easiest to identify, with its highly domed, brown top portion of its shell, which is randomly marked with orange or yellow in adults and older juveniles.
"Its bottom shell, is tan to dark brown, yellow, black, or multicolored — the color is highly variable on this species and is hinged so that the turtle, when disturbed, can pull in its head, limbs and tail and tightly close the shell for protection. The box turtle is the only North Carolina species that can completely enclose itself inside its shell. This species' upper jaw looks like a beak of a bird," Hall said.
The box turtle is found statewide and is North Carolina's official state reptile.
"Eastern box turtles are most common in and around wooded areas, especially moist environments, but they also can be found in meadows, pastures, and other open, grassy habitats," he said.
Box turtles are almost exclusively diurnal, or active during daylight hours. When they are encountered at night, which is not often, it is usually a female nesting, or returning late from nesting.
"During the spring and early fall, box turtles seem to be the most active right after rain showers," Hall said.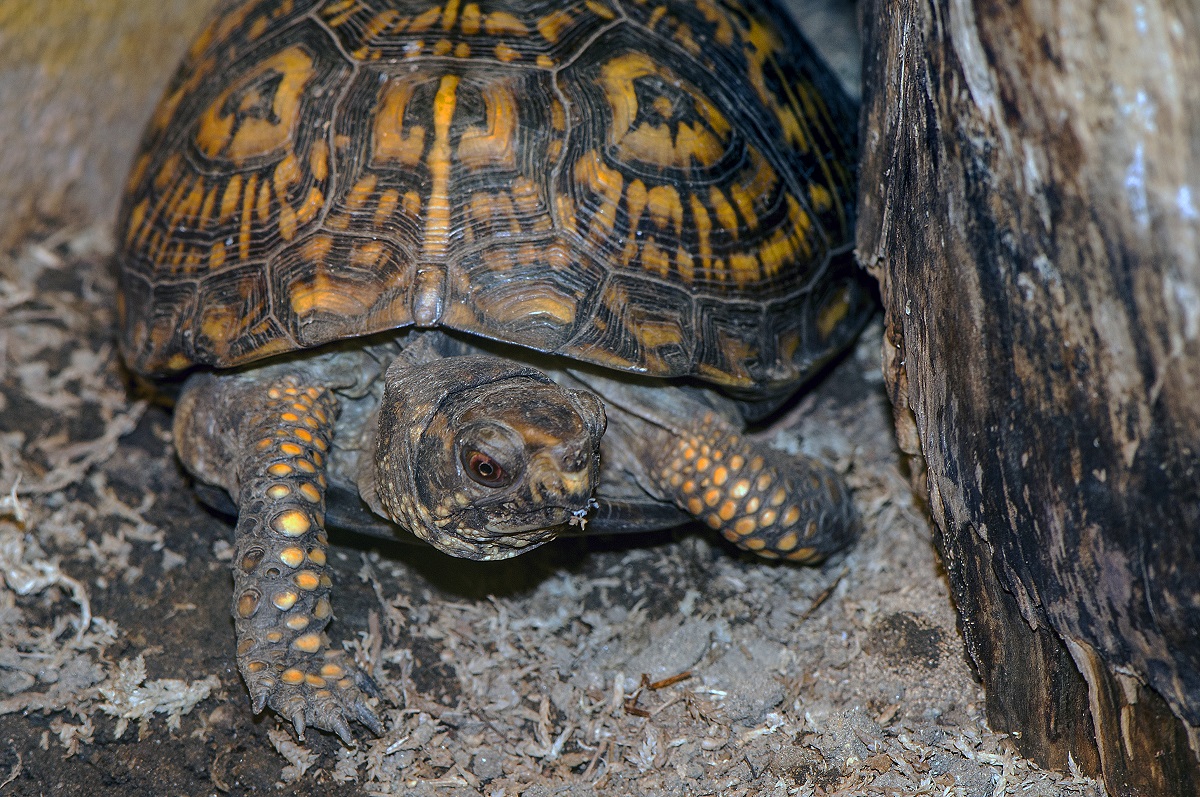 Sliders
The yellow-bellied slider is a medium-sized to large turtle with an obvious yellow blotch just behind the eye. They have vertical yellow stripes on their rumps with a narrow yellow stripes on their lower forelegs. The top shell is olive-to-black in adults, and paler and more brightly marked in juveniles of this species. The bottom shell is usually yellow, but in some cases, it is colored with a reddish-brown or brown hue from the waters where the animals are living.
"This is actually a much more common feature of sliders in the Piedmont, as the more basic waters allow iron uptake in the scutes of the shell. Coastal waters are usually more acidic and don't allow for the uptake of that iron and so they are more often colored bright yellow. These features help to identify this species from the other freshwater turtles in the coastal plain," Hall said.
These common turtles are typically spotted throughout most of eastern North Carolina and in several places along the Outer Banks. They are also common in the eastern Piedmont area. Sightings are fewer closer to the western Piedmont and are pretty scattered in the western range limit of the species, which is unknown.
"Yellow-bellied sliders can be found in canals, ponds, lakes and other bodies of quiet or slow-moving water that provide suitable habitat. Turtles are usually the most common in places that have habitat containing soft bottoms and lots of aquatic vegetation. Sliders like to bask like their painted turtle cousins, and you may observe animals catching some rays on floating logs or other debris," Hall said. "This turtle is very conscious of your being in their backyard and will most likely slide into and under the water with the slightest disturbance, so it is very important that you move slowly and cautiously, watching your footing, and not snap any branches that might spook the turtle. The yellowbelly slider may, on occasion, be found on land, typically when the animal is moving between habitats or during an egg-laying mission by the female, usually in June, depending upon weather temperatures."
River cooters
The eastern river cooter is a large freshwater turtle that averages between 9 to 12 inches in length. It has an olive or brown-colored top shell that has a pattern comprised of a series of circles. This top shell may look like it is flared on the back. The color of its top shell, along with circle markings help ID this species. River cooters also have more than 11 thin, yellow stripes around the head. These markings will typically go away as they age, according to the commission.
The bottom shell is yellow with a dark pattern that follows the turtle's seams. The darker pattern usually fades as the turtles grow older. The upper jaw is notched in front and pointed on each side. This species is most easily confused with the yellow-bellied slider. The yellow vertical bar that is present on the slider's head is absent on the head of the cooter. The cooter is also generally slightly larger and has a smoother ridge on the shell. The slider has a more prominently keeled ridge down the middle of the shell.
"River cooters are commonly found across the coastal plain and Piedmont. Most river cooters that have been documented were caught using basking traps in impoundments along rivers and large streams. A basking trap is a floating dock-like structure with ramps to make coming out of the water easy for the turtles and anchored into a desired position in the water. Adult cooters have also been observed hauled-out and basking on exposed rocks in rivers, as well as seen basking on logs. Females can be observed moving around on dry land looking for a place to lay their eggs during late spring of each year, but this species usually does not venture that far away from the protection of nearby waters," Hall said.
The Florida cooter, once thought to be distinct from the eastern river cooter, is now considered to be the same species, and both are now collectively referred to as the eastern river cooter.
Spotted turtles
The spotted turtle has a black top shell, speckled with round, yellow spots and a yellowish to pinkish bottom shell with large brown to black patches. This species seldom grows larger than 4.5 inches in length, and has a record length of only 5.4 inches. This is one of the smallest aquatic turtles in the state. This species is easy to distinguish from all other turtles who call North Carolina home. If you find a small turtle with prominent yellow spots all over its top shell, you have positively identified a spotted turtle.
"Spotted turtles can be found throughout most of eastern North Carolina and are common regionally in some parts of the coast," Hall explained.
"Spotted turtles can be observed living in canals, drainage ditches, marshes, wet pastures, floodplains and woodland pools, flooded borrow pits and small streams, especially where the water is clean and shallow and the bottom is soft," he said. "Usually, this species is aquatic, but spotted turtles can also be observed hanging out either by themselves or in small numbers with other species of basking turtles. When these animals are frightened, they try to dig down into the mud or escape under logs. They are most active in the spring and are difficult to find in the summer."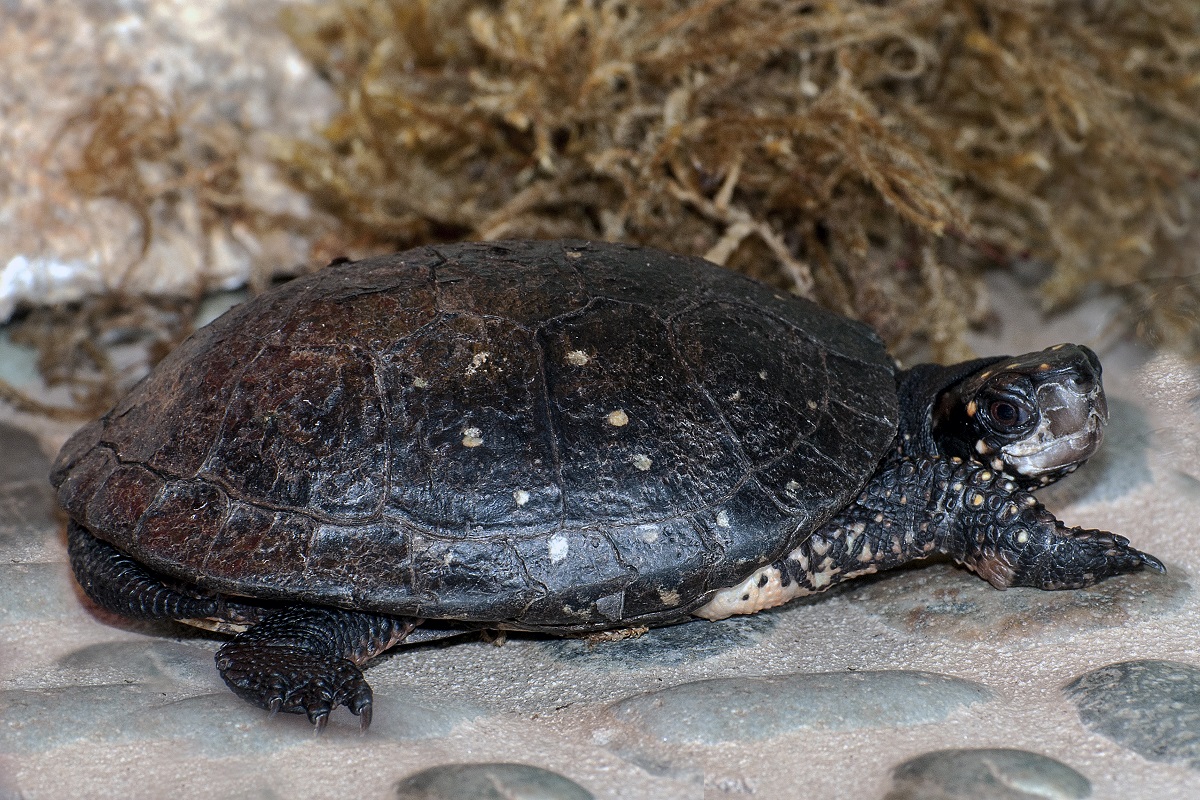 Chicken turtles
The eastern chicken turtle is a small to medium-sized turtle, and gets its name from its long neck, which when extended is just about as long as the top shell of the animal. The smooth, pear-shaped shell is olive to dark brown.
Eastern chicken turtles also have a striped pants pattern on the rear legs and a broad yellow stripe on the forelegs that help you tell this animal apart from all other aquatic turtles of the state. This species, which is easy to identify if you are lucky enough to find one in the wild, is listed as a species of special concern under the state Endangered Species Program.
"Eastern chicken turtles are now found in greatly reduced numbers. They were once common in some areas of the coastal plain, but they now are difficult to find in many historical locations. Eastern chicken turtles live in cypress ponds, marshes, borrow pits, canals and similar bodies of still or sluggish water, although their diets are highly tied to ponds that are ephemeral in nature," Hall said.
In the southeastern coastal plain, these may be found in ponds surrounded by sandhills and pine flatwoods.
Striped mud turtles
"Striped mud turtles often enjoy these same types of ponds, and I have also found cooters, sliders, snappers, spotted, and eastern mud turtles all in ponds that had chicken turtles in them. This species usually stays in the water, but has also been found on roads or walking in wooded areas," Hall said.
Diamondback terrapins
The diamondback terrapin has obvious lined markings on its top shell and this species is distinct from all other aquatic turtles in North Carolina.
The color pattern of this animal can vary widely. The top shell can be greenish, gray, brown or blackish, sometimes with circular darker markings. Dark markings are usually the most obvious to observe on the head and neck. The diamondback terrapin's eyes are black and large. Its hind feet are webbed.
Related: The weary diamondback terrapin's latest foe: phragmites
The diamondback terrapin is also a species of special concern in North Carolina.
"Diamondback terrapins are found on most of the Outer Banks, on many smaller islands and along a narrow strip of the coastal mainland from Virginia to South Carolina. They are common in a few places where damage to their habitats has been minimal, but populations in many areas have been and continue to be depleted by extensive coastal development and the alteration of marshes. Shallow set crab pots frequently capture and kill these turtles," Hall said.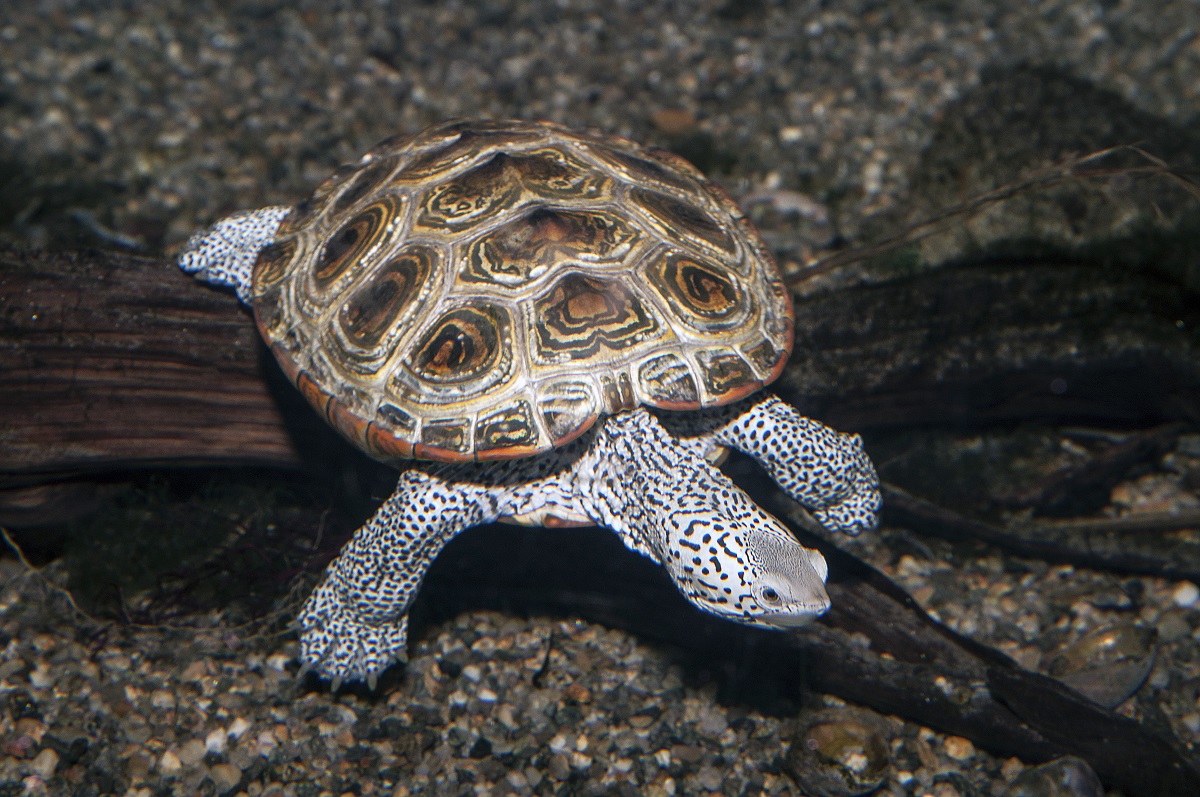 "Diamondback terrapins inhabit coastal marshes, bays, lagoons, creeks, mud flats and similar environments, characterized by salt or brackish waters," Hall continued.
These turtles have been observed in tidal creeks and other bodies of water in the salt marshes on Ocracoke Island, and they have been found in similar habitats elsewhere on the Outer Banks. "They are frequent baskers, often found sunbathing on mud flats and in other places near the water. They also often burrow in the mud, particularly during low tides and at night," he said.
Red-bellied cooters
The northern red-bellied cooter is a large freshwater turtle, typically between 10 and 15.75 inches in length. The top shell is brown to black, usually with vertical yellow, orange or pinkish figures. The scutes, or layers of growing shell, are usually flattened or slightly concave.
"As its name implies, the redbelly turtle has a bottom coloration that is yellowish-orange to reddish, with or without dark markings, and due to this coloration, is easy to identify in the wild. Its head, neck, limbs and tail are usually black with yellow or greenish-yellow stripes," said Hall.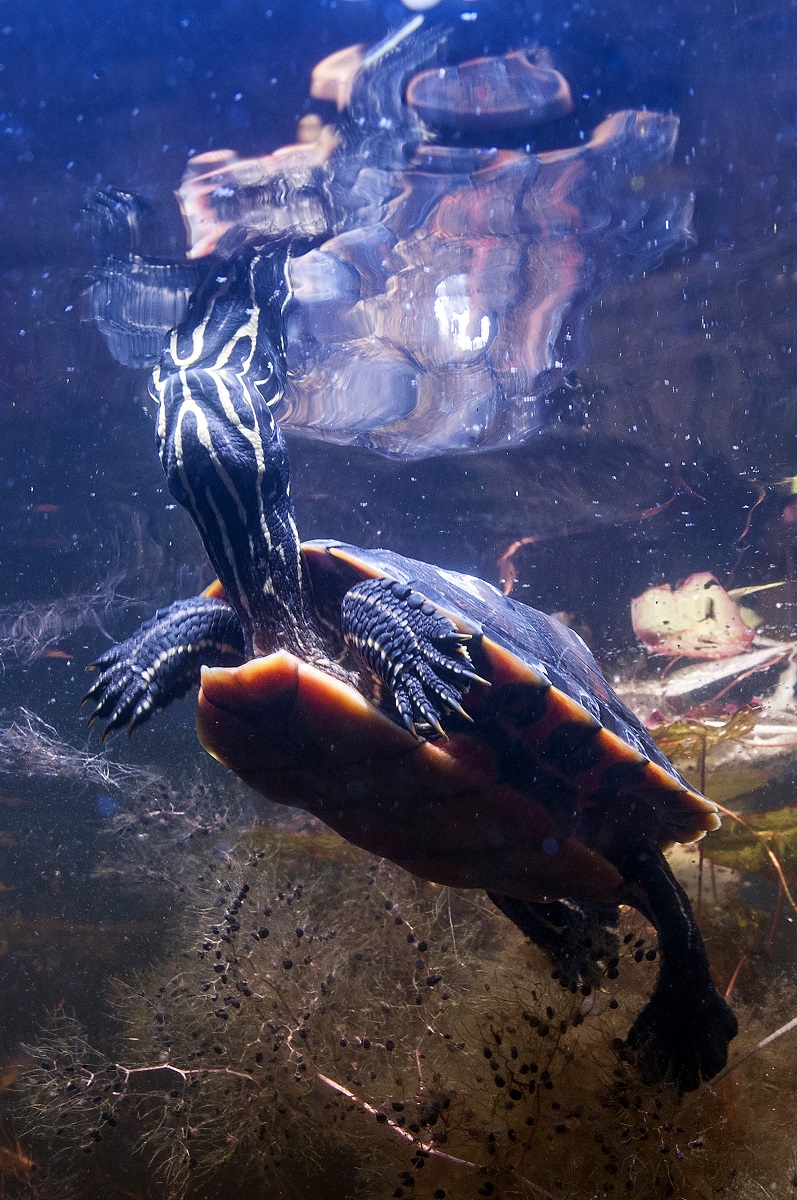 These turtles are found most often in the northeastern coastal plain at least as far south as the area where the Pamlico River meets the Pamlico Sound. They have been found also in Nags Head Woods in Dare County. Canals, streams, lakes and other bodies of still or sluggish water are characteristic habitats of redbelly turtles, according to the Wildlife Resources Commission. Little is known about the habits of this turtle. Efforts to collect them in typical hoop-style turtle traps are usually unsuccessful, due to the more herbivorous diet of all cooters.
Mud turtles
Eastern mud turtles are found across the coastal plain and in parts of the Piedmont.
"This is a small turtle with a smooth, unmarked top shell, which ranges in coloration from olive to dark brown. The bottom shell is double-hinged and can be yellow or brown. Adults range from 3 to 5 inches in top shell length," Hall said, adding that eastern mud turtles are semi-aquatic.
They are not strong swimmers and usually crawl along the bottom. They are more terrestrial than their relatives, the musk turtles, and hibernate in forests buried an inch or two below the surface. The eastern mud turtles prefer shallow and sluggish bodies of water. They are able to tolerate brackish water and are sometimes encountered in salt marshes, Hall said.
"Eastern mud turtles are omnivorous. They are known to feed on crustaceans including crayfish, mollusks, aquatic insects, and seeds. Mud turtles lay between two and five eggs during June or July. The eggs of this species are hard shelled and do not absorb water like most turtle eggs. The young hatch in August or September," Hall explained. "Hatchling mud turtles are often mistaken for snapping turtles. An easy way to tell the two apart is a mud turtle has a larger, hinged bottom shell and snapping turtle hatchlings have a very small bottom shell and a long tail."
The striped mud turtle is a small turtle that, in most of its range, has three light stripes down the length of its shell but in North Carolina, these stripes are usually absent.
"They can be difficult to distinguish from eastern mud turtles, but they typically have light stripes from their eyes to the tips of their noses. The top shell, is smooth, domed and usually dark brown in coloration. Males can be distinguished from females by their longer, thicker tails. Adults have a shell length between 3 and 4 inches," Hall said.
The striped mud turtle has a similar diet to the eastern mud turtle.
"This is an omnivorous species which feeds primarily on aquatic invertebrates. Striped mud turtles are semi-aquatic, but spend large parts of the year buried beneath soil and ground litter. They rarely bask out of the water. Their habitat is varied and includes swamps, drainage canals, ponds, wetlands, streams and temporary pools. They are generally not found in moving water," Hall said. Females lay around four eggs during early summer but little is known about the reproductive biology of this species in North Carolina.
Spiny softshell turtles
The spiny softshell turtle is a large, flattened turtle with skin covering both the top and bottom shell.
"This skin usually has a sandpaper-like texture and is tough and leathery. Coloration ranges from olive-gray to yellowish-brown with spots or blotches on the carapace. Young individuals often have well-defined round spots on their shell. They have long necks and a long, thin nose, which they can use like a snorkel to breathe. Adults range from 7 to 21 inches in females, and 5 to 9 inches in males," Hall said.
Spiny softshells are carnivorous with their preferred prey being fish, crayfish and other aquatic invertebrates.
"These turtles are strong swimmers and stay in the water nearly all the time, but when on land, they can move quickly. Softshells often bask on sandbars or logs or lie buried in sand in shallow water, using their long necks to reach the surface to breathe. Although they will sometimes leave the water to bask, they are very wary and return to the water at the slightest provocation," he said.
Two subspecies are found in North Carolina. The eastern spiny softshell are in the extreme western mountains, while the Gulf Coast spiny softshell is found in the southern part of the state, ranging north along the major river systems. Both subspecies prefer large streams and rivers with sand or mud bars, but can also be found in large reservoirs, according to the NC Partners in Amphibian and Reptile Conservation, or NCPARC.
Spiny softshells generally lay clutches of 12 to 18 round, brittle eggs in the early summer. As with many North Carolina turtles, it is thought that females may lay multiple clutches per season. Nests are generally located close to water, often on sand or gravel bars or in people's yards. Young emerge about 80 days later, and are usually 1 to 1.5 inches in diameter.
Stinkpots
The common musk turtle, also known as the stinkpot, has a small bottom shell, with a single hinge that provides little to no protection for their legs, distinguishing them from the similar mud turtles, which have two hinges on the bottom shell.
"Musk turtles have two light stripes on their heads, distinguishing them from stripe-necked musk turtles and young snapping turtles. The top shell, is often smooth and has a ridge down the center. It is usually black in color and sometimes covered with spots or streaks. Males can be distinguished from females by their thick tails, which are sharp and horny. Female tails are much smaller and lack the sharp point. This species ranges from 2 to 4.5 inches in carapace length," Hall said.
Common musk turtles are omnivorous and feed on small aquatic and semi-aquatic animals, aquatic plants, and carrion.
"This species is mostly aquatic and usually not found far from water. They are most often seen walking or swimming along the bottom in shallow water. They are active during both day and night. Musk turtles have been found basking more than 7 feet above the water on tree limbs. This species will frequently bite when first captured and will release a smelly musk, which gives the species its name," he said.
This species is abundant in many waterways, but prefer still or slow-moving bodies of water with soft bottoms. Unlike mud turtles, this species is intolerant of brackish water and like most species of freshwater turtles in North Carolina, the stinkpot spends the winter buried in the mud. Female musk turtles lay between two and eight eggs in late spring and summer, usually in rotten logs or piles of dead vegetation, according to NCPARC.
Now, get outside
So now that you know what to look for, go for a walk near your rivers, streams, ponds, lakes and reservoirs. Walk slowly and try not to make any noise and keep a watchful eye near the shoreline where you are walking.
Check out hanging tree branches, fallen logs, or rocks poking through the surface of the water. You never know what you may stumble across during your journey into nature.
Don't forget to bring a pair of binoculars, a camera and small notebook if you want to keep track of your sightings. Most importantly – have fun!