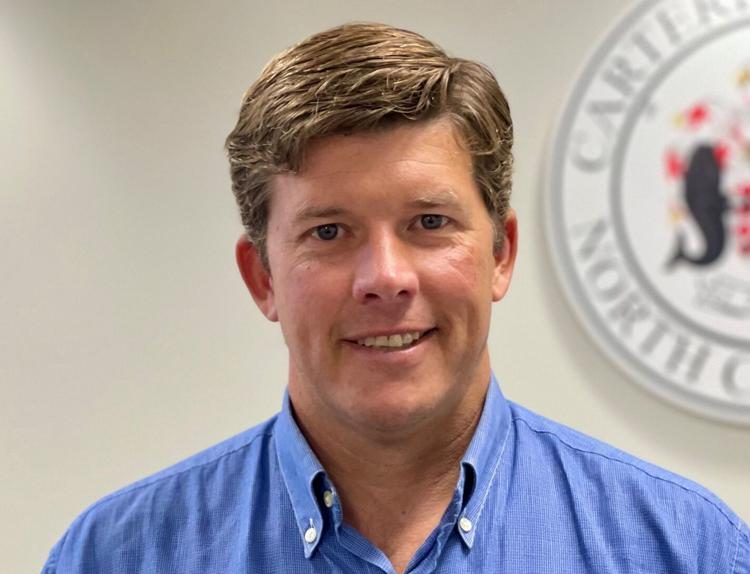 Reprinted from the Carteret County News-Times
Carteret County officials announced Dec. 21 they have hired Ryan Davenport of the state Division of Coastal Management as shore protection officer manager.
Davenport was chosen from a pool of more than 20 qualified applicants, according to a news release from the county. He will begin his new role Jan. 18 as manager of the office that plans and oversees beach nourishment and dredging projects as well as responses to state and federal environmental regulations and proposals.
Davenport is replacing Greg Rudolph, who resigned in November after 20 years in the job in order to pursue new opportunities. Doug Huggett, based in Morehead City with Moffatt & Nichol, the county's beach engineering firm, has served as interim manager of the county shore protection office since Rudolph's resignation.
"We are proud and excited to have someone of Ryan's caliber join the county and help lead the Shore Protection Office through the current challenging issues and those that are on the horizon," said Ed Wheatly, Carteret County Board of Commissioners chairman. "He has an excellent background which is well suited to take on the responsibilities of this position."
Davenport has more than 20 years of local, state and federal coastal management experience. For the past 14 years, he has been employed by the North Carolina Department of Environmental Quality as senior environmental specialist of the Division of Coastal Management.
His experience includes work as environmental planner for the Department of Land and Natural Resources for the state of Hawaii and field representative for the North Carolina Division of Coastal Management. His expertise includes leadership, resource regulation, project management, strategic planning and community outreach, according to the release.
"We are excited to welcome Ryan as our Shore Protection Manager and lead the charge in managing the 50-year beach master nourishment plan," Jim Normile, Carteret County Beach Commission chairperson said in the release. "The recent increase of lodging occupancy tax dollars has nearly replenished funds expended post-hurricane Florence. This will afford Ryan a keen opportunity to begin 2022 in our scientific search for future offshore sand resources to position Bogue Banks beaches and infrastructure for a healthy, sustainable future."
Davenport, a 1999 graduate of North Carolina State University with a bachelor's degree in environmental science, said he was excited to take the position.
"Carteret County and the beach commission (which advises the shore protection office) have a long history of successfully planning and managing complex beach nourishment and dredging projects," he said a statement.  "I am excited to join the team to help move the County Beach Commission forward in its goals and appreciate the opportunity to serve the citizens of Carteret County."
In his resignation letter to county manager Tommy Burns in November, Rudolph wrote, "While there's always the next storm, the next shoaling hot spot, or some regulatory/policy issue to contend with, I've come to a place in my career where there's a sense I've accomplished all that I can for the county and it's time to move on and pursue new opportunities and challenges."
During his 20 years as Carteret County Shore Protection Office manager, Rudolph has been responsible for planning and guiding numerous beach nourishment projects to fruition, placing more than 20 million cubic yards of sand on Bogue Banks beaches at a total federal, state and local cost of nearly $223 million. He now works for Geodynamics, the county's beach surveying firm.
This story is provided courtesy of the Carteret County News-Times, a newspaper published in Morehead City. Coastal Review partners with the News-Times to provide our readers with news of the North Carolina coast.