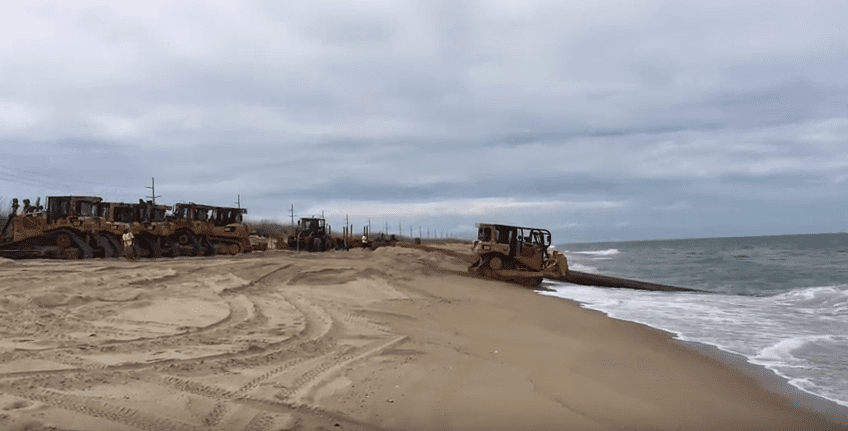 Reprinted from OBX Today
Great Lakes Dredge and Dock Co. is the low bidder for the 2022 Avon and Buxton beach nourishment projects.
Great Lakes bid $25,870,000 with a start date of May 1, 2022, and an end date of Sept. 30, 2022. The Avon and Buxton beach nourishment project's estimated cost is $30,211,176.
Dare County received bids for the projects from Great Lakes Dredge and Dock Co., Manson Construction and Weeks Marine.
The bids were opened Nov. 17 but the proposals must be evaluated for completeness before a specific bid can be recommended to the Dare County Board of Commissioners, which will then give approval to award the bid.
Great Lakes Dock and Dredge most recently conducted the beach widening projects from Duck to Nags Head four years ago.
Dare County will use occupancy tax and property tax funds to pay for the Avon project, a first for the beach stretching from Due East Road to the Ramp 38 area.
The sand lost from previous beach widening from the Haulover to the old Coast Guard base in Buxton, and South Nags Head from Jennette's Pier to the Cape Hatteras National Seashore border, was determined to have been caused by recent hurricanes, making the projects eligible for federal and state disaster relief funds.
An announcement about the bids for the South Nags Head project are pending.
Weeks Marine submitted a bid of $27,932,050 for the sand pumping projects that are anticipated to take place next spring and summer off Duck, Southern Shores, Kitty Hawk and Kill Devil Hills.
The same company ran into numerous mechanical and weather delays while widening the beaches off Buxton between 2017 and 2018.
A combination of funding for those projects will come from funds set aside for beach nourishment from the county's occupancy tax on hotel/motel room and vacation property rentals, along with a portion of property taxes assessed in the four towns that have been designated to beach nourishment.
Duck, Southern Shores, Kitty Hawk and Kill Devil Hills will have to come up with just under $12 million combined, while the county's beach nourishment fund contribution will be just over $8.7 million, and there are grants of $11.7 million from FEMA and the state.
Exact dates for next year's nourishment projects have not been set, so it is still too early to know when workers and equipment will be along a specific section of Outer Banks beach.
More information about beach nourishment on the Outer Banks can be found at MoreBeachToLove.com.
OBX Today is the community website of JAM Media Solutions' Outer Banks radio stations: Beach 104, 94.5 WCMS, 99.1 The Sound and Classic Rock 92.3. The website is managed by local newsman Sam Walker and journalist Kari Pugh. Coastal Review is partnering with OBX Today to provide our readers with more environmental and lifestyle stories of interest about our coast.