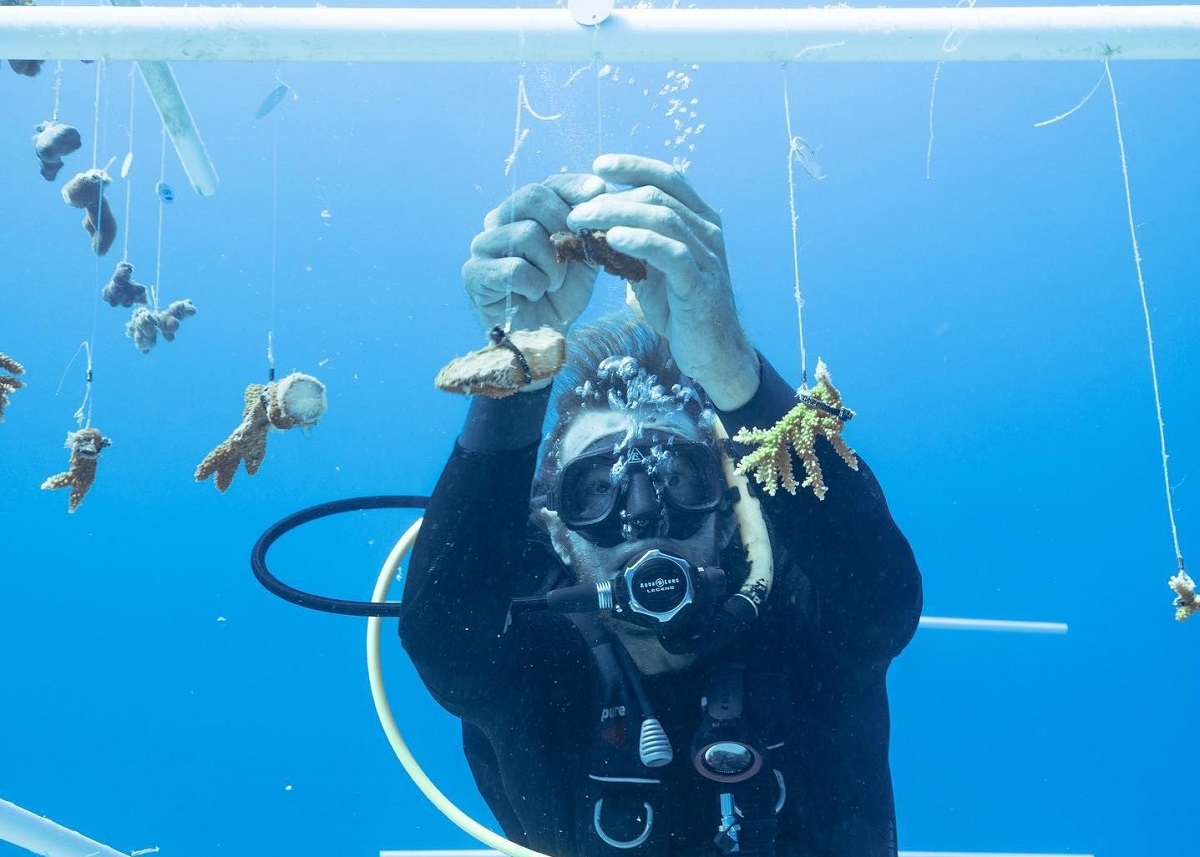 University of North Carolina Wilmington alumnus Joe Oliver and his colleagues at the Bahamas-based Coral Vita have won a prestigious award for their work restoring coral reefs. The prize, along with global recognition, comes with about $1.3 million.
The Earthshot Prize is an award given by the Royal Fund of The Duke and Duchess of Cambridge to initiatives that are doing important environmental work. Every year for the next 10 years there will be five, $1.3 million prizes awarded, providing at least 50 solutions to the world's greatest environmental problems by 2030, according to the Earthshot Prize website.
Coral Vita, the Revive Our Oceans winner, and four other winners were announced Oct. 17 in London. The five are the first-ever winners of Prince William's Earthshot Prize.
Oliver was born in Wilmington, and said that marine biology called to him from an early age. He grew up playing in the water — always fishing, boogie boarding, and the like. As a preteen, he participated in UNCW's MarineQuest program, a youth outreach initiative that provides young people with the chance to explore and become immersed in the marine environment. This experience solidified his track.
"I'm actually proof that a proper outreach education program works," Oliver said.
Oliver graduated from UNCW in 2006 with a degree in marine biology, and went on to become an instructor for the MarineQuest program. A particular interest in coral reefs and a connection through a friend is what led him to Coral Vita, a company dedicated to regrowing the world's dying coral reefs. He accepted a job as director of restoration operations, relocated to the Bahamas and got to work.
"I couldn't let the opportunity to run this type of facility pass me by," Oliver said.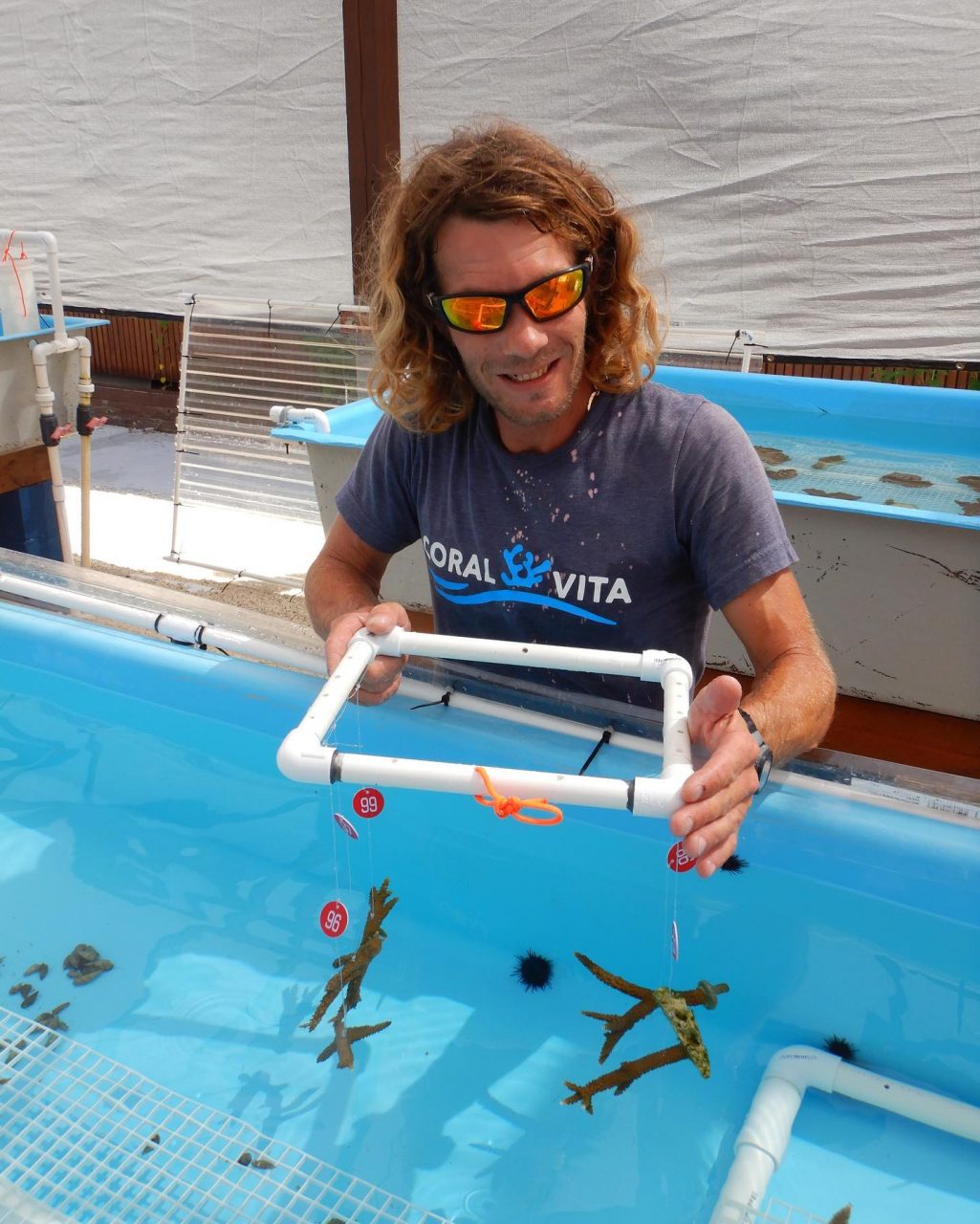 Coral reefs are made from colonies of coral polyps that are fixed together by something called calcium carbonate, the hard material that gives reefs their structure. As a whole, coral reefs encapsulate an entire underwater ecosystem, and are critical to the health of the ocean. It is estimated that as much as 25% of the ocean's species depend on coral reefs during at least some portion of their life cycle. This makes coral reefs one of the most diverse ecosystems on the planet, not just in the ocean.
But factors such as ocean warming, ocean acidification, overfishing and pollution pose imminent threats to the health of coral reefs. According to the Coral Vita website, these factors have contributed to the loss of 50% of the world's reefs within the last few decades. Without intervention, that number will rise to more than 90% by 2050.
Enter Coral Vita. Oliver and his teammates work with aquaculture farms to regrow coral. One of the main practices they use is called micro-fragmentation. They can take a broken piece of coral and break it into smaller pieces consisting of just a few polyps apiece. They begin growing the coral fragments individually in aquaculture raceways. Then, they integrate them into plates where they can grow back together cohesively. Normally, coral grows very slowly. But the separation that occurs during micro-fragmentation stimulates growth for the coral. In this environment, they can speed up a process that normally takes much longer.
"What would take 100 years, we can hopefully do in 10," Oliver said. "Maybe even less."
Some corals of different species do not grow harmoniously together and will try to outcompete each other for resources. But as long as the coral is of the same species, they'll grow back together happily. Oliver and his team are also experimenting to find out what combinations of species can grow together without conflict.
And then they can transplant the cultivated coral back to the ocean. They use ocean-friendly concrete to make the transplant, but are experimenting with other methods of securing the farmed coral in place to make sure the impact to the ocean environment is minimal.
An important part of this process, said Oliver, is to increase the adaptability of the coral before they put it back in the ocean. Using special treatments at their aquaculture facility, they can get the farmed coral used to harsher conditions than coral can normally handle. Once they are back in the ocean, the idea is that they won't be as prone to succumbing to the hazards that currently kill coral.
Currently, Coral Vita's success rate is high — a 50 to 70% survival rate for transplanted coral. They aim to get it even higher.
The monetary prize will go to continuing Coral Vita's work and expanding outreach, said Oliver. The win was important for Coral Vita, but ultimately extends beyond them as well.
"We didn't win it just for us, we won it for everybody that does coral restoration," Oliver said. "And for me, what I hope to be (a) secondary benefit in the future, is that more people will be paying attention to these problems and looking at how to be a part of the solution."
The other organizations to win the 2021 Earthshot prize were:
Build a Waste-Free World Winner: Milan, Italy. The city came up with an initiative that redistributes food that would have been discarded to those who need it, thereby reducing waste and feeding the hungry.
Clean Our Air Winner: Vidyut Mohan of India. Takachar is a technology that converts polluting agricultural outputs into usable biofuel and fertilizer that can ultimately be resold.
Fix Our Climate Winner: Enapter Project. This technology converts renewable electricity into hydrogen gas that is free of emissions.
Protect and Restore Nature Winner: Costa Rica. This nation developed a policy that pays citizens to plant trees in an effort to preserve the rainforest.