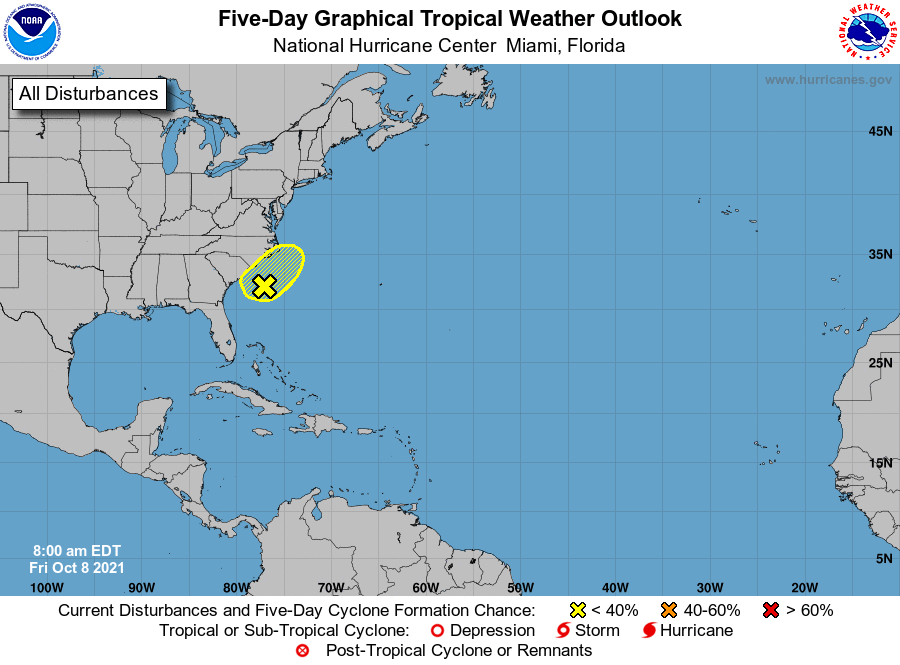 The National Hurricane Center says a low-pressure system just south of the North Carolina coast has a 30% chance of development.
Forecasters said Friday that a window of more conducive conditions is likely to open this weekend, making heightened winds and heavy rains, particularly along the coast, more likely. As of Friday, the elongated area of low pressure was more than 150 miles off the coast of South Carolina, producing disorganized showers and thunderstorms well to the east of the center of circulation, and forecasters said strong upper-level winds should prevent any significant tropical or subtropical development during the next day or two.
By Sunday, conditions could briefly become marginally conducive for subtropical development, but by early next week, the low is expected to be affected by a frontal boundary, which should end the opportunity for any subtropical or tropical formation.
The National Weather Service Newport-Morehead City office advised beachgoers to be mindful of the dangers in the surf zone as onshore flow and increased swells will bring an increased rip current threat. Most North Carolina beaches were expected to see a high risk of rip currents Friday.