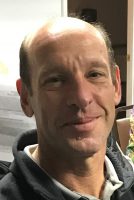 Reprinted from the Carteret County News-Times
EMERALD ISLE — After nearly 20 years working to place sand on beaches and get inlets and creeks dredged, Carteret County Shore Protection Office manager Greg Rudolph has resigned, effective Friday, Nov. 12.
In a letter Thursday to county manager Tommy Burns, Rudolph, 51, said, "While there's always the next storm, the next shoaling hot spot, or some regulatory/policy issue to contend with, I've come to a place in my career where there's a sense I've accomplished all that I can for the county and it's time to move on and pursue new opportunities and challenges."
In an interview Monday, he said he couldn't yet say what he is going to do next.
"You will not see me becoming shore protection manager for any local government in this state or another. The Shore Protection Office was a newborn baby when we started in 2001 and it's been to college, got the first real job, married, etc., and you come to realize that it will be OK and it's time to let go."
When he started as head of the newly created office in 2001, "I'm not sure the beach commission or the county quite knew what exactly a Shore Protection Manager was supposed to do, and to be honest I wasn't quite sure what a Shore Protection Manager was supposed to do either," Rudolph said in the letter.
He learned on the job. In two decades, the office has been responsible for planning and guiding numerous beach nourishment projects to fruition, placing more than 20 million cubic yards of sand on Bogue Banks at a total federal, state and local cost of nearly $223 million. Much of the money has come the county's beach nourishment fund, which receives half of the revenues generated by the 6% occupancy tax on rental accommodations.
Rudolph, a geologist by training at East Carolina University, called the tax a crucial decision.
"I can't thank the county leadership enough for having the foresight in the late 1990s and early 2000s to develop the occupancy tax legislation that not only designated a portion for the purpose of beach nourishment, but to also codify the beach commission into the law," he said in the letter. "That was the singular best thing to happen to Bogue Banks from a beach and inlet management perspective and I was incredibly fortunate to serve the beach commission since day one."
He thanked the County Beach Commission chairpersons, Buck Fugate, Trace Cooper and Jim Normile, along with all beach commission members he's worked with. The commission serves as the advisory body over the shore protection office.
"Working with them and the Town Managers was one of the best aspects of my tenure here," he said. "It was good to learn from them and make friends along the way."
Normile, the current chairperson, said the beach commission has begun the human resources process to locate and hire a new shore protection office manager.
"Rudi has been a blessing to work with and his brilliance will be sorely missed," he said in an email Monday morning.
Normile also noted Rudolph's efforts for the county "as a steward of natural resources" and said the manager "served as a subject matter expert" on U.S. Endangered Species Act listings, offshore oil and gas exploration, the National Flood Insurance Program and its rate maps and sea level rise.
Finally, Normile cited Rudolph's liaison work with the state legislature and with the state's congressional delegation.
Rudolph said his decision to move on had nothing to do with the county, the government or staff.
"It's purely a life decision, and at the same time, the County will be well served by getting a set of fresh eyes and perspectives for beach/inlet management and waterway dredging moving forward," he wrote in the letter.
He said he is committed to doing everything possible to ensure the next manager and the beach commission have continued success. Rudolph said he feels he's leaving the program in good shape.
"Our beaches are in unquestionably better shape than they were subsequent to the spate of hurricanes that impacted us in the 1990s," he said in the letter. "We also developed one of the most comprehensive beach survey programs in the entire country, which serves as a foundation for the Bogue Banks Master Plan we finalized not that long ago."
That plan will serve as the county's guiding engineering and permit "vehicle" for beach and inlet management over the next 45-plus years.
The office under Rudolph also became an important resource for planning and dredging waterways from Emerald Isle to Down East.
Rudolph exits with one major project left in the wings, dredging East Taylor's Creek and using the sand to nourish the public beach and other areas on Radio Island. The estimated $1.9 million project is to be paid for with a $1.3 million grant from the N.C. Shallow Draft Navigation Channel Dredging and Aquatic Weed Fund, with a $650,000 U.S. Department of Defense grant to use as the local match for the state grant. The goal is to start work in January.
Rudolph also leaves with what he called in the letter "a very heavy heart." The county, he said, "has great leadership and an amazing staff. I will miss working with … everyone."
Rudolph told the News-Times he plans to stay in the area, even if it's kind of a "home base" with more travel. His family "needs to keep our gills wet and there is absolutely no better place to do that than Carteret County," he said.
He had a salary this fiscal year of $113,275, which including benefits, totals $154,470, and the county gave him a one-time $5,000 bonus at the request of the beach commission.
This story is provided courtesy of the Carteret County News-Times, a tri-weekly newspaper published in Morehead City. Coastal Review partners with the News-Times to provide our readers with news of the North Carolina coast.