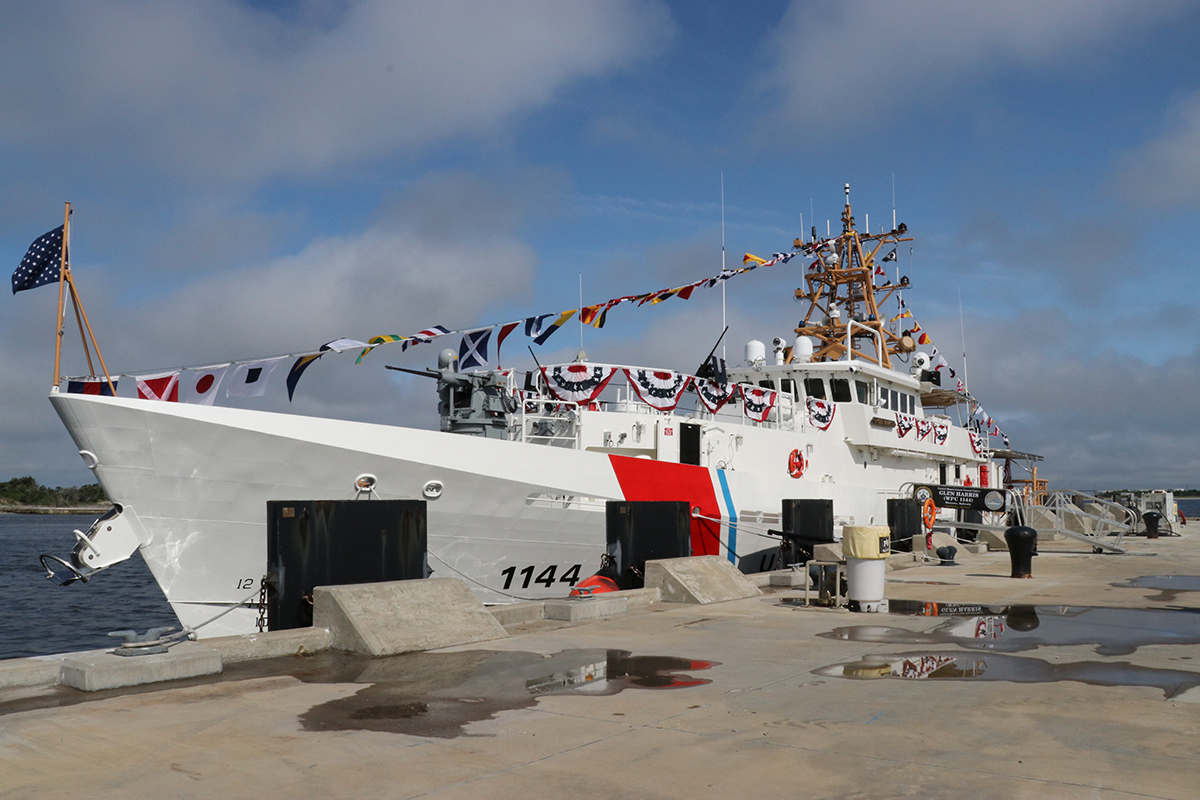 At U.S. Coast Guard Station Fort Macon in Atlantic Beach on Friday, Aug. 6, one breezy, blue-sky day before the 79th anniversary of America's Pacific Islands campaign in World War II, the U.S. Coast Guard convened a hundred officers, crew and family members to commission a new, fast-response cutter named for Chief Petty Officer Glen Harris, who was born in the Down East village of Stacy, married and lived in Beaufort.
Harris, who spent much of his 25-year Coast Guard career here at Fort Macon, had also landed the first troops and run supply craft under heavy enemy fire at Tulagi, where the assault on the islands began, heroic service for which the Navy, by the hand of Adm. Chester Nimitz, awarded him the Silver Star.

On Aug. 6, a brass quintet — two trumpets, a trombone, a French horn and a tuba — set up a scant 20 yards from the gleaming white port side of the cutter Glen Harris, which was tied up at Fort Macon south wharf, and played tunes from a Sousa yesteryear for the crowd, while officers in dress whites and sabers moved forward midmorning to run through the serious steps of formally adding this ship to the fleet.
Few there knew of or mentioned service that the Glen Harris had already done during its pre-commissioned days, likely when it was on sea trials in April, suggested Coast Guard Atlantic Area Historian Dr. William Thiesen. A hurricane-like storm had blown up suddenly in the Gulf of Mexico, capsizing Seacor Power, a large 150-foot lift boat with a crew of 19 aboard, calling in Coast Guard vessels for search and rescue. The Glen Harris answered the call and saved a man, pulling aboard and rescuing one of the six crew members who survived the storm's 12-foot seas and 100 mph winds.
Skip Bowen of Bollinger Shipyards spoke during the ceremony, acknowledging the scores of men and women who had welded and wired this 154-foot wondercraft together in Lockport, Louisiana, with its ability to run at 28 knots — "At least," said historian Thiesen — and to launch and retrieve its own ship's boat from a gated well in the stern at speed.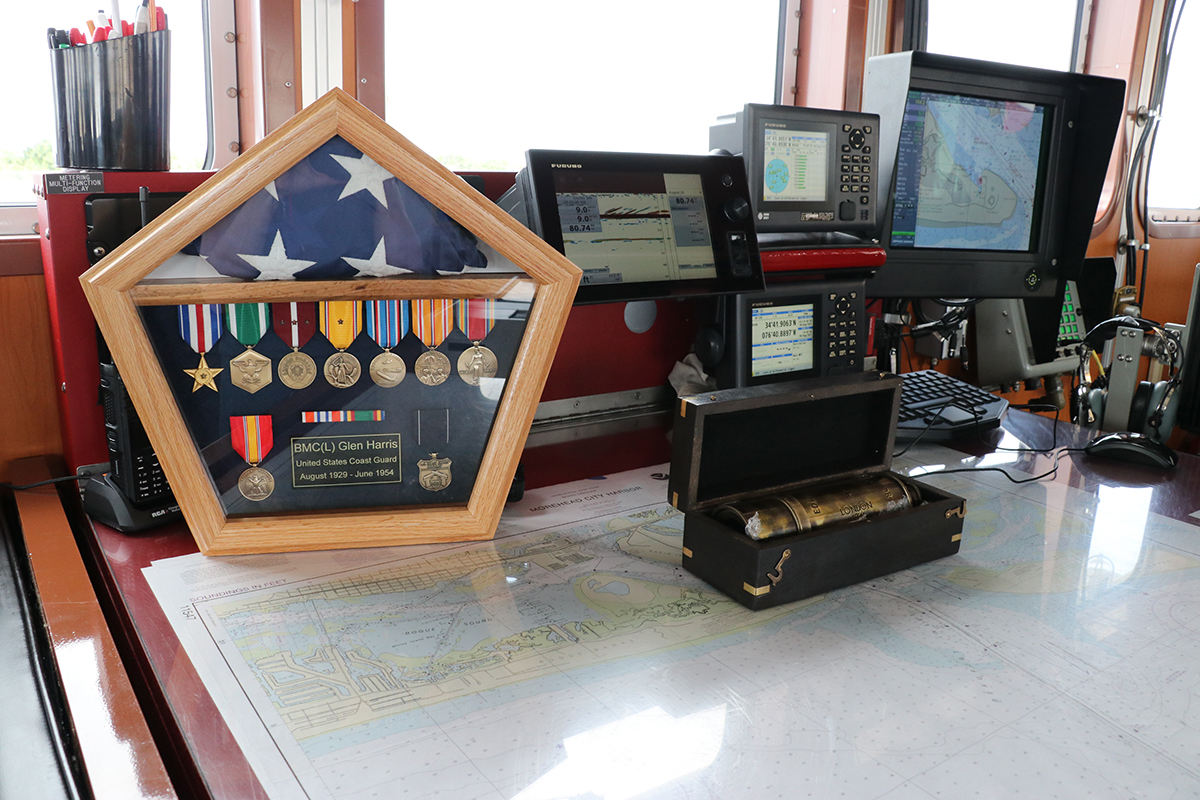 Adm. Linda Fagan, vice commandant of the Coast Guard, by her presence conveyed the gravity of the ceremony. She declared: "This particular cutter is destined for Bahrain in the Arabian gulf where it will conduct national security operations in support of our (Department of Defense) partners in the region. We know this crew is ready and excited to get over there," telling Lt. Reginald Reynolds that the Glen Harris was ready for service and for his captaincy and handing him his orders, which he then read aloud.
The protocols cascaded: the passing of the Long Glass, an honored telescope bound for the vessel's bridge; the navigator's setting of the watch …
Stacey Howley of Atlanta, the ship's sponsor and Glen Harris' youngest granddaughter, took the stage. A slender woman in a light-blue dress with warmth and authority in her tone, she was there "to share a little bit about Glen Harris and his energy and enduring spirit, which will no doubt be alive to help guide this incredible cutter on its future path."
Calling him "one of the most honorable men I've ever known," she described him as "an absolutely devoted husband to my grandmother, a loving and supportive father to two daughters and an extremely witty, fun-loving and sometimes mischievous grandfather to his four granddaughters … But above all, he was a man of the utmost character and integrity with a strong faith in God … an extremely humble man (who) rarely spoke about his time in World War II. But I believe if he were here with us today, he would most certainly say that his actions in the Tulagi Islands, as well as his crewmates that were by his side during the mission, were not heroic at all, but simply a reflection of the Coast Guard's long tradition of lifesaving missions and of putting others before oneself."
Howley closed simply: "I can hear my grandfather saying, 'A job well done by all!'"
And then Lt. Reynolds stood, giving his first command as the commissioned Glen Harris' captain, the order that had brought us all here this summer morning to bear witness: "Officers and crew of the Coast Guard Glen Harris, lay aboard and bring our cutter to life!"
From the men and women of the crew came the accepting shout in return: "Aye!"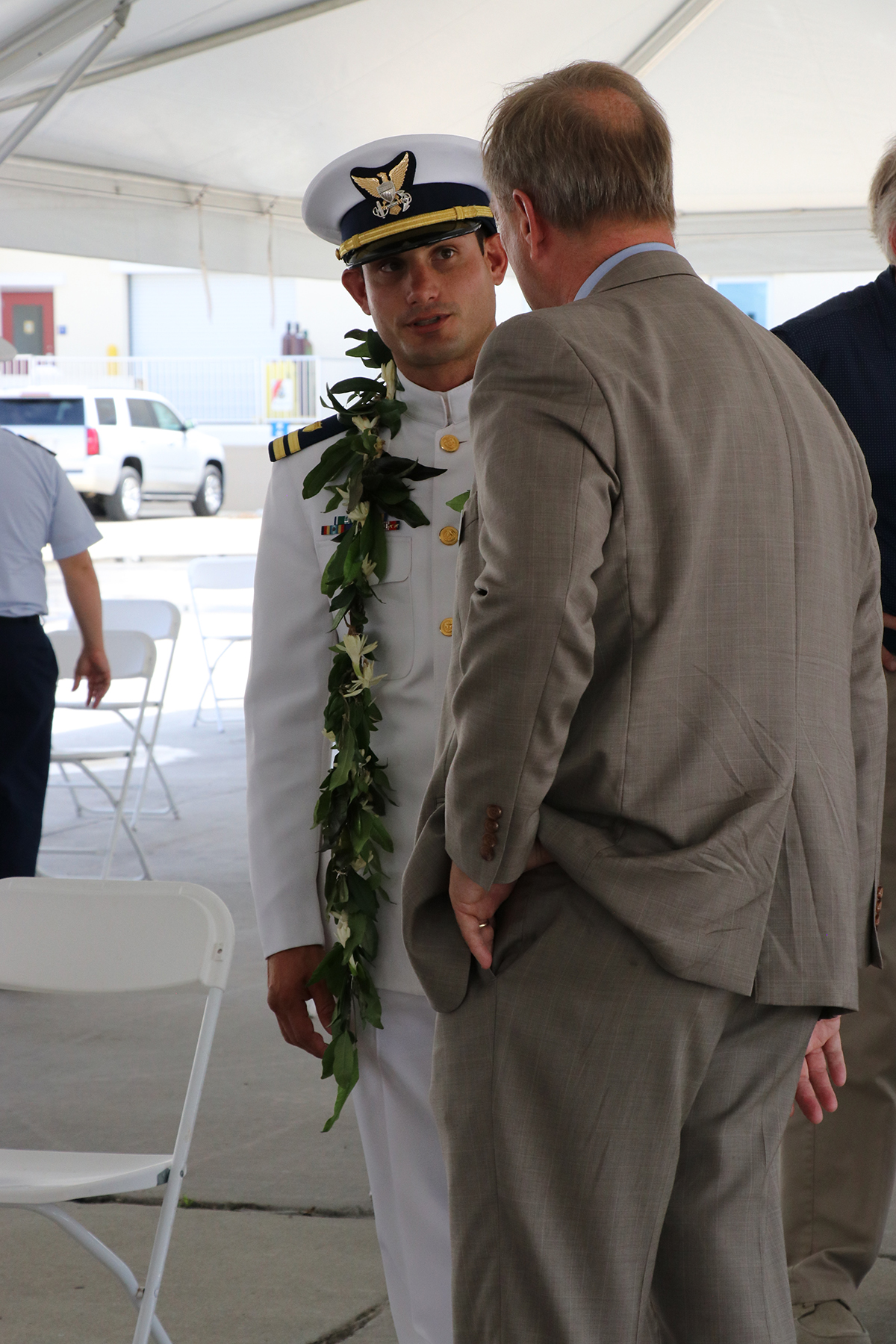 And the two dozen in dress blues went marching briskly toward the edge of the wharf and up the gangplank, taking evenly spaced parade-rest positions along the ship's port side, the newly broken and unfurled Union flag flying above them. These enacted protocols in sum sending not only a clear message but also a palpable feeling abroad: that the newly-commissioned ship had indeed come to life — and no one there in that moment was unmoved.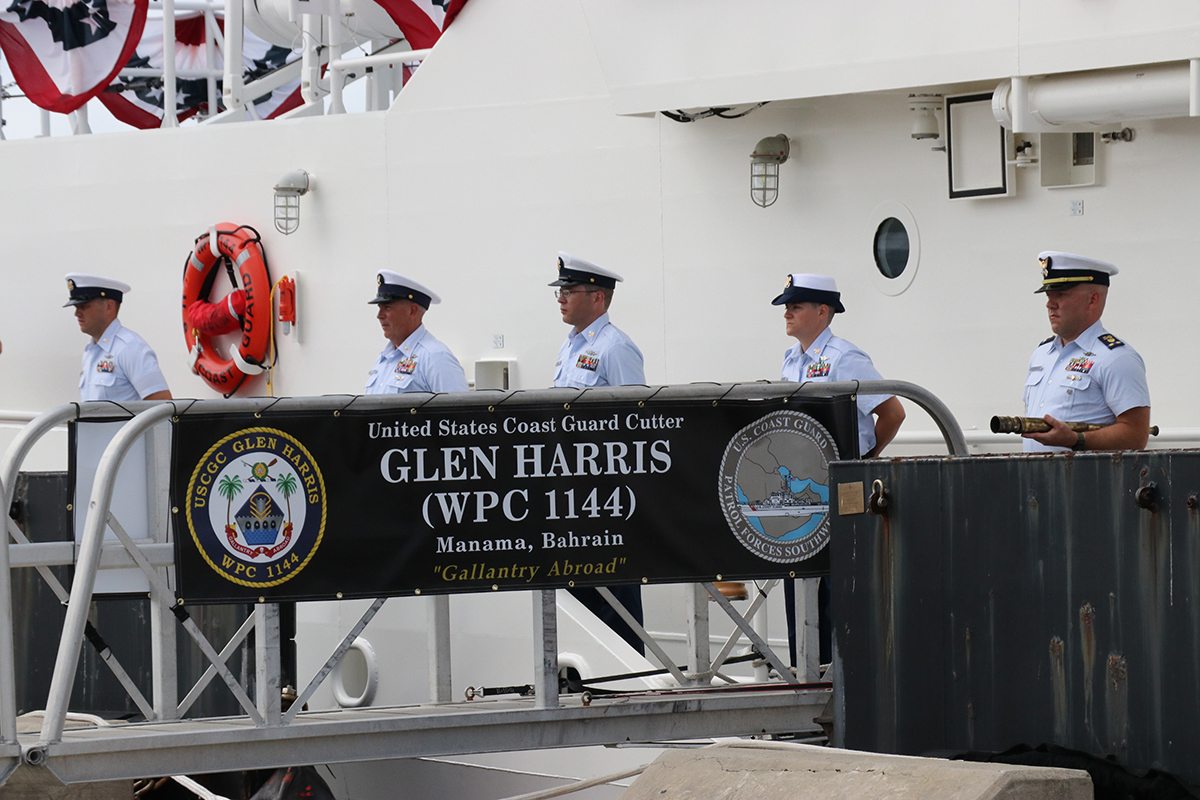 Reynolds spoke of Harris as "the chief" and "a surfman," invoking the spirit and heritage of the Life-Saving Service that, melding with the Revenue Cutter Service in January 1915, then became the Coast Guard. He spoke of the crew and its training on the cutter, its journey to Key West and Mayport and on to Fort Macon. Saluting them, he said "I am honored to call them shipmates."
He acknowledged family members of the ship's crew who were on hand, including his own from Hawaii who had brought him a lei to wear, and he noted as well the long separations all had accepted as their duty. Affirming with a special dignity accorded the heroic dead, Reynolds said the ship's mission was "to preserve, honor, and be worthy of Glen Harris' legacy."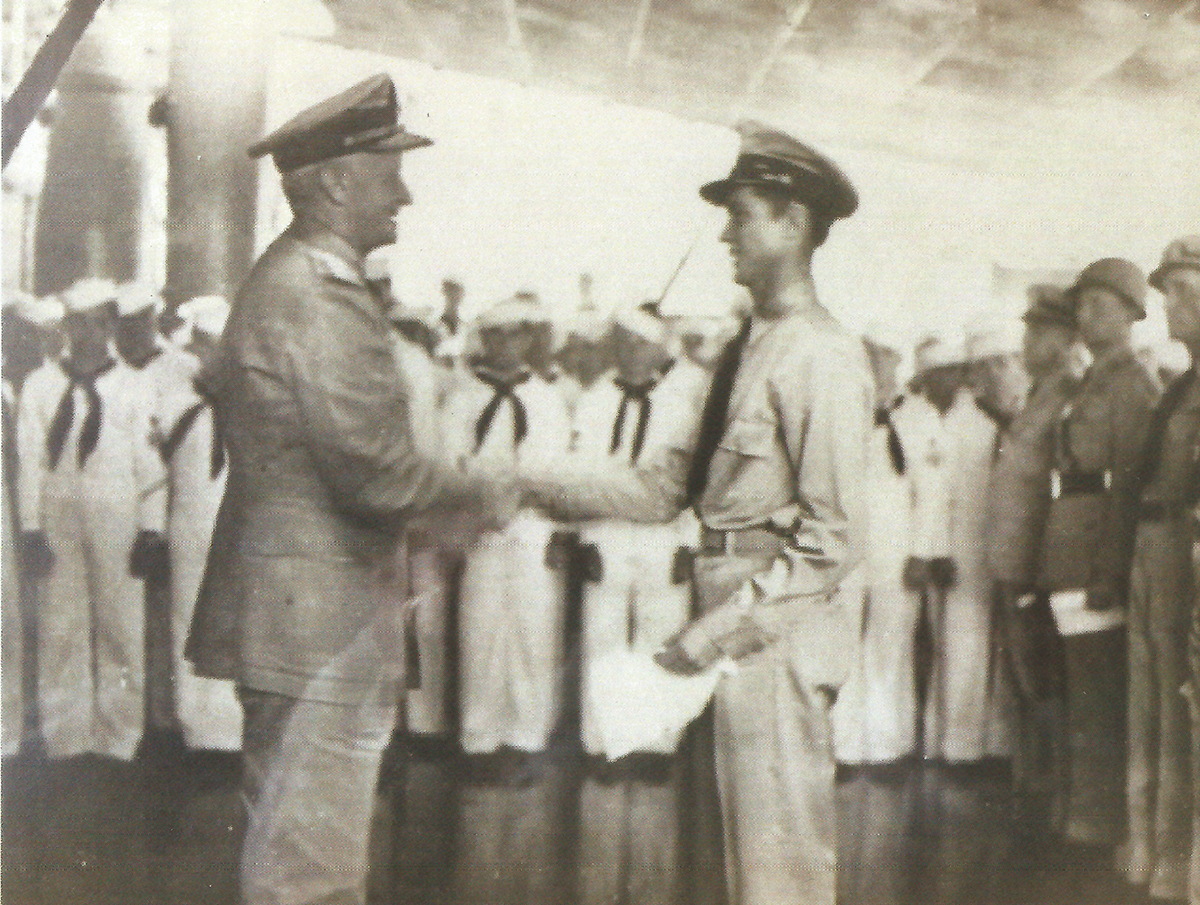 A single white skiff lay at the edge of the turning basin, a hundred yards or more astern of the Glen Harris; sea gulls flew over, squawking; a baby cried at the back of the crowd; and after a brief prayer of benediction, the brass quintet played the morning to a solemn close with the Navy Hymn:
O hear us when we cry to thee
For those in peril on the sea!
This vessel will be leaving home this fall, just as Carteret County's Glen Harris once did to be in position in the Pacific almost 80 years ago, helping keep the forces of darkness from overrunning the world. Just as Glen Harris would do now, a sleek bright ship out upon the oceans of the world — semper paratus, always prepared.