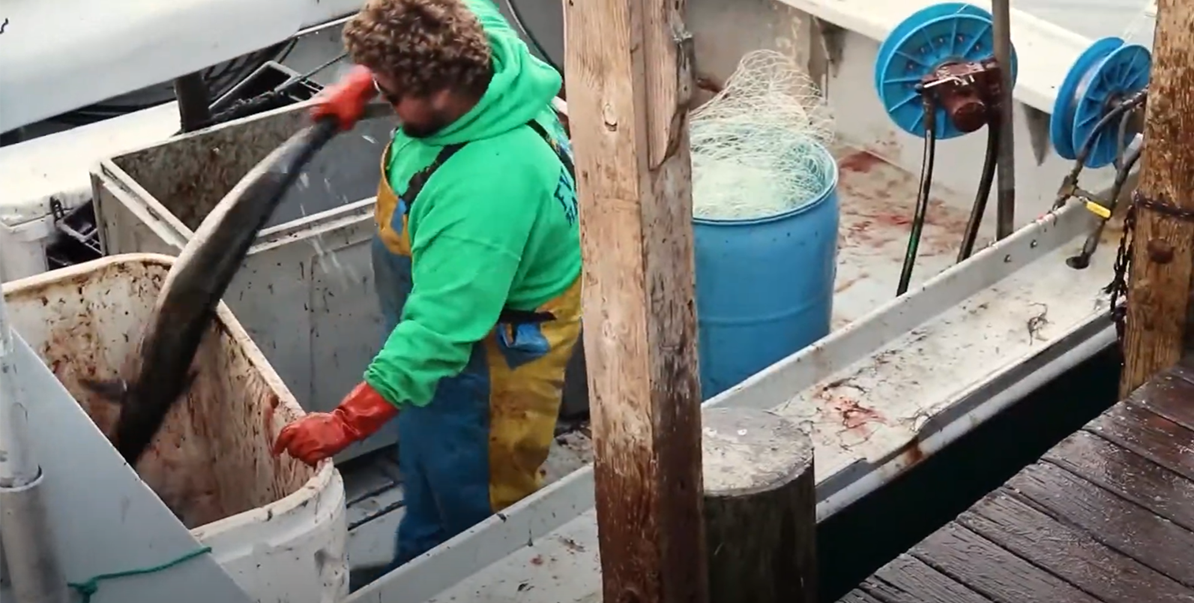 Guest commentary
I read an article published this past week, "Ditch of Death: Navigation Dicey in Hatteras Inlet … again." It tells of the recreational fisherman's influence on Hatteras Village's economy and how our Island's commissioner worries about the "shoaling issues scaring away out-of-town vessels coming in for tournaments."
But you failed to cover how commercial fishermen have been impacted by the inlet! In my opinion, Hatteras Village is just as dependent on commercial boats as we are on transient "eleven-million-dollar game fishing vessels." As a seafood market owner and fish dealer, I worry about losing the last few remaining commercial fishermen we have because Hatteras Inlet is non-functioning.
Hatteras Village has been an active commercial fishing town long before we were ever a top beach destination. The average vacationer or full-time resident will not encounter commercial fishermen unless it is through their fork. You do not see them because they leave at 3 a.m. and get back after 10 p.m.– too early for coffee shops, too late for restaurants. Driving down the highway in Hatteras, you see rows of charter boats, but you won't see commercial boats unless you go down the slash. But just because they are hidden in the safety of secluded harbors does not mean they do not pull their weight in town.
Most of the community has no idea that for the past year, Hatteras Island's top commercial fishing boat, F/V Sea Bound, has been missing from its slip. In my world, its front-page news every week. I hear it non-stop at Wanchese Harbor, "Wow, so Sea Bound still can't get out Hatteras Inlet?! That's so sad …" Our island's only long line boat is operating out of our neighboring fishing village and their residents are talking about it more than ours are!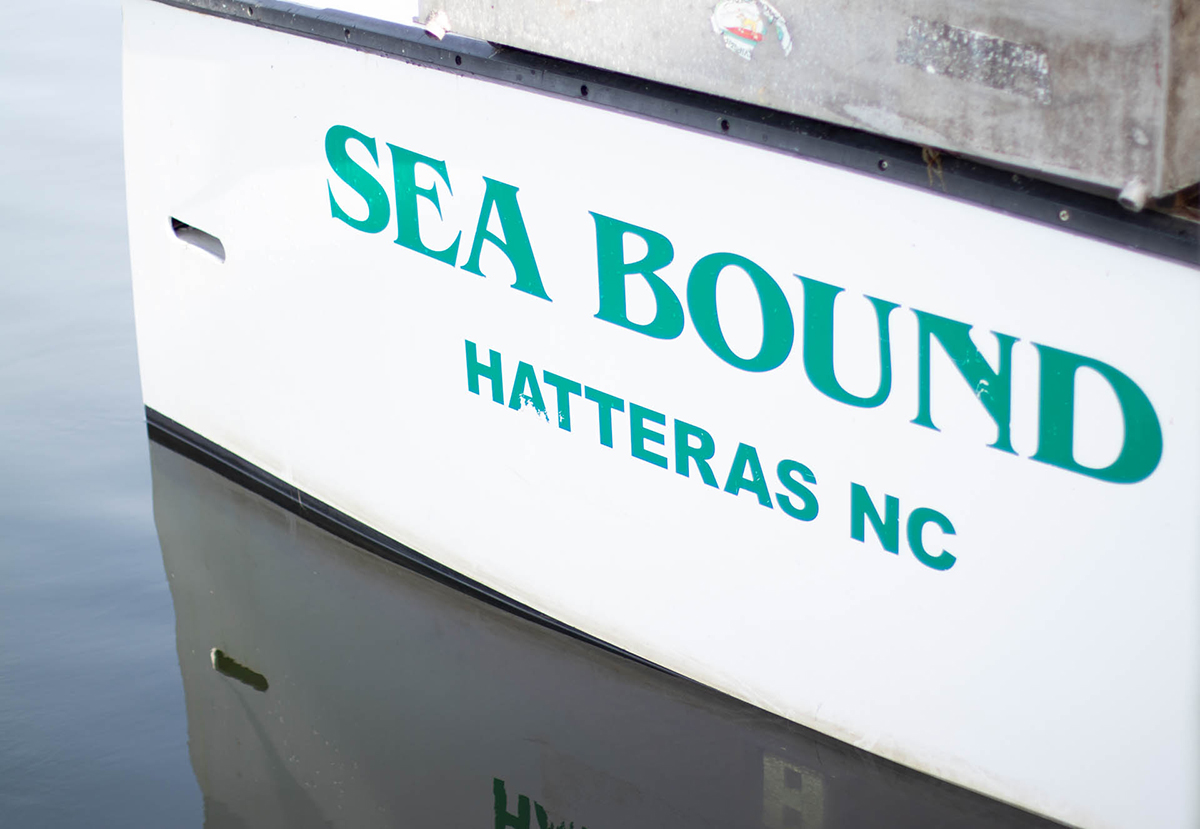 Even more, most have no idea the Engelhard fleet did not fish out of Hatteras this year for the first time in decades. This was a massive hit for the village's seafood industry: We depend on these dozen boats to net bluefish, ribbonfish, and dogfish throughout the fall and winter and sell them to local fish houses.
These fishermen opted to work out of Wanchese instead of Hatteras, landing millions of pounds of fish there because they could not rely on our inlet. In addition to the Engelhard fleet, our Wanchese King Mackerel fleet comes every fall and winter too. Usually, there at least a dozen of these boats. This year there were just a few.
These are the people who keep our local economy functioning in the off-season while our charter fleet remains tied up. They rent our houses, frequent our grocery stores and restaurants, buy fuel at our stations, buy fishing gear at our shops, make repairs at our boatyard, keep our fish houses open, feed our residents and visitors … All we have to do in return? Keep their way to work open.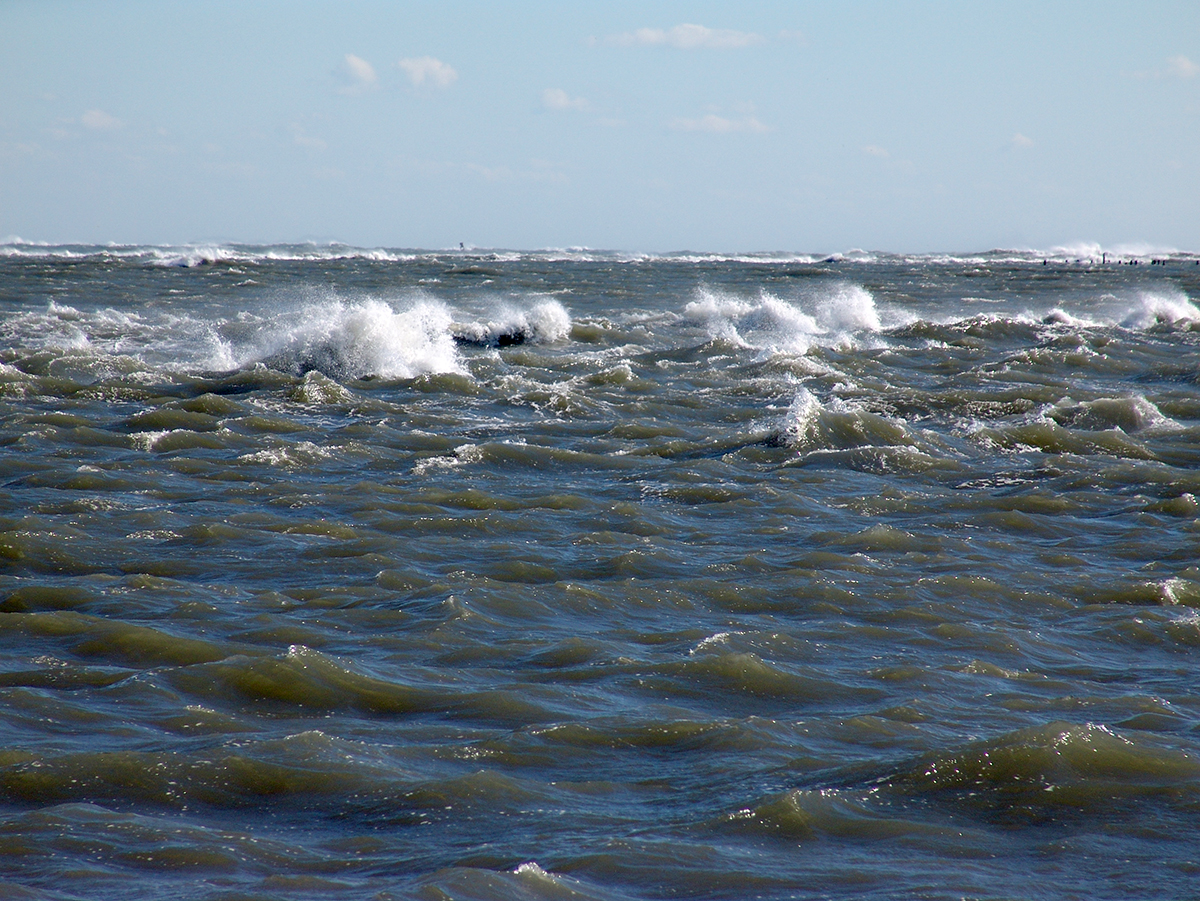 Missing out on crucial fishing is not an option – you must reach the fishing grounds on time or somebody else will so you cannot wait for high tide. Bringing home your harvest, you cannot risk running aground with a fully loaded boat. This is when you get into danger and roll over from the extra weight. But the fish must get to market as fast as possible to maintain quality so you cannot wait for high tide now either, or you will miss the truck. It would be like if you had a drawbridge on your drive to work but they only lowered it twice a day, but those times change daily, and its only down for an hour.
What does it mean to our small village when commercial fishing boats leave our port? National Marine Fisheries has a formula: For every crew member on board a fishing vessel, 10 people are employed in shoreside support. So, when the two dozen boats from Engelhard and Wanchese did not come last winter with their crews, over 500 people employed as shoreside support were directly impacted. This is nearly 15% of our island's population!
Just one commercial boat fishing out of Hatteras Village has a massive impact on the local economy. The boat owner employees two to three crew members but the labor does not stop there. At the fish house, another seven people are employed to pack out, report, and sell the fish. A truck driver is employed to carry the fish to market. If the fish are staying local, you need a fish cutter, and at least three employees at each restaurant or fish market. If the fish is being sold out of town, typically New York City or Boston, an additional 15-20 jobs are added to the supply chain.
As I write this, I am reflecting on the fishing trip our local tuna fleet just returned from, they left the dock while a tropical storm was beginning to form offshore. During setting on the third night, it had reached them – a squall came through with gusts of 70 mph. Then the rain started. One mate told me it rained so hard that they could not hear anything but water pounding into water but at least it knocked the waves down a little. I quote him here, "Cold. Wet. Miserable. Okay!"
But the part of the trip that is the scariest, the deadliest? Not setting 15 miles of fishing gear in a 70-mph squall but it's the final two-mile stretch home that will get you. The inlet holds the power and only thing getting you through is the timing and experience of your captain. Even the best captains run into trouble at Hatteras Inlet, it's just that unpredictable.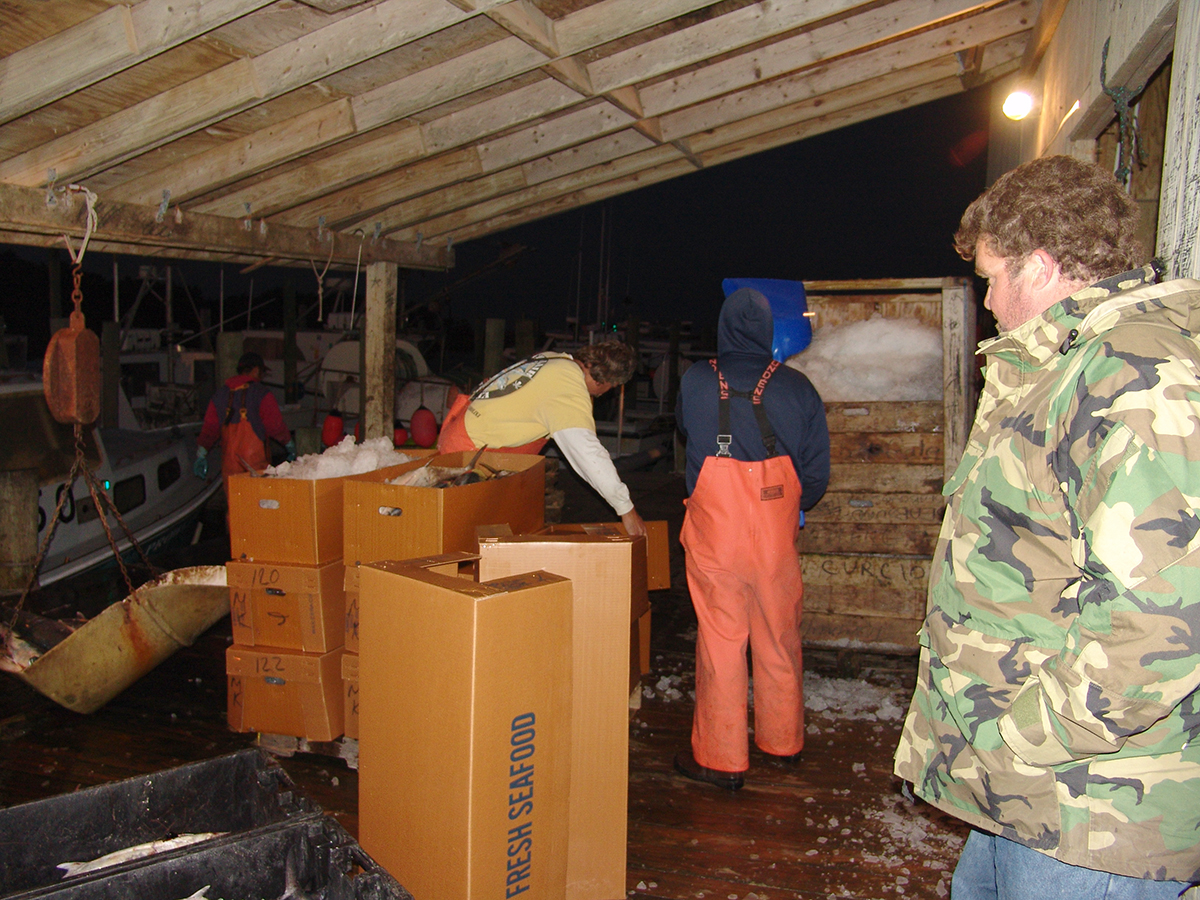 The first time I ran aground going out Hatteras channel was about six years ago when my brother, Graham, took me grouper fishing on F/V Prowler. We left at 3:30 a.m., so I hopped onto the large cooler for a nap while we went out. I was sound asleep when I was woken in mid-air, falling onto deck. Startled, I jumped up and said, "What happened?!" Graham calmly replied, "We ran aground." He got on the radio and called the fleet, asking if anyone could come close and throw us a wave. A boat came along about 15 minutes later with the promised wave, thankfully it was enough to push us off the shoal and we were back on route.
Coming in that night, Graham had not forgotten the events of the morning's departure. This time I was sleeping in the bunk when he wakes me up around 10 p.m. He says, "come up here and stand by the wheel." I do it immediately and ask my question once I am in position, "why do I have to stand here?" He replied, "because if we run aground again, I need you right here next to me so I can keep you safe." I stayed standing there, glued to the side of his captain's chair for an hour and half until we got back to the slip.
Graham knows the dangers of running aground all too well – he almost died from it when he was 19 years old. Graham was filling in on a friend's charter boat and the captain decided to leave out Oregon Inlet instead Hatteras, a less familiar course for him. Graham was standing at the back of the boat when the captain ran the high-speed boat violently aground. Graham was sent flying into the cabin wall. A crushed skull, torn shoulder and bleeding ear got him a helicopter ride to Norfolk General. It took a full year to heal up and he still fells pain in his shoulder when fishing gets good.
My brother has owned and operated my dad's fishing business since his retirement in 2014. Like many of our fishermen, my dad got tired of Hatteras Inlet. Risking your boat and your life just to get out fishing for 100 pounds of grouper? Nope. Not going to happen. Before regulation changes, he could land 3,000 pounds of grouper and the inlet could be used all day, now that was worth the potential peril.
Many of our county's bigger boats also agree that risk has outweighed reward in our local waterways. They cannot risk bringing their trawlers into Wanchese out of fear of running aground. Instead, they opt for calmer, jettied, inlets below us where a one-foot wave is considered a breaking bar. Trickle-down fishing economics, I suppose. Hatteras boats can't get out Hatteras Inlet, so they move to Wanchese. Wanchese boats can't get out Oregon Inlet, so they move to Beaufort.
Our island's fishing is worth saving but boats must have a way to access the Atlantic Ocean or there is no reason for them to stay here. Hatteras Island offshore fishermen are in extreme financial duress and the remainder of our fleet will soon be forced to relocate to neighboring fishing ports as well. I believe it is time for Governor Cooper to call this what it is: a natural disaster. Hatteras Island needs help now or we are at risk of losing our cultural heritage: a fate many fellow fishing communities across North Carolina have already been forced into.
To stimulate discussion and debate, Coastal Review Online welcomes differing viewpoints on topical coastal issues. See our guidelines for submitting guest columns. The opinions expressed by the authors are not necessarily those of Coastal Review Online or the North Carolina Coastal Federation.