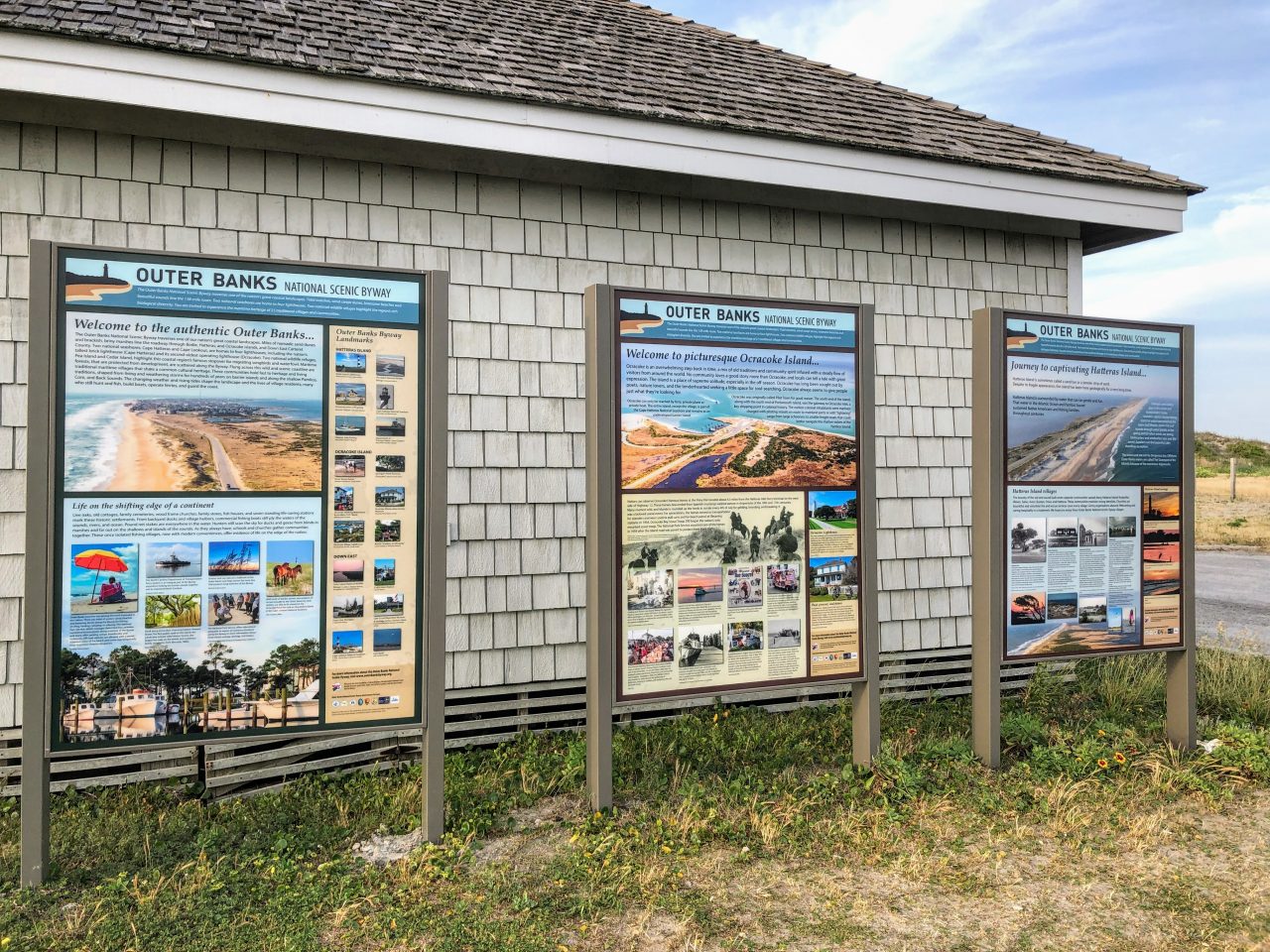 The Outer Banks National Scenic Byway received a 2021 Community Byway Award from the National Scenic Byway Foundation.
One of eight national scenic byways to win this designation, the Outer Banks byway begins in the northern end of the Outer Banks at Whalebone Junction in Nags Head and follows N.C. 12 south through Dare County's Bodie and Hatteras islands.
The byway heads south on the North Carolina Department of Transportation ferry from Hatteras village to Ocracoke Island in Hyde County.
From Ocracoke, the byway continues on the Cedar Island ferry and into Down East Carteret County. The byway ends at North River, for a total of 138 driving miles and 25 ferry-traveling miles.
Melinda Sutton, chairperson of the Outer Banks National Scenic Byway Advisory Committee, has been with the project since 2011.
"This is so amazing that we received this beautification award after all the time we spent getting this project done. There are so many people who have been involved in this over the years," she said in a statement. "It's wonderful recognition for them and the entire Outer Banks region."
Representatives from Carteret, Hyde, and Dare counties as well as state and federal partners have been on the advisory committee since the inception of the project. The committee worked to develop the byway's graphic design logo under the guidance of David L. Dahlquist Associates, LLC and Breann Bye+Associates.
From 2013 through 2019, project participants gathered content and artwork for 18 byway kiosks at gateway locations and 21 individual community and village wayside interpretive exhibits now positioned throughout the three counties.
These interpretive components, installed in 2020 with the project management and engineering team of Albemarle & Associates, Ltd., highlight historical, cultural and natural points of interest, such as the four lighthouses, Cape Hatteras and Cape Lookout National Seashores, and village history, stories and recipes.
The Outer Banks National Scenic Byway Advisory Committee has partnered with the Federal Highway Administration, the North Carolina Department of Transportation, the county governments of Dare, Hyde and Carteret, the National Park Service, the U.S. Fish and Wildlife Service and nearly 100 representatives of local communities and byway destinations on this project.
The National Scenic Byways Foundation sanctions the 184 byways across the United States to enhance the visitor experiences in their respective areas.
The foundation hosts the Byway Community Awards program every other year to recognize the successes of byways, affiliated communities, and leaders. The recognition includes national magazine articles, social media recognition, and the byway newsletter.
Other 2021 winners include the A1A Scenic and Historic Coastal Highway, All-American Road in Florida, Appalachian Byway of Ohio, Delaware River National Scenic Byway in New Jersey, Lincoln Highway Heritage National Scenic Byway in Iowa, Los Caminos Antiguos Scenic and Historic Byway in Colorado, Mohawk Towpath National Scenic Byway, in New York and the Ocoee Scenic Byway, Tennessee.