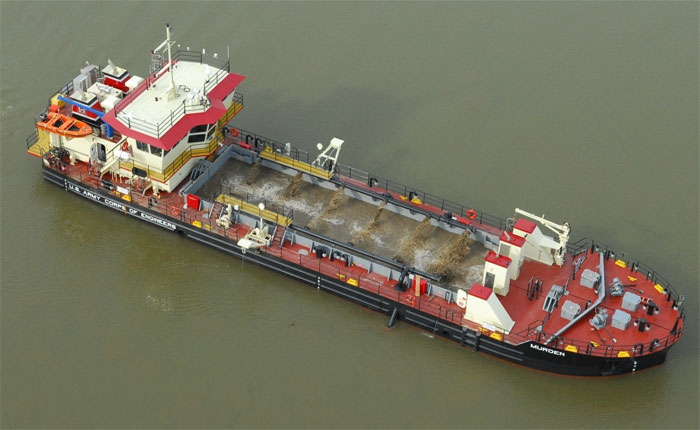 Reprinted from Island Free Press
After numerous complications with dredging the South Ferry Channel, the Army Corps of Engineers reported to the Dare County Waterways Commission at its Monday meeting that the hopper dredge Murden has finally started work removing the problem shoal.
"They're working daylight operations only," the Corps' Chief of Floating Plant Joen Petersen told commissioners, who met virtually Monday. "They are taking the material offshore now."
Petersen said that the dredge, which started work on Saturday, is "light loading" because the channel, then at about 70 feet wide and 7.5-feet deep, was still not wide or deep enough for full loads.
"We're taking partial loads offshore, roughly an hour round-trip, give or take a little bit," he said, adding that about four or five loads have been removed each day, depending on conditions but, he added, there may be limits to how much material can be removed from the channel.
"So do I think we can get it 100 feet wide?" Petersen said, responding to a question about the potential to reach the targeted width. "I think so. But I don't think we'll make 150."
The odds of reaching the 12-foot depth goal, however, is more conceivable, at least partially.
"I think we'll be close to that in the center," he said. "On the edges there, you're not going to have that, because it's just going to cave in a little bit because of the steep bank."
Although charter vessels will not be able to use the channel while the dredge is working, Petersen said that the predawn departures of charter and commercial fishing vessels have a jump on the dredge crew's morning start, and the vessels' afternoon return can be accommodated by calling the dredge on Channel 13 or Channel 16 ahead of their anticipated arrival.
The Murden will continue working at South Ferry Channel until April 21, when it is scheduled to depart for work in South Carolina, Petersen said.  Starting on Thursday, the ship will also work at night in Big Foot Slough, the channel off of Silver Lake Harbor in Ocracoke that is used by the Cedar Island and Swan Quarter ferries.
Travel through Big Foot has been limited, and briefly halted, for the ferry routes due to dangerous shoaling. The state Ferry Division on Tuesday resumed a limited schedule for the two routes until the channel is cleared.
The sidecaster dredge Merritt is expected to arrive about the time the Murden departs, working in South Ferry for about two weeks, Petersen said, barring any other emergency popping up.
Ken Willson, senior program manager with Wilmington-based consultant Coastal Protection Engineering, agreed with suggestions from commissioners that it would be worth seeking permission for the dredge to work another week or two if possible, when available funds are expected to run out.
The Dare County Board of Commissioners provided $60,000 in additional funds for the project from the Dare County Emergency Fund, Brent Johnson, county project manager, said in an email. In addition, the state provided $180,000 from the Shallow Draft Grant fund, he said, totaling $240,000 for the additional dredging.
The initial attempt to dredge the large shoal in South Ferry Channel was hampered last month by bad weather, low tides, and difficulties with the dredges, including damage to two rudders while working in the channel.
Commission Chair Steve "Creature" Coulter credits help from local, state and federal officials in getting the challenging work resumed.
"It's hard to emphasize it enough," Coulter said in a later interview. "People don't realize how much work our public officials are doing to keep our channels open."
If all goes as expected, with the newly cleared channel coinciding with the seasonal wind shift, conditions should improve — just in time for the busy season.
"Hopefully, we'll be in good shape coming the first of May," Coulter said. "But we are dealing with Mother Nature. She can throw us a curve at any day."
The next meeting of the Dare County Waterways Commission is scheduled for 7 p.m. May 10.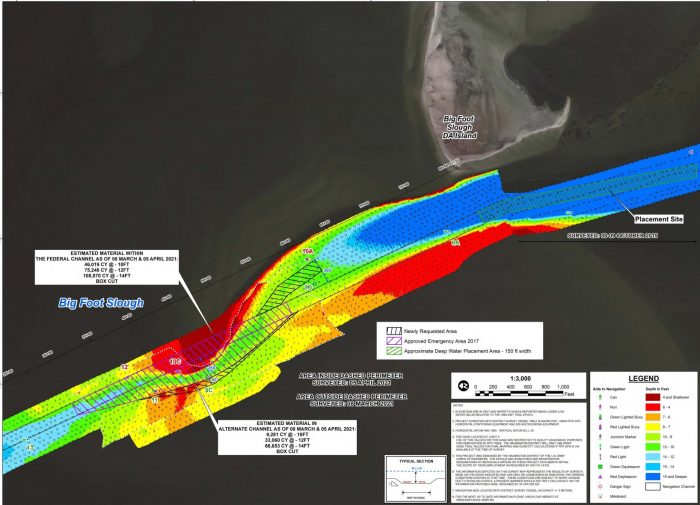 This story is provided courtesy of the Island Free Press, a digital newspaper covering Hatteras and Ocracoke islands. Coastal Review Online is partnering with the Free Press to provide readers with more environmental and lifestyle stories of interest along our coast.