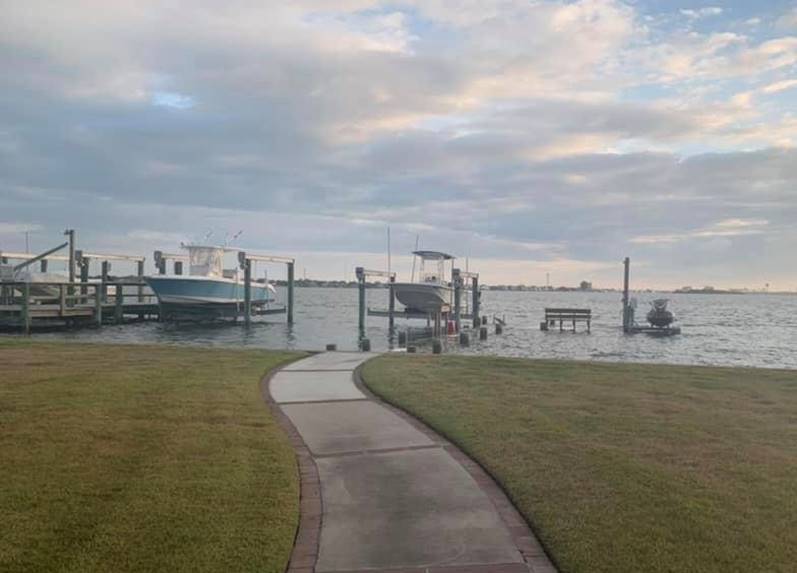 The North Carolina King Tides Project organizers are asking the public for photos of king tides — the highest high and lowest low tides of the year – but they also welcome any photos of flooding or high water on the coast.
The King Tides Project is an international citizen-science project to document extreme tides with photos. The photos, taken by the public, can be submitted online and are used to help visualize higher water levels to better understand how sea level rise can impact communities.
Christine Voss, coastal habitat and ecosystem ecologist with University of North Carolina Institute of Marine Sciences in Morehead City, explained that these extreme water levels are regular, predictable events caused by astronomical forces, but they offer a glimpse of the future.
"We've got the moon, the sun and the Earth in play," she said, and the extreme tides happen when a full or new moon is closest to the Earth during its elliptical orbit. "These are predictable, known phenomena that the whole earth basically experiences along the same period of time, or very similar period of time," she said. "We have higher high tides and should have lower low tides as well."
Additionally, coastal water levels are influenced by wind direction, speed and duration as well as the Gulf Stream's position and flow rate.
"These predictable water level events, especially the highest high-water levels of the year, can give us an idea of when mean sea levels are higher will look like," she said, "or basically enable us to visualize what higher sea levels will look like down the road."
Voss earlier this year made available the 2021 King Tides calendar. There are seven king tides predicted for 2021: April 26-30, May 26-30, June 22-26, July 21-25, Oct. 6-12, Nov. 3-9 and Dec. 2-7. The calendar also indicates periods of higher and lower than usual tides that are not king tides.
"Some of the objectives of the North Carolina program are to really just have people understand, observe and be aware of water levels and water level changes around them," Voss said.
Those who witness the extreme highs and lows during the daily tidal cycle are encouraged to take a photo and submit it to the project either online or on the What's Your Water Level? page.
The public can also submit photos of any high or low tide, their nearest tide gauge or North Carolina King Tides Project Benchmark. When taking the photo, try to incorporate a vertically stable object, such as a piling, or ruler, to give a water level reference, organizers ask.
"Anybody can contribute," Voss said. If a person sees a water-level gauge, they can report those water levels on the app, which she said is fairly easy to use but needs some updates. As long as the person using their phone as a camera has their location finder on, the date, timestamp, and latitude and longitude are automatically filled in.
The app asks questions about flooding, if buildings are being flooded, is it a king tide, or is it just normal water levels. "They can submit what they see on the gauge, and that goes into the NOAA database. And then we're able to use this data to ask various questions."
Another way the King Tides Project is trying to get citizens involved is through year-round water-level monitoring. Water-level gauges can be found along the coast to report local and regional water levels. Those who have access to a estuarine waters and can collect information at least once a week can email North Carolina King Tides at nckingtides@gmail.com to find out more about participating.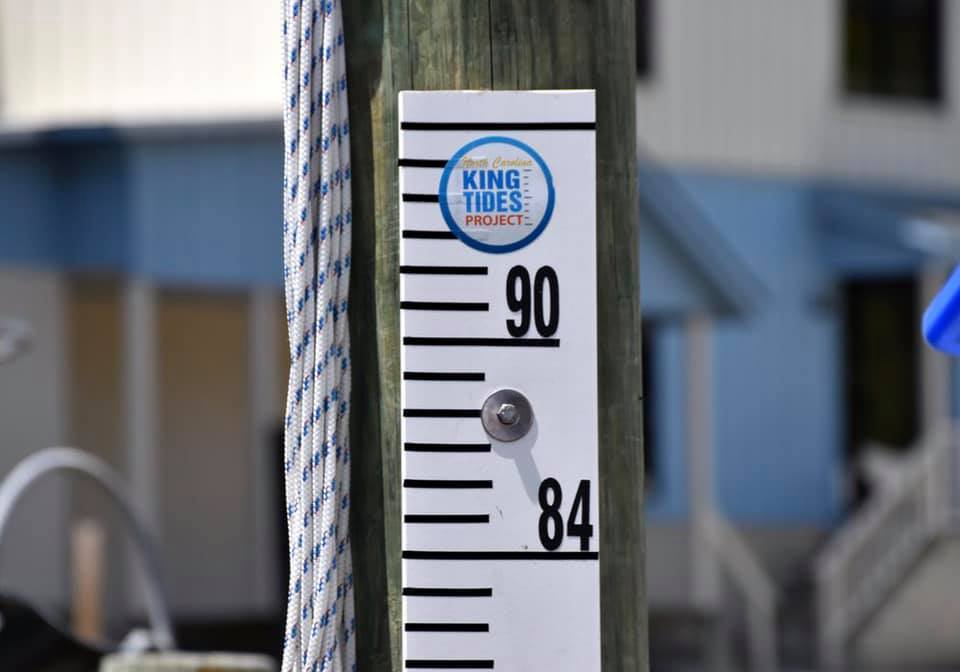 The King Tides Project International got its start in Australia several years ago to show what sea level rise will look like in the future, Voss said.
The North Carolina King Tides Project was funded through part of a National Oceanic and Atmospheric Administration grant Voss said she had from September 2015 to August 2019. The project was part of the Ecological Effects of Sea-Level Rise program, which is now the Effects of Sea-Level Rise program.
"When I had this NOAA grant, I learned of the International King Tides Project and I thought it was one that would definitely benefit our state. So, we've been part of that project," she said.
The international program is focused on looking at those highest tides of the year and looking at those impacts on land, to help us foresee what future sea level rises will look like, she said.
"But because it is so challenging to understand water levels in North Carolina, it is valuable at any time or place to see what the water levels are. Now, those data are accumulating and can benefit scientists and others to better understand our level patterns here in North Carolina," she said.
The negative impact from climate change that probably affects coastal residents to the greatest degree is rising sea levels, Voss explained. Sea level rise is visible everywhere, but especially in North Carolina.
"Sea levels have risen sufficiently high compared to our infrastructure and often our historic infrastructure," she said. "Water levels actually come up the storm drains and onto the roads in Beaufort, Morehead City, Carolina Beach — there are probably many other places too."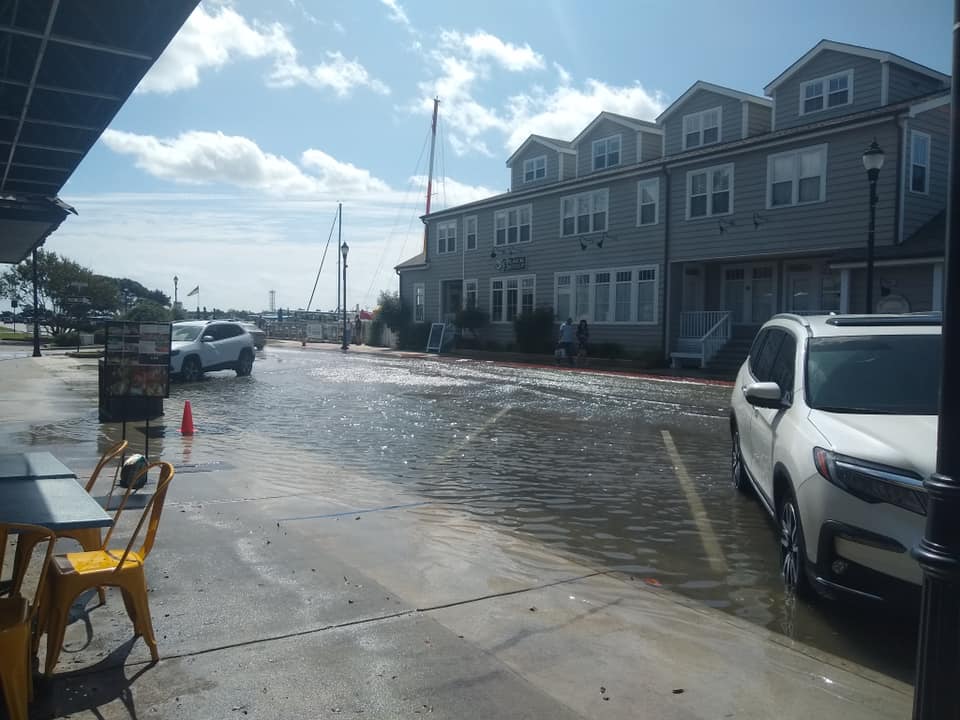 In addition to sea level rise, another effect of human-caused climate change is more flash rain events on the coast.
"It's predicted that here on the North Carolina coast there will be more precipitation each year, but in some areas like rural California and some of the Southwest, they'll have less rain each year," Voss said. "And then the other thing that affects us a great deal are the stronger storms, especially hurricanes, but also nor'easters."
Heat is a form of energy and that heat energy is dissipated through the atmosphere, by way of storms.
"For example, hurricanes. The function of hurricanes is basically to take the heat from the tropical areas toward the poles, so it's to dissipate that buildup of heat in the tropical region," she said. "But for some reason it seems that storms have slowed and have also basically gotten physically larger."
Since August 2019, when the grant ended, Voss has been working with volunteers Sarah Spiegler of the North Carolina Sentinel Site Cooperative and North Carolina Sea Grant, and Dan Tomczak, North Carolina Association of Floodplain Managers, on the King Tides Project.
"Both Miyuki Hino, a UNC-CH economist, and LuAnn Dahlman, NOAA Climate Program Office, value the project and are working with us to find funding to improve NCKT and have it become sustainable," she added.
Hino is looking at the economic impacts of this nuisance flooding, sometimes called "sunny day" flooding.
"There are times as we see here in North Carolina where businesses actually have to close or people can't get out their driveways, were difficult to do what we consider normal activities tracks can't be collected, because water levels are so high," she said.
Voss said finding a way to sustain the North Carolina King tides Project is a priority, and organizers are studying other states' programs as models.