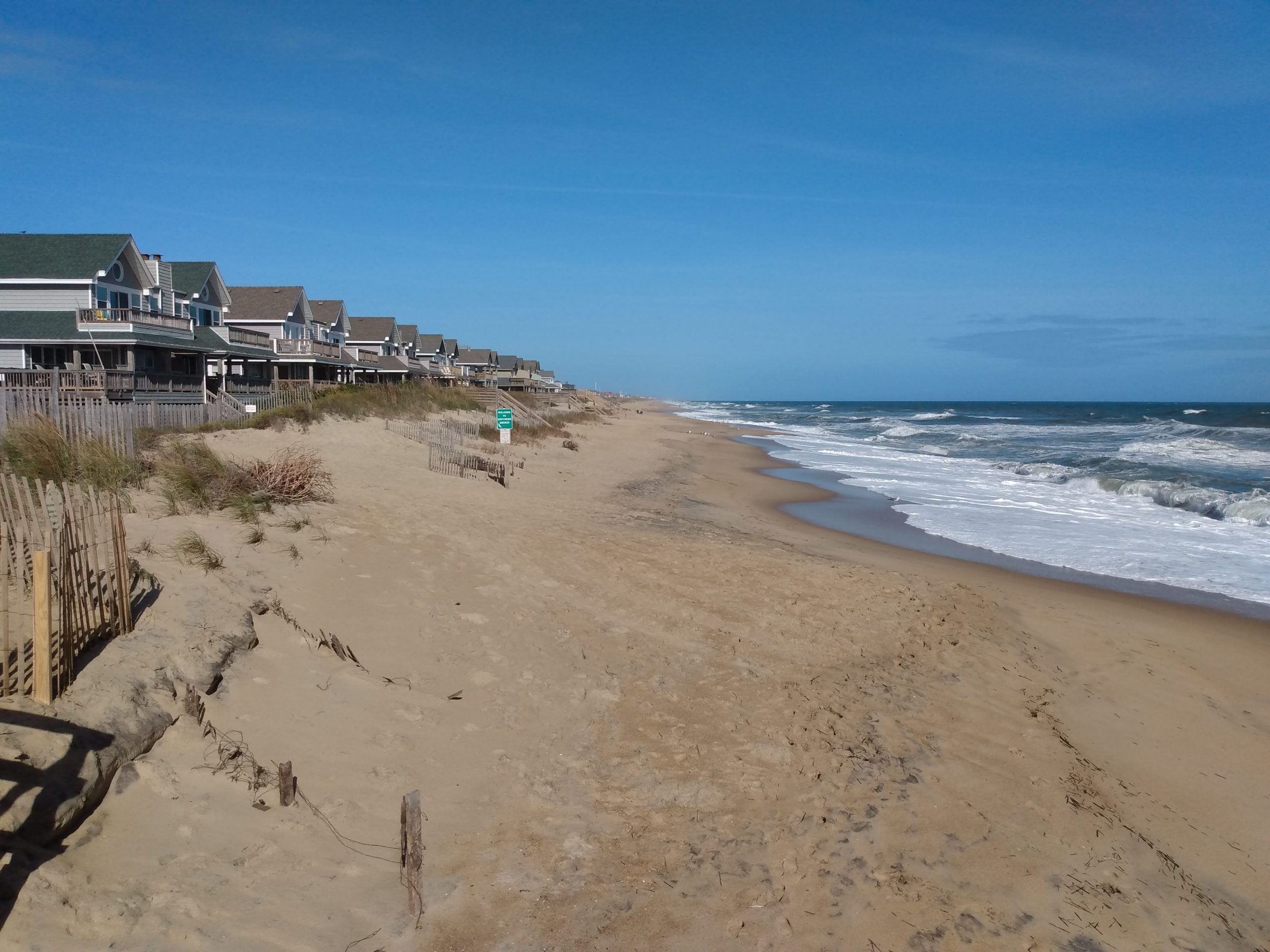 Southern Shores officials want to hear from residents next week on a plan to pay for a new beach nourishment project.
The public hearing at 5:30 p.m. March 16 is on proposed municipal service districts for a beach erosion control and flood and hurricane protection works project scheduled for 2022.
The meeting will be in the town council meeting room at the Kern Pitts Center at 5377 N. Virginia Dare Trail in Southern Shores as well as streamed online.
The town released a report with information on both the proposed beach nourishment project and municipal service districts. The report includes  maps of the proposed districts, an explanation of the proposed service in the municipal service districts, and a plan for providing the proposed service.
A copy of the report is available for viewing in the town clerk's office at the town's administration building, 5375 N. Virginia Dare Trail, Southern Shores, from 8:30 a.m. to 5 p.m. Monday through Friday or at www.southernshores-nc.gov.
The feedback from the hearing could lead to substantial changes to the report to reflect objections, debate and discussion at the March 16 hearing.
The town is working to implement a long-term shoreline management program aimed that will provide and maintain a reasonable level of storm damage reduction, mitigate long-term erosion, and maintain a healthy beach that and supports valuable shorebird and sea turtle nesting habitat, according to the report.
Southern Shores authorized Coastal Protection Engineering of North Carolina Inc. in July 2020 to design a beach nourishment project that will include the dredging from a federal site offshore, and placement of sand along the entire ocean beach of 3.7 miles. The proposed project design calls for 30 cubic yards per foot of compatible sand, or a total volume of 591,000 cubic yards, plus additional sand to construct a berm. The total volume to construct the project is estimated to be 878,300 cubic yards at a cost of between $14-$16 million.
The two municipal service districts would allow for an additional levy of property tax rates with a higher rate for those in districts receiving beach nourishment protection services to a greater extent than the rest of the town, according to the report.
District 1 would include all properties east of N.C. 12 beginning at the southern town limit extending to Ocean Boulevard/N.C. 12, all properties east of Ocean Boulevard from the split at N.C. 12 extending to Hickory Trail, and all properties north of Hickory Trail that abut the Atlantic Ocean extending to the northern town limit.
District 2 would include all properties in District 1, plus all properties east of Ocean Boulevard/N.C. 12 and Duck Road/N.C. 12, beginning at the southern town limit extending north to the northern town line, and, all properties west of and abutting Ocean Boulevard /N.C. 12. beginning at the southern town limit extending north to 137 Ocean Blvd., and abutting Duck Road/N.C. 12 beginning at 139 Duck Road extending north to 149 Duck Road.
The public can attend in person, seats will be arranged to comply with social distancing guidelines, or viewed via Zoom. Those interested in attending via Zoom will need to register in advance at https://zoom.us/meeting/register/tJcoduGqqTksG9FO-toke6-JRDWakH7fMpnu. A confirmation email containing information about joining the meeting will be sent after registering.
The meeting will also be live streamed on https://www.youtube.com/user/TownofSouthernShores, but public comment is not available using this platform.
To provide email comments, write in the the subject line MSD and send to info@southernshores-nc.gov. Council will receive copies of all emailed comments.