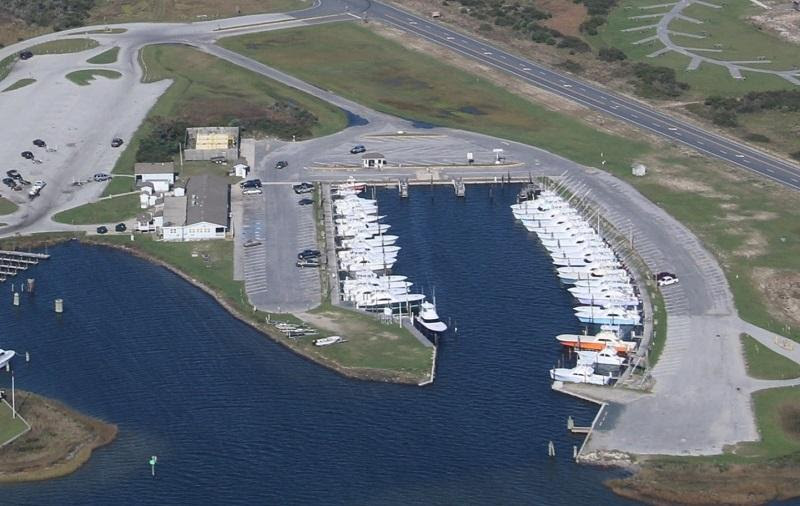 Cape Hatteras National Seashore will accept comments until April 3 on proposed improvements at Oregon Inlet Marina, also known as Oregon Inlet Fishing Center, located just north of Oregon Inlet and Marc Basnight Bridge.
The site plan and environmental assessment, or EA, looks at improvements at the 11-acre, 60-slip marina such as addressing aging buildings not adapted to sea level rise, vessel traffic, navigation and fueling challenges, parking shortages, pedestrian and traffic flow and the viewshed, according to the National Park Service.
Comments can be submitted on the park planning website, the preferred method, or mailed to Superintendent, Cape Hatteras National Seashore, 1401 National Park Drive, Manteo, N.C. 27954.
Oregon Inlet Fishing Center LLC is in a 20-year lease from 2018 to 2038 with the National Park Service to manage the marina. Under the proposed action or preferred alternative, the park and lessee,  propose replacing and elevating buildings and wastewater systems, increase parking capacity, enhance traffic and vehicle circulation, modernize the vessel fueling system and fueling docks, construct transient docks, implement stormwater control, construct an open-air pavilion, and perform maintenance dredging.
The EA also looks at a no-action alternative, which would continue the current management of the project area.
The marina has slip rentals for charter fishing boats, headboats and tour boats; booking services for charter fishing and other boats; retail sales; and food and beverage sales. The marina lessee is also authorized to provide nonmotorized watercraft rentals such as kayaks and canoes; special events, such as fishing tournaments; and a children's play areas.