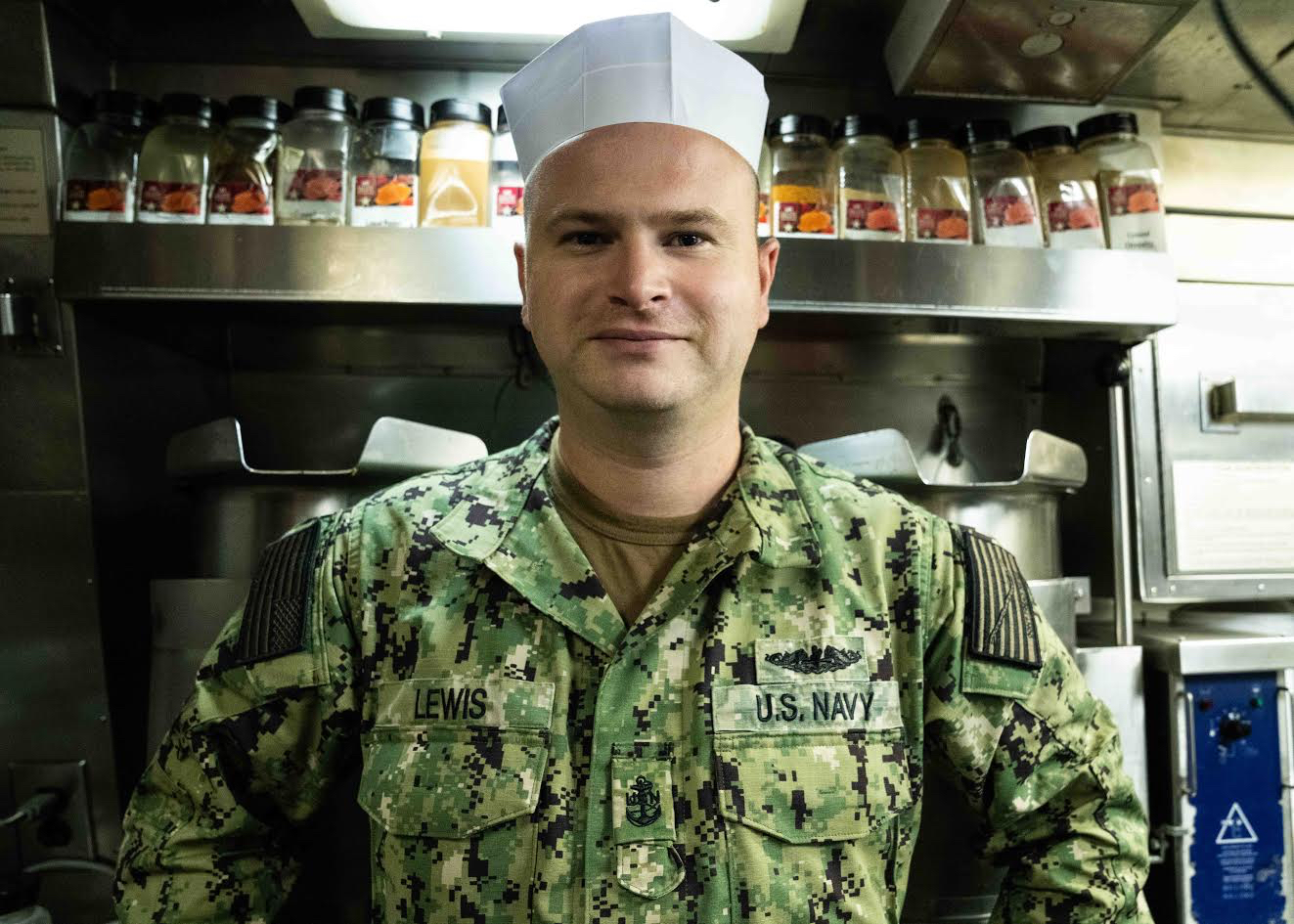 Guam is halfway around the world from Chief Petty Officer Sam Lewis' hometown of Beaufort, but as chief culinary specialist aboard the USS Key West, a Los Angeles-class, fast-attack submarine, his journey began with a high school job back home, washing dishes.
Lewis joined the Navy 11 years ago and was promoted in January to chief petty officer, a rank that carries with it considerable responsibilities. What sets Lewis apart is his job onboard the Key West.
Stripped of the language about feeding officers, admirals and the crew, the job description is simple. "They prepare menus, and plan, prepare, and serve meals," is the last sentence in the Navy's job description.
But simple is not easy.
"We have limited space on board." Lewis explained. "So, we have to load out with much more of the from-scratch items. It's not advanced foods like corn dogs or something like that. We make our hamburgers from scratch. Even pizza, we make our own dough and our own breads, things like that we have to make pure from scratch."
Submarine cuisine specialists are considered among the best in the Navy. The job calls for a wide range of culinary skills, matching the expertise of any restaurant chef.
"You have to be well versed in meat production. You have to be a good baker, learn how to make different types of desserts. And then you also have time restraints. You have to make stuff in three hours or six hours — or whatever the time — that you need," he said.
And it all must be done for crew of 140 to 150, who work 24 hours a day.
Lewis' journey began in Beaufort, not just because that's where he went to school – he played trumpet and baritone horn in the East Carteret High School marching band. The journey begins there because that's where Lewis discovered his fascination with food preparation.
"When I was in high school, I started working at the Duke University Marine Lab," he said. "I worked there as a scullery person. And I started getting interested into food, and the executive chef there, James Bragan, he kind of took me up and showed me how to cook, showed me pretty much the enjoyment of cooking. That's where my love for food kind of came to be."
The food training in the service began after basic training in the Navy's New Accession Training, or "A School," as it is usually called. The program also is where it was decided that he would be a culinary specialist on submarines.
"During my A school, they came in and said, 'if you sign this page 13, you're going to go submarines.' And so I said, 'why not?' and signed it," he said.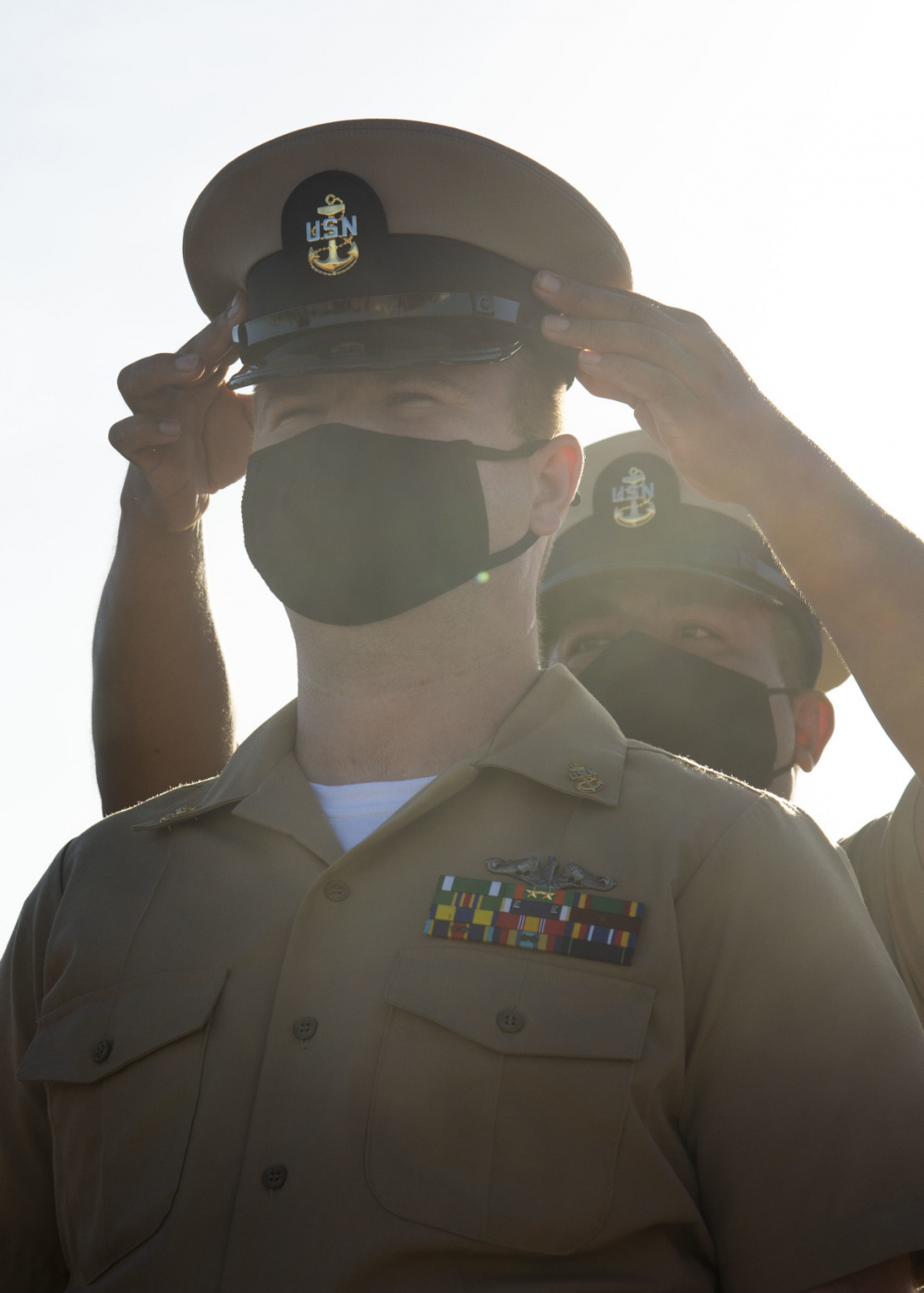 The decision and assignment aboard the Key West, which is based in Guam and part of the Pacific Fleet, has given Lewis the opportunity to explore different cuisines.
"I do a lot of the Asian cooking. My wife is Filipino, but even before that, I was very into the Asian culture — stir fries and stuff like that," he said.
His time in the Pacific has provided an opportunity to learn more about the foods of the Pacific Rim.
"When we pulled into Thailand, I did a trade with the Hyatt (hotel chain) and did a training with them to learn a little bit more about the cuisine in Thailand," he said.
The trade offered Lewis a chance to learn Thai cuisine from the Hyatt chefs, explained Lt. Meagan Morrison, public affairs officer for Submarine Squadron 15.
That training in Asian cuisines led to Lewis' own recipe, or his creation, along with two other chefs.
"We have is a spicy peanut butter curry that we make. Me and two of my counterparts, we made the recipe. And that was partly from Thailand," he said.
The food he prepares and serves is one part of his job. There is also ordering ingredients, a difficult process because the Navy's submarines are underwater for 90 days at a time. Supervising and training his kitchen staff are also a big part of his job.
And then there are the rewards.
"Seeing the enjoyment on people's faces when you're feeding them … The goal is when they enter the crew's mess to eat, there's a hot meal. Just like at home, you come home from a hard day at work, and somebody has made a hot meal. You sit down at the table and eat. It kind of boosts the day up a little bit," Lewis said.