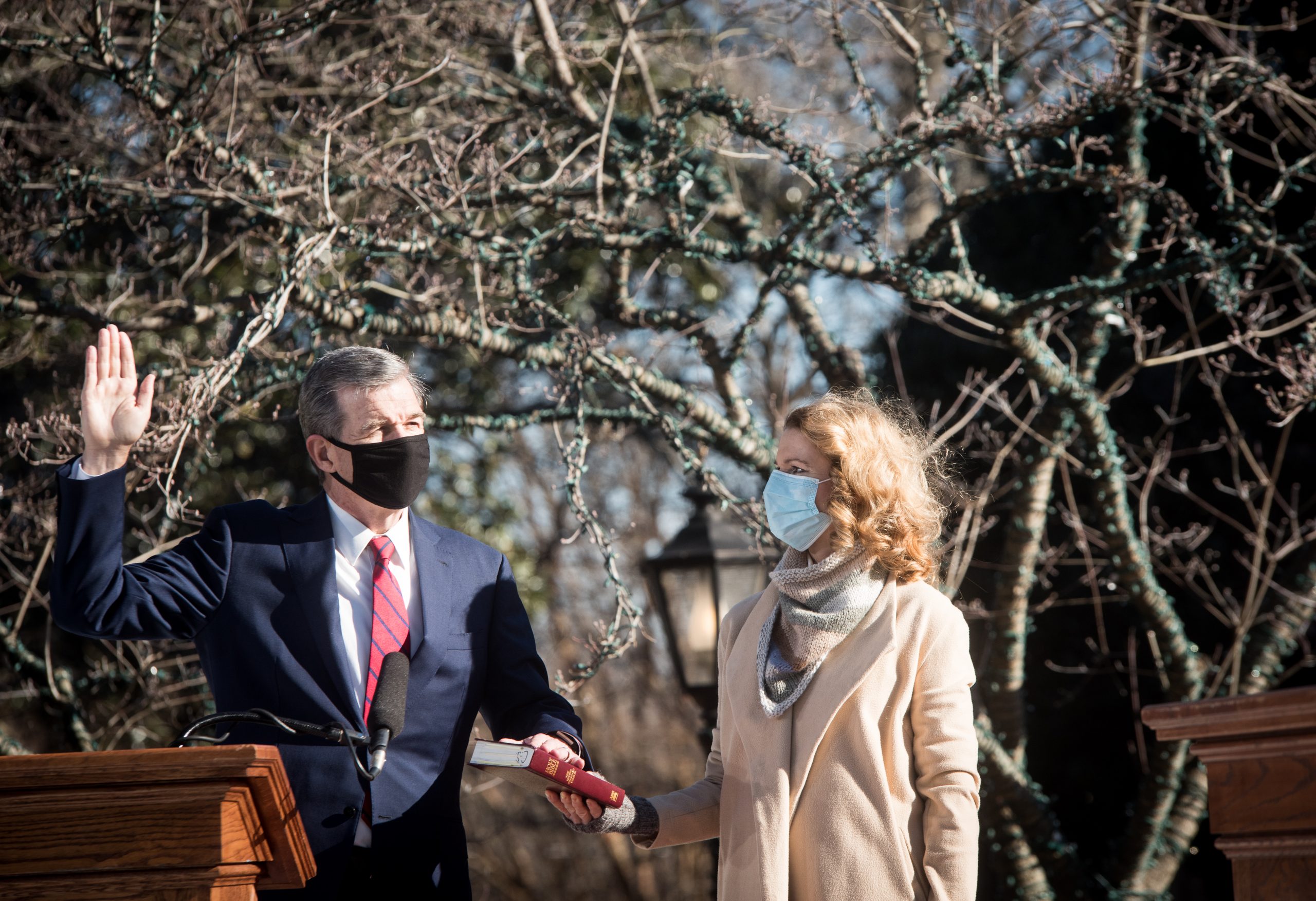 In a week in which all eyes are on tumult in the nation's capital, North Carolina's three branches of government are ramping up for the year ahead.
Gov. Roy Cooper took the oath of office beginning his second term on Saturday.
General Assembly leaders are scheduled to gavel in the new session at noon Wednesday. After a mostly ceremonial first day that includes the swearing-in of members, both chambers are expected to adjourn and spend two weeks preparing for the start of regular business and committee hearings.
Meanwhile, new State Supreme Court Chief Justice Paul Newby has initiated changes in judicial leadership positions.
The governor and legislative leaders pick up this year where they left off, negotiating a state response to the COVID-19 pandemic and attempting to strike a deal on the state budget.
In an ordinary year, legislators assemble in the year following an election to pass a biennial budget before the end of the fiscal year on June 30.
In the highly charged partisan atmosphere in Raleigh over the past three years, that's proven to be a challenge and a comprehensive state budget hasn't been adopted since 2018 when the House and Senate overrode a Cooper veto.
Late that year, Democrats took enough seats in both chambers to end Republican supermajorities and 2019's budget debate devolved into a lengthy, often bitter feud over priorities.
Since then, most of state government has operated through a series of ad hoc spending bills and targeted mini-budgets in areas of general agreement.
In the 2020 state legislative elections, four House seats swung back to the GOP and Democrats picked up one seat in the Senate. Republicans remain shy of the supermajorities needed to override a budget veto.
With that past as prologue for Cooper, House Speaker Tim Moore, R-Cleveland, and Senate President Pro Tem Phil Berger, R-Rockingham, reaching a 2021 budget deal was already a difficult challenge, and it's now compounded by so doing during a still raging pandemic amid national political upheaval.
In his inaugural address, Cooper sounded a conciliatory tone and said that if the state can work together then it is poised to "roar ahead" just as it did following the Spanish flu pandemic in the last century.
"Let's cast aside notions of red counties or blue counties and recognize that these are artificial divisions. Let's place integrity at the forefront," Cooper said Saturday. "We are all North Carolinians. These times of triumph and trial have shown us that we are more connected than we ever imagined. And one thing is clear, just as we did one hundred years ago — North Carolina is ready to roar again."
Hopes for more cooperation between the branches were raised earlier this year when Berger, Moore and Cooper announced a deal to preserve $30 million in funding for rural broadband that was due to expire unspent due to rules related to a federal grant. The state's budget outlook is also likely to make reaching an agreement easier.
One result of the budget impasse is that the state has accumulated more than $4 billion in unspent reserves. That, combined with an additional $1.1 billion in the rainy day fund and stronger than expected revenue growth gives both the governor and the legislature wider flexibility to develop an agreement.

The state's financial outlook also brightened after the first of the year, after wins in the two U.S. Senate runoffs in Georgia put Democrats in control of the chamber, raising the chances for additional state and local aid.
Leadership changes
In addition to the budget, cabinet-level changes in the administration mean another round of Senate confirmation hearings for Cooper appointees.
The governor has yet to appoint a replacement for Department of Environmental Quality Secretary Michael Regan, who was tapped by President-elect Joe Biden to serve as top administrator for the Environmental Protection Agency.
Also soon to be vacant is the top spot in the state Department of Commerce. Commerce Secretary Tony Copeland is expected to step down at the end of the month. Regan continues with his state duties and has held conference calls and listening sessions on EPA issues during the transition. Confirmation hearings in the U.S. Senate have yet to be scheduled.
Cooper's press secretary, Dory MacMillan said the selection process for the departments' leadership continues.
"Governor Cooper is committed to seeking out the most qualified people to serve across his cabinet, and an announcement will be made in the coming weeks," MacMillan said Monday.
In late December, Cooper announced that Reid Wilson, chief deputy secretary of the Department of Natural and Cultural Resources, would replace DNCR Secretary Susi Hamilton, who announced her departure earlier in the month. Wilson, who has been the department's point person on climate change initiatives, served as executive director of the Conservation Trust for North Carolina from 2003 to 2017. He was sworn in as DNCR secretary last week.
Under the 2016 law, since Wilson was appointed while the legislature was not in session, he does not necessarily face a confirmation hearing, but his appointment would expire if the legislature doesn't pass legislation affirming it.
Legislative appointments are also starting to take shape.
Berger announced his committee picks Friday.
Sens. Norman Sanderson, R-Pamlico, Brent Jackson, R-Sampson, and Chuck Edwards, R-Henderson, will chair the Agriculture, Energy, and Environment Committee, which handles environmental policy legislation. Sanderson, Edwards and Sen. Todd Johnson, R-Union, will chair the Senate Appropriations Committee on Agriculture, Environment and Natural Resources.
.
House committee assignments have yet to be announced. Rep. Pat McElraft, R-Carteret, said Monday that she expects to be reappointed as chair of the House Environment Committee and co-chair of the House committee that oversees agriculture, environment and natural resources.