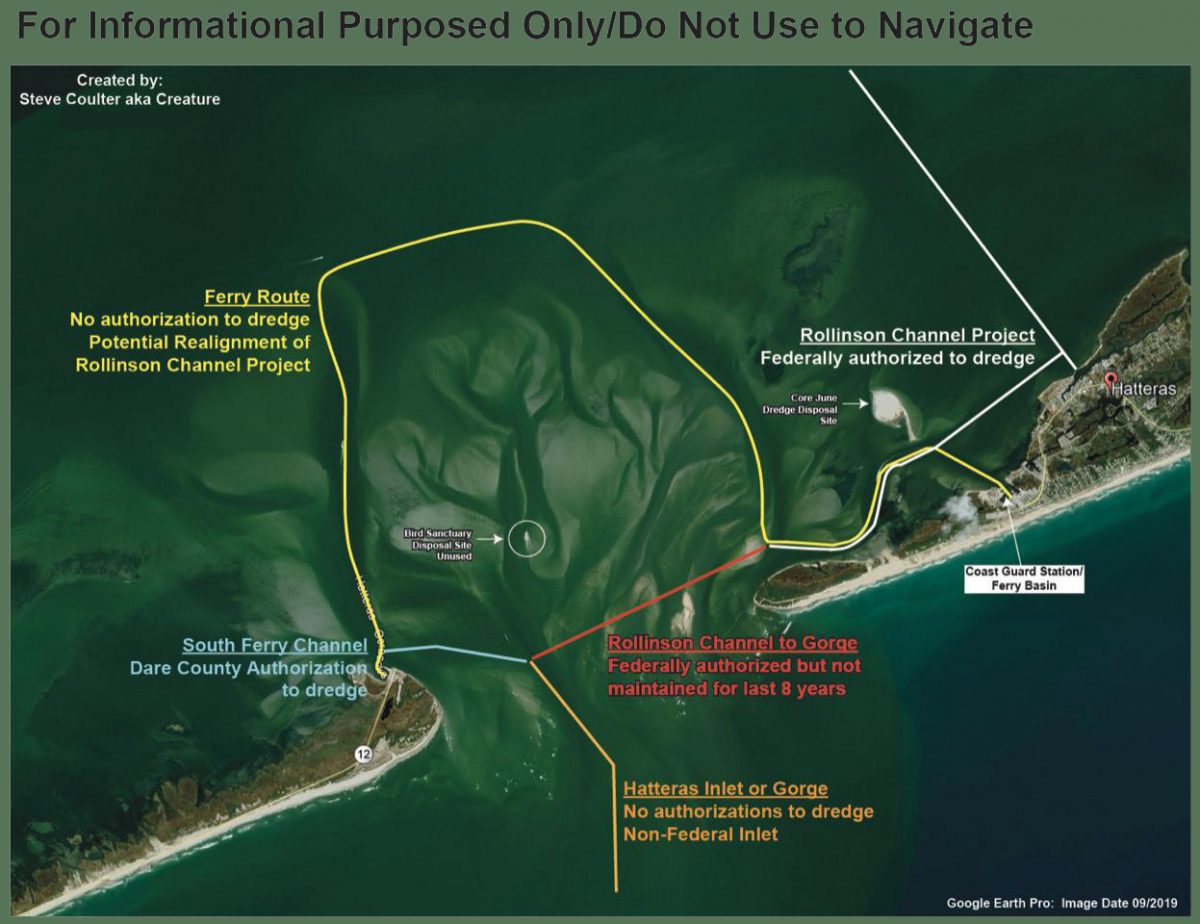 Reprinted from Island Free Press
Ever since Hurricane Sandy and other 2012 storms reconfigured channels in Hatteras Inlet into lumpy and pinched navigational challenges, members of the Dare County Waterways Commission have spent many a meeting figuratively screaming into the abyss. Securing funds and permits for dredging projects to clear the worsening shoaling had become the bureaucratic version of bumping bottom – over and over again.
But at Monday's commission meeting, held virtually because of the spike in COVID-19 cases, the focus was more on discussing accomplishments and problem-solving plans.
Buoys are again marking channels, agreements are close to being signed, permits are being issued, designs for long-term management plans are being engineered, the public/private dredge is under construction, and government funds are in the pipeline for numerous projects.
Even more remarkable, the Corps of Engineers is proposing to add language that will expand the area included in the existing federal authorization for Rollinson Channel, a long-sought revision that, until recently, was believed to be possible only through an act of Congress.
Maintenance of Hatteras Inlet's navigation channels has been a constant goal of the commission, for both economic and safety reasons. Much of the members' frustration in recent years has been directed at the fragmented regulatory status of the inlet's passages – some federal, some state, some neither, some both. Realignment of the federal channel, which would essentially add to the authorization but not change it, would help address the gaps.
"The Waterways Commission wants the most sustainable way possible," Commission Chairman Steve "Creature" Coulter, said in an interview, referring to channel maintenance. "That whole loop will become federal if the realignment comes through."
Roger Bullock, chief of navigation for the Wilmington district of the U.S. Army Corps of Engineers, told commissioners that the effort seeking to realign the Rollinson Channel to allow dredging in the inlet gorge is "well under way" and could be finalized in about a year.
Also, the one-year renewal of the current Memorandum of Agreement, or MOA, between the Corps and Dare County to dredge the South Ferry Channel is expected to be signed soon, he said, and an agreement with the North Carolina Department of Transportation to allow the Corps to dredge a persistent problem area in Sloop Channel is in the process of being done.
"I went to Ocracoke this past week," commission vice-chair Ernie Foster interjected, "and that northwest corner of Sloop Channel – we didn't stop. We just almost stopped. It's shallow."
Shoaling at that corner has created problems as well for the Hatteras-Ocracoke ferries that use the channel. The so-called "long route" has been used by the ferries since 2013, when it was determined that the prior route – which took half the time – was too shoaled.
Bullock said that the Corps is doing an environmental assessment for the realignment that would cover Barney Slough and Sloop Channel. The goal is to dig a 100-foot wide channel around the entire loop, he said.
Also, he suggested that it would save a lot of time — and money — for the dredge working at South Ferry Channel if provisions were made so the dredge could moor at the South Dock when it's not working in the channel. Since the South Ferry Channel is close to the Ocracoke dock, it would make sense for the dredge to tie up there, he said, rather than it having to cross the inlet to a berth in Hatteras.
Updates were also given about other work in progress.
John Abel, NCDOT bridge program manager, said the department is working to nail down agreements and funding that would provide maintenance for numerous nonfederal and federal channels, including connecting channels, at the Basnight Bridge; the ferry terminals; Oregon, Hatteras and Ocracoke inlets; Rodanthe and Stumpy Point harbors; Swan Quarter Bay; and Deep Bay.
"I know that was a lot of information," Abel said, "but I just wanted to kind of give y'all an idea of the two MOAs that we are trying to work towards with the Corps."
Brent Johnson, project manager for Dare County Grants and Waterways and the commission's administrator, also provided a rough synopsis of the what the ad-hoc working group, which has met several times recently, has proposed to include in the county's long-term county waterways management plan.
Some items so far that are proposed in the plan include:
Obtain permits in preparation for projects expected to be done by the new dredge in various channels.
Do an economic study of Hatteras Island that looks at beach nourishment and dredging needs, as well as tourism and commercial and recreational fishing
Seek state legislation that will provide funds to dredge range 14 going north in Wanchese channel, which will allow the project to be coordinated with adjacent dredging work
Request that NCDOT share the cost of proactive dredging of the emergency ferry channel in Rodanthe harbor.
Johnson said he hopes to be able to brief the Dare County Board of Commissioners on the proposed plan by the end of January. After that, he added, he'll bring back a final document to the Waterways Commission for its approval.
Also, there are ongoing studies in Dare County and the state related to dredge material management. Plus, the National Park Service will soon implement a sediment management plan in Cape Hatteras National Seashore that will cover beach nourishment and dredging projects.
In addition to Coulter and Foster, commissioners Dan Oden, Michael Flynn, Danny Couch and Natalie Kavanagh were at the virtual meeting.
Coulter made note of the more ordinary, albeit positive news.
"We're getting dredge work done in South Ferry right now," he said, adding it was expected to completed by Dec. 20. "Hopefully, we'll be set for the winter."
Overall, the commission's last meeting of 2020 was an unexpectedly optimistic close to a grim year.
To top it all off, one significant announcement was a mix of good and bad. Bullock — one of the Corps' most knowledgeable experts on the whims and woes of local waterways —said he is about to retire. Although it's a loss for the Outer Banks, he seems to see it as his gain.
"It was great to get to know all you good folks, and I will miss the job, "Bullock told commissioners. "But you know, there comes a time when you've got to pull anchor and go somewhere else. And I'm setting up a creek right now. So I do have paddles.
This story is provided courtesy of the Island Free Press, a digital newspaper covering Hatteras and Ocracoke islands. Coastal Review Online is partnering with the Free Press to provide readers with more environmental and lifestyle stories of interest along our coast.