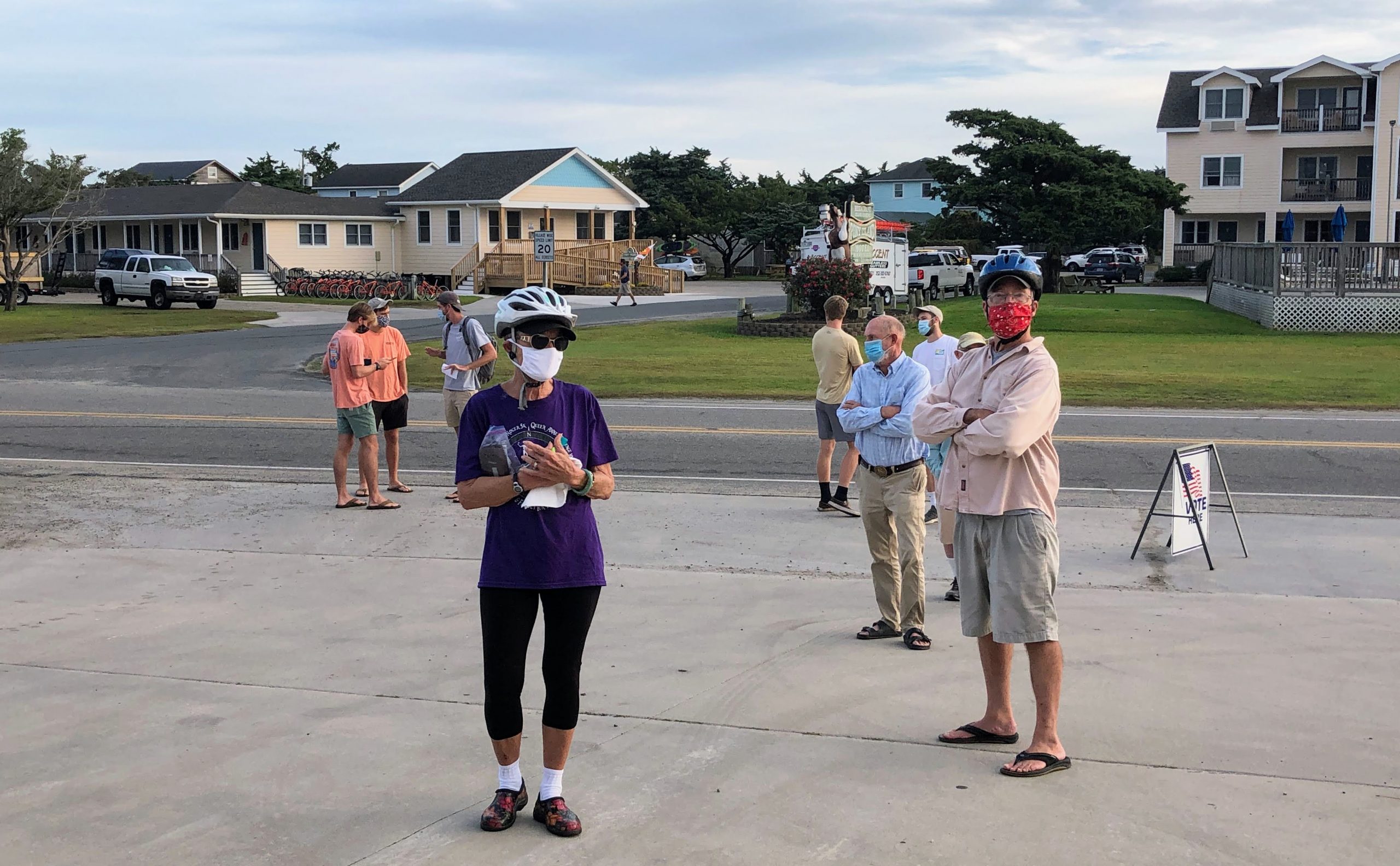 For the first part of this year's highly energized election, if you looked at turnout percentages along North Carolina's coast, Hyde County was a laggard.
That all changed late Monday when the results from Ocracoke's two days of early voting were uploaded to the State Board of Elections. The county, which was running well behind its neighbors with turnout percentages in the mid-teens, popped up to the middle of the pack once the island's 356 early votes were added to the totals, doubling Hyde County's running tally of 355 early votes.
Hyde County Elections Director Viola Williams, who crossed Pamlico Sound from Ocracoke on late Friday with the tallies, said the vote totals in the sparsely populated county should be a little more in line with percentages from the rest of the coast from here on.
"After we close out today those numbers will show up," Williams said Monday. "That's probably why we were running low."
Ocracoke's two-day early voting period is unique. The island, heavily damaged in last year's Hurricane Dorian, was exempted from a state law passed last year requiring 17 days of early voting.
For Williams and her colleagues throughout the state, 2020's turnout has been eye-popping.
This year, statewide mail-in absentee ballot requests are running roughly four times what they were in 2016. Over the weekend, a statewide surge of in-person early voting topped 2016's totals with another week to go.
As of 5 a.m. Monday, 43.3% of the state's registered voters had cast their ballots — 778,164 by mail and 2,393,054 in person. In 2016, statewide voter turnout totaled 69%.
With a week to go before Election Day, turnout in coastal North Carolina mirrors that of much of the rest of the state with early vote totals far beyond the last two presidential cycles.
Early voting and absentee ballot totals in a majority of the 20 coastal counties are above 40% of the number of registered voters in those counties. Some counties have already topped their 2016 early-vote tallies.
"We've bypassed that by a long shot," Perquimans County Election Director Holly Director said Monday.
There were roughly 6,600 presidential ballots for the county in 2016, including early voting, mail-in and Election Day. Hunter said this year the county had already logged 4,500 ballots and counting. Like most places, Hunter said there were lines at the county's three sites when early voting opened Oct.15, especially at the Board of Elections office in Hertford.
"It hasn't been wrapped around the building like it was the first few days, but we've been pretty steady." she said.
Turnout totals already exceed 40% in Beaufort, Bertie, Brunswick, Carteret, Chowan, Craven, Duck, Hertford, New Hanover, Pamlico, Pender, Perquimans and Washington counties.
Other counties at lower turnout levels as of Monday were Currituck (29.1%), Gates (31.7%), Onslow (32.2%) and Tyrell (31.3%).
High-growth counties, especially along the southern coast, are on track to reach 50% turnout by midweek.
In Brunswick County, one the fastest-growing counties in the nation, more than 15,000 mail-in ballots have been cast, compared to about 2,400 total for 2016.
With a week to go in early voting, New Hanover County ballots have now topped its 2016 early vote and mail-in totals.
Along the northern coast, Dare County is also posting big numbers.
Dare County Elections Director Jackie Tillett said the three early voting sites in the county saw the same early surge as the rest of the state.
"The first day was pretty heavy everywhere and it has tapered off some," Tillett said Monday. There are still some lines at the Kill Devil Hills Town Hall site, she said, but not as much traffic for sites in Manteo at the Dare County Administration Building and Buxton at the Cape Hatteras Secondary School.
Elections officials said they expected an increase, but not quite like this.
Concerns about COVID-19 and crowded polls on Election Day are likely driving some of the increase in the early turnout, but it's unclear for now how much of a role it's playing.
A recent analysis by Michael Bitzer, a political scientist at Catawba College who tracks state voting trends, estimated that if the state's 7.3 million registered turnout at 69% like they did in 2016, than the vote total would be roughly 5 million. If that's the case, then early vote totals so far mean that almost two-thirds of the 2020 vote is already in.
Although early voting in most counties runs through next weekend, Tuesday is the last day to request a mail-in ballot. Election officials suggest returning mail-in ballots as soon as possible to avoid postal delays. Ballots can be dropped off at county elections offices and early voting sites.
Turnout percentages as of 5 a.m. Monday
Beaufort — 40.7
Bertie — 41.6
Brunswick — 48.5
Camden — 37.5
Carteret — 45.9
Chowan — 46
Craven — 43.5
Currituck — 29.1
Dare — 42.5
Gates — 31.7
Hertford — 40.5
Hyde — 16.6*
New Hanover — 45.6
Onslow — 32.3
Pamlico — 43.2
Pasquotank —38.8
Pender — 44.6
Perquimans — 46.1
Tyrrell — 31.3
Washington — 43.3
Source: North Carolina State Board of Elections
* Does not include Ocracoke votes