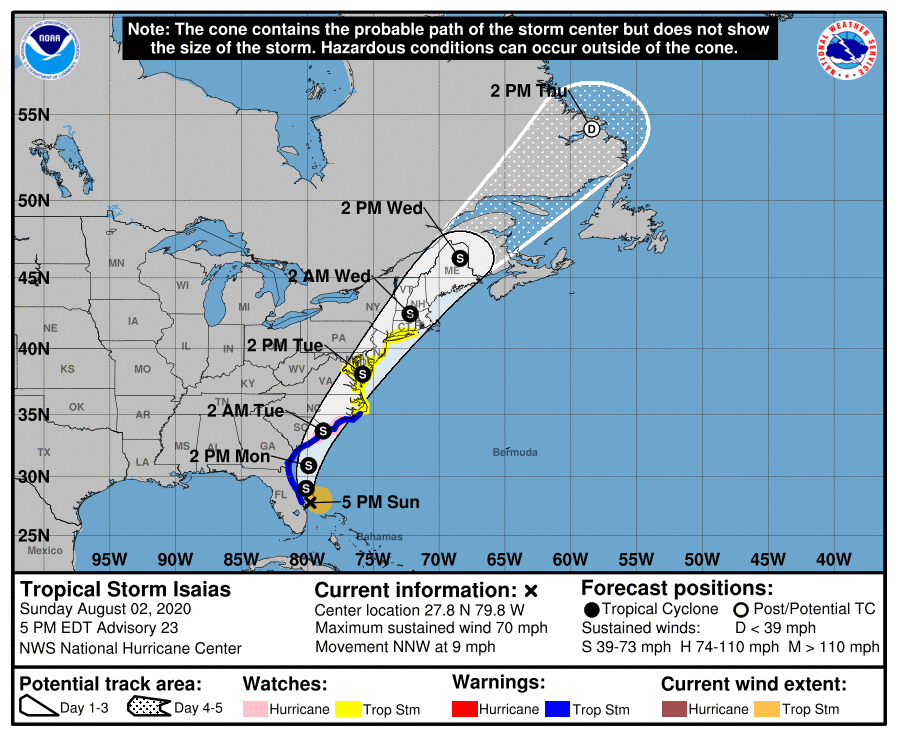 5 p.m. Sunday update
The storm continued its march toward North Carolina overnight, Gov. Roy Cooper said during an update Sunday afternoon on North Carolina's preparations for Isaias.
As of 5 p.m. Sunday, Tropical Storm Isaias was located at 27.8 degrees north and 79.8 degrees west, about 65 miles southeast of Cape Canaveral, Florida, and is moving at 9 mph. Central minimum pressure was 994 millibars with maximum sustained winds of 70 mph, according to the 5 p.m. Sunday advisory.
"State Emergency Managers here along with our local partners are preparing for the heavy winds rain that the storm may bring," Cooper said. "And we're asking North Carolinians in the storm's path make sure they are prepared. I have declared a state of emergency, and we have received a federal emergency declaration for 25 counties so far."
He reminded residents to add mask and hand sanitizer in their emergency kit, follow local evacuation orders, stay in a safe place, never drive through flooded roadways, remember to social distance, and follow the three Ws: wash your hands, wear a mask and wait 6 feet apart.
"The COVID-19 pandemic remains a threat and preparations may take longer and look a little different. We can stay safe from the storm, and the virus," he said. "If we're ready."
Tropical storm force winds are expected to begin after dark Monday and into Tuesday morning.
"Sustained tropical storm force winds are forecast for much of the eastern third of the state with the gusts of 50 to 65 miles per hour for the coastal plain and 30 to 45 miles per hour in central North Carolina. That's enough wind to bring down trees and powerlines," he said. "Over the weekend, the storm turned much more inland, which increases the threat of heavy rain, tornadoes and flash flooding in eastern North Carolina."
Right now, he said they expect the heaviest rain along the I-95 corridor with as much as 7 inches in some places.
"The forecast has the storm moving quickly, which we hope means the rain and wind won't last as long. But a lot of rain is expected to fall at once, so be on alert for flash flooding and river flooding, especially along the Neuse and Tar rivers," he said.
The state is coordinating with utility companies, which expect widespread outages, and Cooper has activated up to 150 National Guard soldiers to help the storm preparations and response as needed.
"If you are told to evacuate, try to have a plan to stay with friends or family outside of the danger zone. If that doesn't work, or a hotel or motel is the next option, if you can afford it. Shelters will be available for those who need them," Cooper said, adding to check the county website for instructions on shelter options.
As of Sunday afternoon, officials ordered evacuations for Hatteras and Ocracoke Islands, Ocean Isle Beach, Holden Beach and Caswell Beach, the state announced. Details on evacuations are available on the ReadyNC website.
A tropical storm warning is in effect from south of Ocracoke Inlet to Surf City and inland from Lenoir, Craven and Pamlico counties southward. A tropical storm watch is in effect for north of Ocracoke Inlet and all northern inland counties, per information from the National Weather Service's Newport office.
Isaias is expected to continue moving north-northwest through Sunday night. A turn toward the north and north-northeast along with an increase in forward speed is expected Monday and Tuesday. Isaias is expected to be near hurricane strength when it reaches the coast of South Carolina and North Carolina border Monday night, and strong tropical storm force winds are likely with hurricane conditions possible in the hurricane watch area.
2 p.m. Sunday update
As of 2 p.m. Sunday, Tropical Storm Isaias was located at 27.4 degrees north and 79.7 degrees west, about 45 miles east-southeast of Vero Beach, Florida, and is moving at 9 miles per hour. Central minimum pressure was 995 millibars with maximum sustained winds of 65 mph.
A tropical storm watch has been issued for the North Carolina coast from north of Surf City to Duck, including Pamlico and Albemarle sounds. A storm surge watch is in effect for Edisto Beach, South Carolina, to Cape Fear. A tropical storm warning is in effect for Jupiter Inlet, Florida, to Surf City.
Tropical storm conditions are expected to spread northward along the east coast of Florida through early Monday and will reach the coasts of Georgia, South Carolina and southern North Carolina within the warning area Monday and early Tuesday, according to the 11 a.m. Sunday report. There is the possibility of widespread minor to isolated moderate river flooding for some of the Carolinas and Mid-Atlantic.
8 a.m. Sunday update
In addition to the continued high risk for rip currents now through early next week, forecasters warn that there is an increased threat for tornadoes in eastern North Carolina as Isaias, which weakened to a tropical storm Saturday, makes its way up the East Coast.
As of 8 a.m. Sunday, Tropical Storm Isaias was located at 26.5 degrees north and 79.5 degrees west, about 40 miles east-southeast of West Palm Beach, Florida, and is moving at 8 miles per hour. Central minimum pressure was 996 millibars with maximum sustained winds of 65 mph.
Forecasters expect eastern North Carolina to feel the impacts if Isaias Monday evening into Tuesday, according to the 6 a.m. briefing from the the National Weather Service office in Newport. Possible impacts include the increased threat of tornadoes, flash flooding especially inland, minor river flooding later in the week, tropical storm force winds that could cause power outages and downed trees, and storm surge of around 1 to 2 feet, worst-case scenario up to 3 feet.
"Our confidence has increased on the two things we were worried about: timing and intensity," Erik Heden, warning coordination meteorologist at the Newport office said during a briefing Sunday morning. "I still expect the storm itself to slowly creep up the Florida coastline here through Monday afternoon, then as it makes that turn to the northeast, rapidly move across the Carolinas Monday night into Tuesday."
He added that landfall would most likely be somewhere across the South Carolina coastline, or maybe the North Carolina and South Carolina border.
The first outer bands of the storm that reach the coastline would put the area at risk for tornadoes, which could happen overnight Monday, he said. Residents should make sure they have a way to receive weather notifications.
Heden said rainfall is likely to be 2 to 4 inches, and could be up to 6 inches in some areas.
A graphic provided by the National Weather Service shows most of the coast should expect up to 1 inch of rain with more rain expected farther inland. Later in the week, the Neuse River in Kinston and Contentnea Creek in Hookerton may approach or exceed minor flood stage.
All of eastern North Carolina is at risk for tropical storm force winds, but the highest risk right now would be toward coastal Onslow County and  roughly along and west of N.C. 17,  with the center of the storm track expected to be there, Heden said.
The areas that could experience the highest impacts of storm surge oceanside are the Crystal Coast and Outer Banks from Rodanthe south through Cape Lookout. Some ocean overwash is possible on N.C. 12 near high tide.
The Neuse, Pamlico and Pungo rivers and the Pamlico Sound especially north of Pea Island near Manteo Kitty Hawk could also experience storm surge.
"At this point we don't do not expect soundside issues for Ocracoke or Hatteras Island," Heden said.