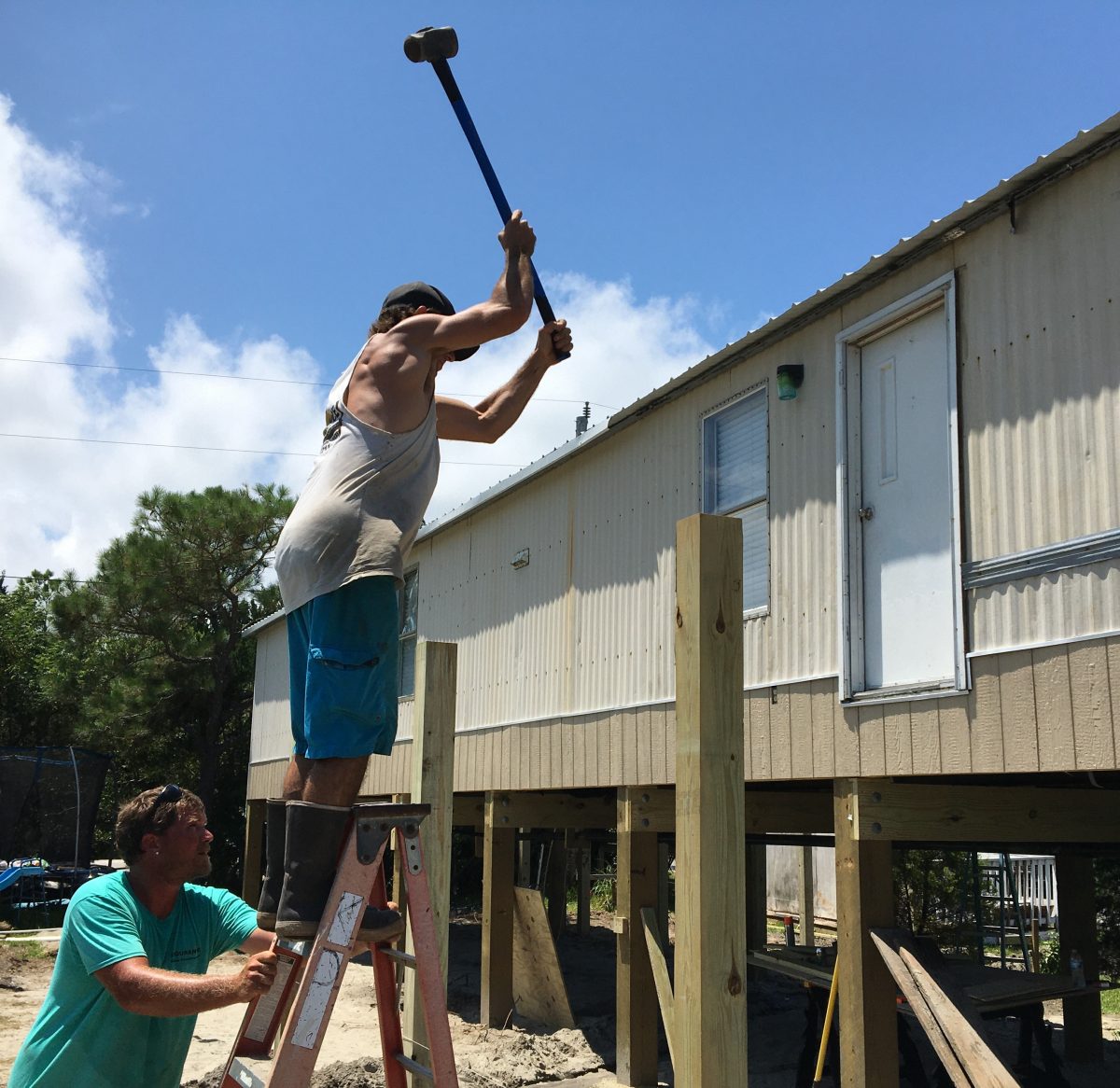 Reprinted from Island Free Press
The Cape Hatteras United Methodist Men, or CHUMM, have been hard at work in the past few weeks helping families throughout Hatteras Island protect their homes from future storms, thanks to a Repetitive Loss Reduction Project that is currently in full swing.
Following Hurricane Dorian in September 2019, CHUMM decided to look into some longer-range initiatives to reduce storm damage on Hatteras Island. As a result, the organization began a project in 2020 to lift trailers for owners and occupants who have experienced repeated flooding in the past.
"We chose trailers because there are no government grants available for manufactured homes," explained CHUMM Director Dennis Carroll in an emailed update.
CHUMM applied for and received a grant from the Outer Banks Community Foundation for about $200,000. The continued intent is to raise the trailers in complete compliance with building codes and Federal Emergency Management Agency guidelines, making them structurally sound for the long haul. After the structures are lifted, CHUMM will also give the owners an elevation certificate, which will allow them to get the lowest-cost flood insurance available.
"With our contractor partners, we developed an economical system for the work using a combination of contract and volunteer labor," stated Carroll. "However, we are learning and improving as we go. We are currently working on our third and fourth trailers, and hope to complete as many as 12."
The North Carolina Conference United Methodist Committee on Relief (UMCOR) has also provided CHUMM with a professional caseworker to screen the applicants, and ensure that the team is helping those without the means to help themselves. Per Carroll, a generous island homeowner is also providing temporary living quarters at no cost for the families while they are displaced during construction.
"To date, the results, and the gratitude of the recipients, has been heartwarming," stated Carroll. "We're very thankful for our partners, (including) OBCF, Dare County Building Dept., UMCOR, Crum Works Construction, Endurance Marine Construction, Bay Shore Construction, August Air, Cape Hatteras Electric, and our volunteers."
Donations and support are continually needed on a local level to keep all CHUMM initiatives going strong, and the public can donate via the CHUMM website.
Supporters can also donate by mail. Checks should be written to United Methodist Men and mailed to Cape Hatteras United Methodist Men, P.O Box 1591, Buxton, NC 27920.
This story is provided courtesy of the Island Free Press, a digital newspaper covering Hatteras and Ocracoke islands. Coastal Review Online is partnering with the Free Press to provide readers with more environmental and lifestyle stories of interest along our coast.