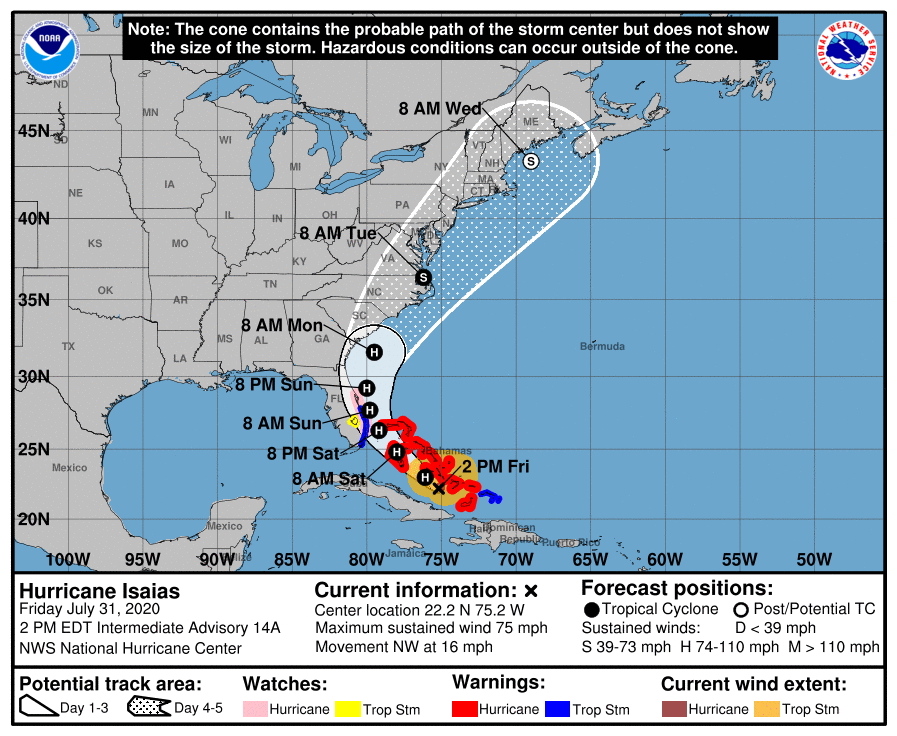 2 p.m. Friday update
At 2 p.m. Friday, the center of Hurricane Isaias was near 22.2 degrees north and 75.2 degrees west and is moving northwest at 16 mph. The speed is expected to decrease for a day, followed by a turn toward the north-northwest, according to the National Weather Service.
11 a.m. Friday Update
High risk of rip currents are expected to begin Friday afternoon on the North Carolina coast and continue into early next week as Isaias, which strengthened to a hurricane over Thursday night, makes its way up the East Coast.
At 11 a.m. Friday, the center of the storm was at 21.7 degrees north, 74.5 degrees west, or about 295 miles southeast of Nassau, Bahamas, and moving northwest at 16 mph. Central minimum pressure was 992 millibars with maximum sustained winds of 75 mph.
During a briefing Friday, meteorologists with the National Weather Service office in Newport said they had medium confidence in the track forecast but were less certain about the intensity and timing of the storm's arrival on the North Carolina coast.
In addition to the increase in rip currents, hurricane force winds are possible as early as late Sunday night or early Monday morning, but most likely sometime Monday, and storm surge inundation is possible on the coast, sounds and rivers. Heavy rain and an elevated threat for tornadoes are also possible, depending on the final track.
"It is becoming more likely that we're going to see impacts," said Erik Heden, warning coordination meteorologist at the Newport office, during the briefing. Though the official forecast shows winds ramping up during the day Monday, peaking Monday afternoon and Monday night, "We want folks to plan for Sunday night, early Monday morning."
He said that the storm should move fast when it gets to North Carolina, which will hopefully keep the threat of rainfall flooding and river flooding lower than what the coast experienced during Hurricane Florence, which hovered for so long.

Keep in mind that while the forecast cone, or center of the storm, is the most probable path, even if the storm gets smaller and "you're out of the forecast cone as we head into the weekend, don't let your guard down. Remember impacts occur well away from the center itself," he said.
They're closely watching how close the storm gets to Florida, he said. "Does it cross over land and weaken? Does it take in some dry air and weaken? That's why we're a little uncertain about the intensity forecast, as it gets up toward our way."
Heden added that they're carefully watching the timing.
"The official track of the (National Hurricane Center) would have it moving over our area during the day Monday and Monday evening. There are some suggestions, it could be as much as a day slower than that," he said, which is why they're saying the timing is uncertain. "If it's going to trend anything, it's going to be exactly what it's doing right now, or maybe slow down a little bit."