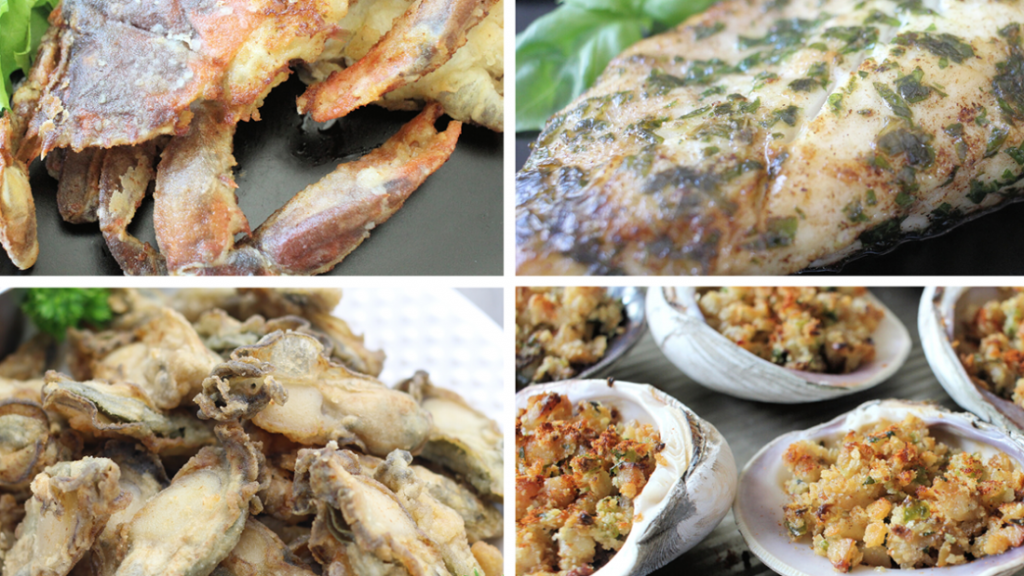 Written by North Carolina Sea Grant's communications director Katie Mosher
North Carolina Sea Grant has released a new series of downloadable seafood posters designed for retailers that showcase kitchen-tested recipes from Mariner's Menu, the program's seafood recipe and resources site.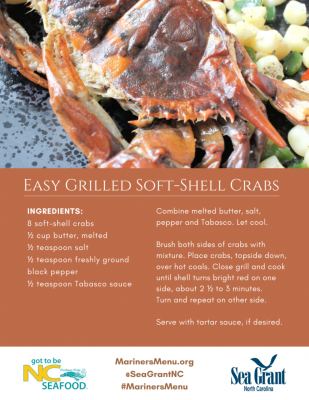 Designed by former intern Hayden Stephens, who will graduate this month from Leesville Road High School in Raleigh, the 13 mini-posters also feature photos by Vanda Lewis, plus information on where to find more seafood recipes.
"We will be sharing the poster links with seafood markets to highlight ways consumers can enjoy the flavors and seasonality of our fish and shellfish," said Barry Nash, Sea Grant's seafood specialist.
The timing is appropriate as more folks are eating at home, and are seeking out North Carolina seafood. A recent Sea Grant survey, led by Nash, found that recipes are the most important among six options to improve seafood cooking experiences at home.
The posters also highlight a partnership with the Got to Be NC Seafood campaign of the state Department of Agriculture and Consumer Services, which funded seafood purchases for Sea Grant's Lewis to test more recipes and photograph the results.
"We hope these new recipe posters will encourage consumers to purchase a more diversified palette of N.C. seafood species and also show the ease of preparation of delicious seafood dishes," said John M. Aydlett, the department's seafood marketing specialist.
Sea Grant shared the first posters at the Seafood Jubilee, hosted by Locals Seafood last winter, just before restrictions were initiated to limit the spread of COVID-19.
"The timing gave Hayden a perspective on how the seafood supply chain quickly changed as restaurants closed or limited sales to pickup and delivery. That meant the role of seafood markets became critical to consumers and to the fishing communities," said Katie Mosher, Sea Grant's communications director.
For Stephens, working on the project as the pandemic unfolded took on extra urgency. "Our goal quickly became educating consumers enough that they felt confident supporting seafood markets and fishing communities through these uncertain times," she says.
North Carolina Sea Grant offers more than 200 kitchen-tested recipes — using N.C. commercial fisheries species — through the resource book "Mariner's Menu: 30 Years of Fresh Seafood Ideas," distributed by the University of North Carolina Press, as well as online at MarinersMenu.org, which caters to seafood retailers, their customers and all home cooks.
The recipes were developed by former Sea Grant consumer specialist Joyce Taylor and her Carteret County volunteers, the Nutrition Leaders, using seafood harvested by North Carolina fishermen. After retiring from Sea Grant, Taylor continued creating recipes for another 10 years.
Recently, Sea Grant has added more Mariner's Menu recipes online.
"Many of these include new flavors that go beyond the classic cooking styles on the N.C. coast," Lewis said.
"Through the Mariner's Menu book and website, people can learn how to discern seafood quality at the retail counter; to safely handle and freeze raw seafood; and to prepare flavorful, nutritious meals at home using trustworthy recipes developed by people who grew up along the coast eating fresh, local seafood," Nash explained. "These are truly comprehensive resources to help people select, store and cook North Carolina seafood."
Posters