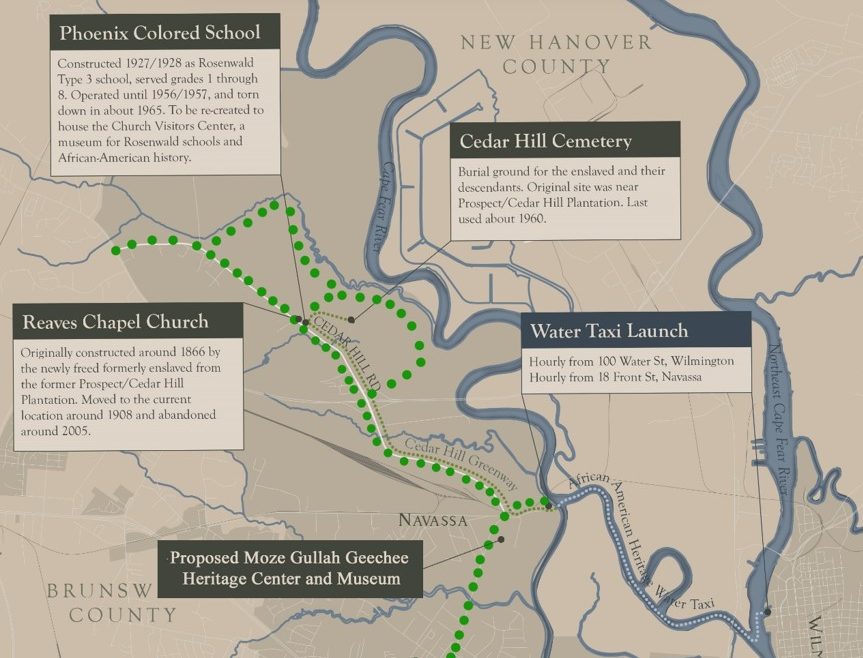 An initiative is underway to connect the Gullah Geechee Cultural Heritage Corridor with the East Coast Greenway in Brunswick County, giving walkers, bicyclists and paddlers an opportunity to learn about the history and unique culture of enslaved Africans.
Brunswick County commissioners recently adopted a resolution supporting the conceptual plan to overlap the corridor with a portion of the 3,000-mile walking and biking route that runs through 15 states from Maine to Florida.
The nationally recognized Gullah Geechee Cultural Heritage Corridor encompasses 12,000 square miles of coastal area that runs up the southern Atlantic Coast from St. John's County, Florida, to Pender County.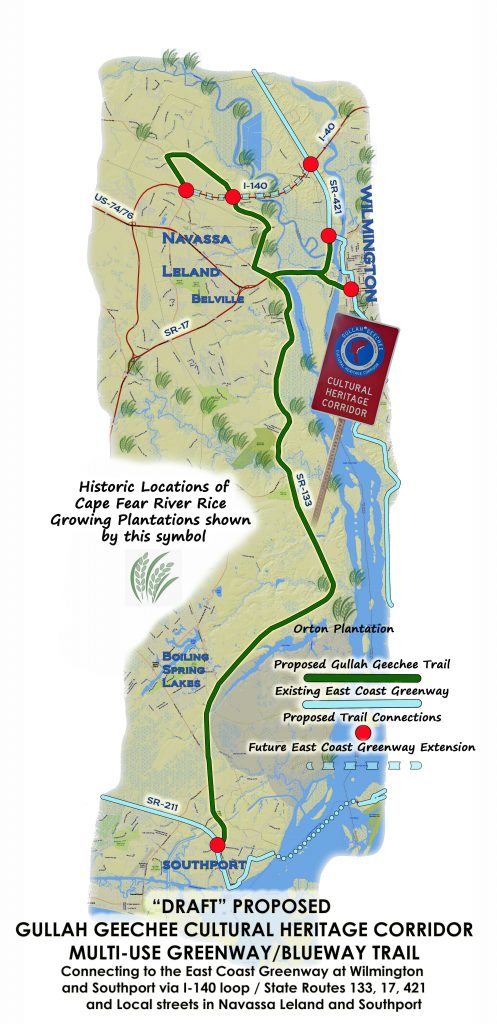 The commissioners' support is, proponents say, a big boost in providing opportunities to share and preserve what is for Brunswick County an under-told story about a people torn from their West African homes, enslaved in plantations along the southern Atlantic Coast, and their lives in the coastal plains after abolition.
Brayton Willis, acting chair of the Brunswick County Branch of the NAACP's environmental and climate justice committee, said the quest to connect the corridor with the East Coast Greenway began with the development of the Wilmington Urban Area Metropolitan Planning Organization's 2045 master plan.
The plan, a draft of which was released in February, explores the future of multimodal transportation and regionally significant projects for each, including aviation, bicycle and pedestrian, ferry and water transportation, rail, public and road transportation.
"I had a great opportunity to see the lay of the land where there were potentially some opportunities to take advantage of bike and pedestrian trails," Willis said.
As work on the master plan unfolded, the East Coast Greenway Alliance expressed its interest in participating in the program.
That's when Willis said he started to piece together the idea of incorporating the Gullah Geechee Cultural Heritage Corridor.
Willis' association through the NAACP brought him to a better appreciation for the corridor and its existence through Brunswick County.
"But when I started looking to see how we might celebrate the corridor there really wasn't anything that resembled, say, a greenway or a blueway in Brunswick County," he said.
While greenways are protected natural areas, usually with hiking trails and similar features, blueways are navigable, recreational water trails.
Six years ago, the Gullah Geechee Cultural Heritage Corridor Commission and National Parks Services formed a partnership with the East Coast Greenway Alliance to allow the greenway to overlap with the corridor through those coastal areas.
East Coast Greenway Alliance Executive Director Dennis Markatos-Soriano said the partnership with the commission is important to enhancing the experience of those who use the route.
"It's very important to us," he said. "It's one of the pillars of our work in the southeast. We want people to get a rich experience when they're out there, to connect with each other in a really deep way and to learn about history and the Gullah Geechee people of the Southeast are a very important part of that history."
In July 2015, a diverse group of more than 20 youth cyclists, along with their adult coaches, embarked on a two-week, 700-mile ride aptly named The Path to Freedom Tour.
Their route from Durham to St. Augustine, Florida, included 550 miles of the Gullah Geechee corridor.
"It was very enriching," Markatos-Soriano said. "They went through and talked about difficult, yet inspiring history and we want more people to have access to that experience."
Willis said a plan is unfolding of how to best tell the story of the Gullah Geechee on the Gullah Geechee Cultural Heritage Corridor Multi-Use Greenway/Blueway Trail within Brunswick County.
"We're trying to develop the vision of what this could be," he said. "It's important to realize that we're just in the concept stage. There are many, many old rice plantation sites that have long been abandoned where markers could be placed and the story better told."
The route would include historical sites such as Orton Plantation and slave cemeteries, ending in northern Brunswick County in Navassa, home to Reaves Chapel, which is one of the most historically significant African American structures in the Cape Fear Region.
The greenway/blueway could also tie into Navassa's land and waterway trails, the concepts of which are underway, and the town's proposed Moze Heritage Center & Nature Park.
Veronica Carter, who serves on the Leland Town Council and is a longstanding member of the North Carolina Coastal Federation's board of directors, stressed the importance of preserving the Gullah Geechee heritage in Navassa, a town that's "growing from the outside," she said.
"As Navassa has grown and is growing, I think if we don't take a stand and capture their history and heritage now it will be lost," she said. "If there's not something there – a museum, a trail – something tangible, much of their history, much of their knowledge will pass away. This project has just been gnawing at me. Besides being a big fan of greenspace, this just seemed like a fit. I hope I live long enough to see it come to fruition."
Navassa Mayor Eulis Willis said he is pleased with the local chapter's efforts to connect the greenway to the town.
"One of the most important things that's coming out of this initiative is the publicity it's getting because it's keeping the Gullah Geechee effort in front of the people," he said. "It's also opening up a section of Brunswick County that has not been recognized as a hotbed of the Gullah Geechee in eastern North Carolina."
Brayton Willis said the NAACP's Brunswick Chapter will be developing a website about the initiative as it tries to widen the audience of community members to get more people engaged in the plan efforts.
The chapter must submit a proposal to request technical assistance from the National Park Service Rivers, Trails and Conservation Assistance Program by March 2021.
"It's a great economic development opportunity, a great environmental opportunity," Brayton Willis said. "We're really excited to move this forward and hopefully get it into the next phase where the National Park Service will come in and help our citizens develop what this will look like."