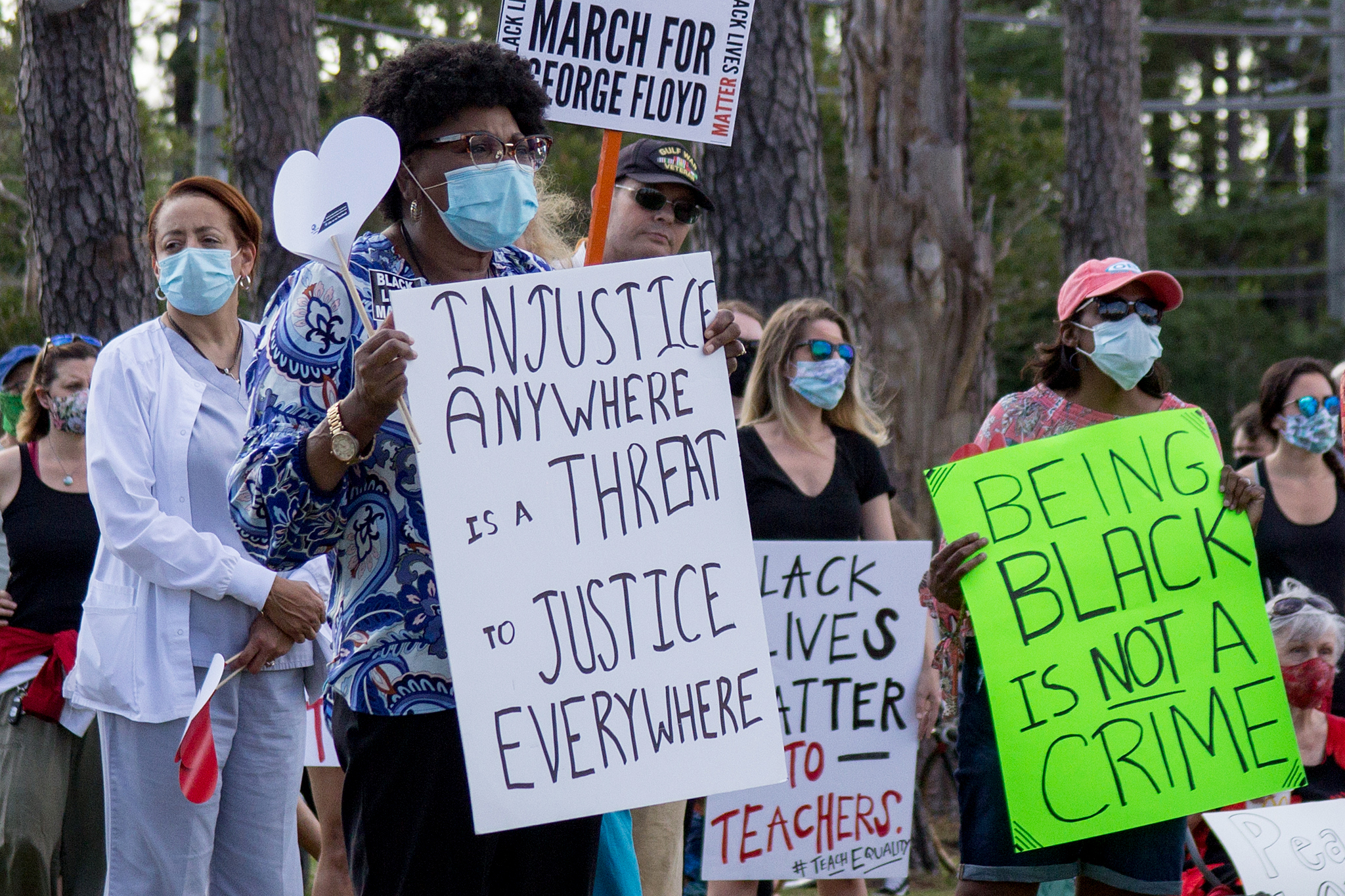 MANTEO — Black Lives Matter.
That was the most common message on signs at the Dare Minority Coalition's event June 9  in Manteo honoring victims of police violence that drew more than 500 people, most of them white.
"Black Lives Matter" appeared on poster board. It was lettered in marker on cut cardboard. It was painted on the back of pizza boxes.
Both a recognition of lives departed needlessly and a call to do better, the event featured somber and joyous moments, beginning with organizers and attendees singing together "This Little Light of Mine," which was often sung during the civil rights movement of the 1950s and '60s.
"We're here today because it's needed," announced Tshombe Selby, an opera singer and Manteo native now residing in New York.
"Ain't nobody mad but the haters and the devil," he said. "We're about love."
He sang "Make Them Hear You," a piece that encourages using your voice, which aligned with event themes of voting and speaking out against injustices.
"Then at the end I chose to sing a passage from the Negro national anthem," Selby said, referring to the spiritual, "Lift Every Voice and Sing," another staple of the civil rights movement. "As we go out, we pray that no harm will come to our families. It's not easy out here. You got your Facebook warriors, your people working against you, people at the dinner table, complaining people; and we want them to know we can lean on each other."
Selby said he loves coming home, and that African Americans and Outer Bankers are inherently strong groups of people. After hurricanes, the community rallies for everyone to rebuild. "We always kind of helped each other out because of our isolation."
The community also assisted his move to New York.
"Everyone has supported me here," he said. "That isn't necessarily the case for every child who has a dream here in the Outer Banks."
Growing up and when returning home on breaks from college, Selby encountered racism. He worked as a bouncer and had intoxicated people, including schoolmates, call him racial slurs to his face. Several times when he was the designated driver for his white friends, other patrons — once, a nightlife proprietor — asked why he was there, using racial slurs.
Selby also referenced the presence of Confederate flags around the community. "It's saying, 'We know your plight. We know how this may affect you. We don't care. Our sense of heritage or what happened in the past is worth more than making a relationship with you today.'"
Income inequality is often discussed, but "what's the economy worth if you're making people feel they're not welcome or don't belong?"
George Carver, executive director of the all-black Dare Minority Coalition, addressed the severe social media backlash over the statement of solidarity, Black Lives Matter.
"What's the economy worth if you're making people feel they're not welcome or don't belong?"

–Tshombe Selby, opera singer and Manteo native
After the Boston Marathon bombing, people proclaimed, "Boston strong" all over the country, Carver noted. After the Las Vegas shooting, people nationwide said, "'Stand with Vegas,' not, 'What about my city?'" At breast cancer events, he said no one is offended that colon cancer isn't mentioned.
"It doesn't discredit or diminish any other group," Carver stated. "It's just bringing attention to the group in need."
That black people wanted to speak publicly caused an outcry on social media here, said Ebony Selby, Dare Minority Coalition vice president. "Just announcing this event brought fear and negativity and threats of violence."
Yet event attendees from all over the county came to stand peacefully in support. Those who made threats didn't follow through with them.
The large turnout — no official count was taken, but some estimates put attendance as high as 1,000 people — underscored the words affirming the value of black lives in a town of fewer than 2,000 permanent residents.
"I would say welcome to probably the largest protest I've ever seen in Dare County," Ebony Selby announced.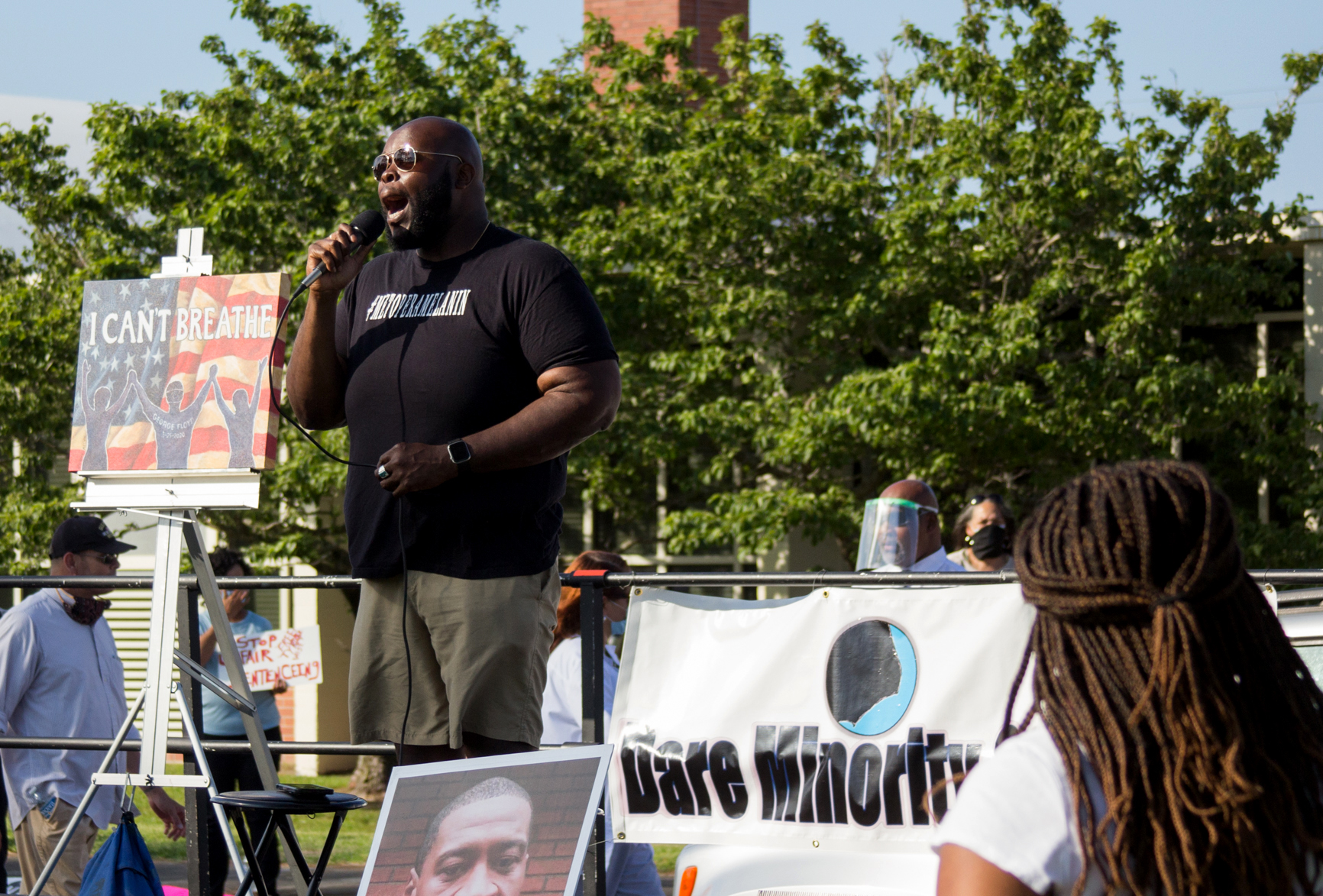 Silence not a solution
Unlike the nationally known recent cases of Breonna Taylor and George Floyd, police officers here have not killed any unarmed black citizens. Still, Ebony Selby said the event was needed.
"We have felt disparities in this community for a long time," she said. "I think it needed to be seen in this county. We do a lot of tiptoeing in this county."
Corinna Gregory, a Manteo native, said she experiences racism when she goes into stores.
"People are always watching you. Trying to make small talk but really trying to see what you're going to take," Gregory said. "Some people don't even try to hide their real feelings."
As an eighth-grader, she said a substitute teacher who is a full-time teacher now told her to rewrite her essay about what she wanted to be when she grew up because she called Gregory's aspiration to become a lawyer "unrealistic."
Gregory's children have also experienced racism here.
"My son was told by one of his best friends when he was in elementary school that he couldn't play with him and the other boys because his skin was too dark," she said. "Broke my son's heart because him and this boy had been friends since More at Four."
"I think people think if we don't talk about racism, it's not going to happen," Ebony Selby said. "I've seen that said on social media. People ignore it instead of trying to work on it, because it makes them uncomfortable. That's the point."
Racism is not ever comfortable for those experiencing it.
The event, Moments of Silence for Victims of Police Violence, took place on the day of George Floyd's funeral. Police officers killed Floyd, an unarmed black man, on May 26 during his arrest in Minneapolis, Minnesota.
A moment of silence was held for 8 minutes and 46 seconds, the length of time white officer Derek Chauvin pressed his knee on Floyd's neck, suffocating him.
For almost 9 minutes, everyone at the event, including children, covering the College of The Albemarle's Manteo campus lawn, loop drive and surrounding sidewalks, remained quiet.
A white-haired, white couple held hands, heads bowed to the grass. A dog sneezed. A passing car honked.
"That's the longest 8 minutes and 46 seconds I believe I've ever stood around anywhere," Dare County Sheriff Doug Doughtie said. "I'm appalled."
He condemned the "indefensible" act of officers murdering Floyd, as "it goes against everything law enforcement officers represent."
Audience members cheered loudly.
"That's not representative of who we are in Dare County or what we stand for," Doughtie said.
Vance Haskett, chief of the Manteo Police Department, also condemned officers killing unarmed black people in recent months.
"I've been reflecting as a white man and a police chief what Black Lives Matters means to me," Haskett said. "I acknowledge there is definitely racism that African Americans experience. I will not tolerate it in my police department or in my personal life. I applaud and support the Dare Minority Coalition."
Rashad Daniels, coalition president and Manteo native, said many locals aren't even aware of the more subtle forms of racism they perpetuate. They assume if they deny or ignore the issues, the community can remain peaceful.
"However, this just masks the problem and causes it to fester in the background," Daniels explained.
Instead, county schools need to teach more accurate black history, and community forums for open dialogue could help some adults stop perpetuating racism, he said.
"We need you all to listen to the pain of others who have experienced systemic racism, injustice and oppression, and then harness that pain into solutions to help us move forward together," he told event attendees.
"We have suffered far too long," said Radasha Gregory, a coalition board member.
"Make racists small," Gregory implored. "Drown them out. Drown out the voices of hate. Drown out the voices of institutionalized racism. Our voices must be louder!"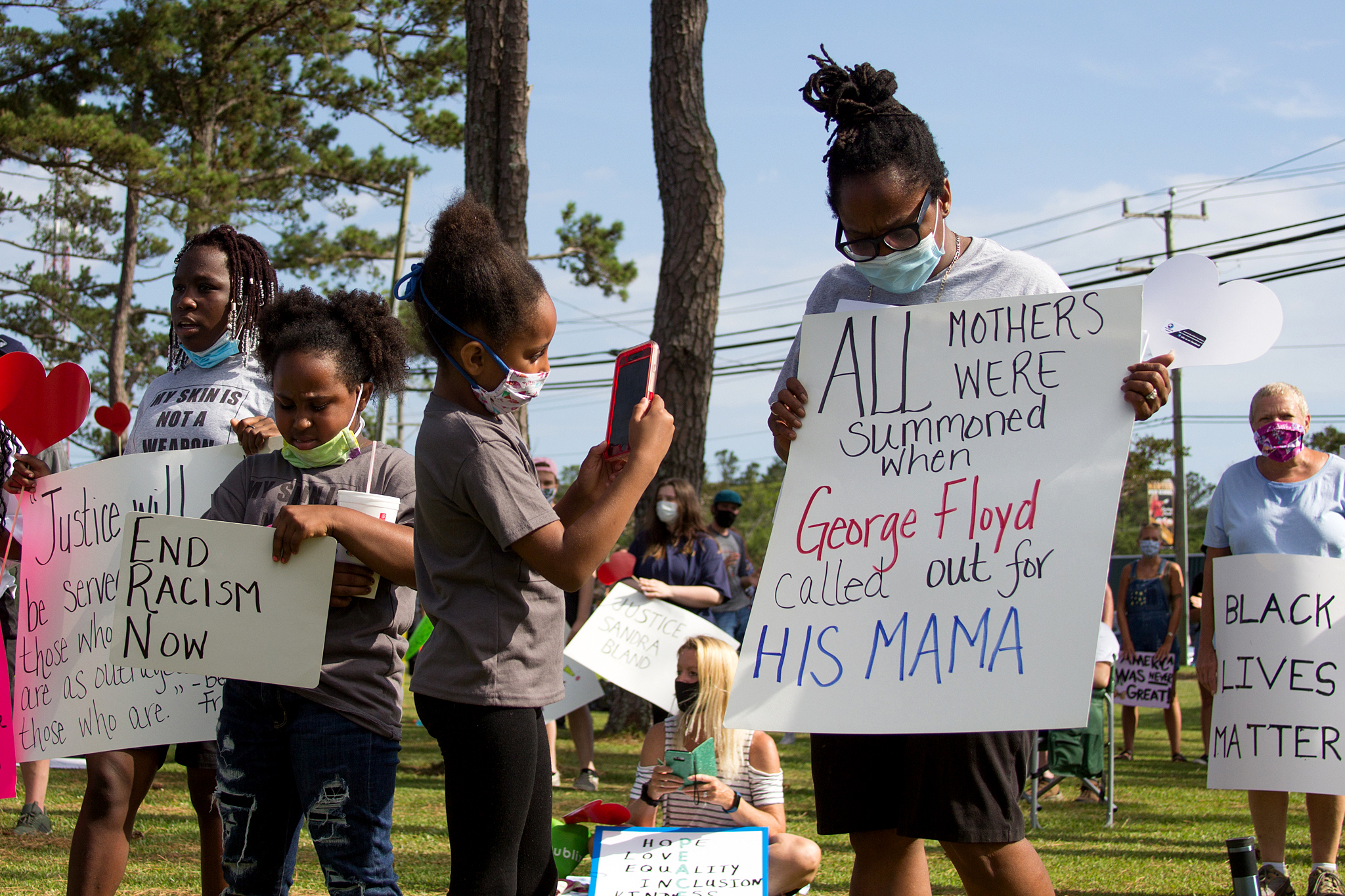 A deep-rooted community
Dare County's nearly 36,000 permanent residents are about 93% white, 2% black and 3% biracial or multiracial, according to the 2018 American Community Survey data at Census.gov. The remaining population include all other races.
Manteo remains the county's most diverse town, although it's far smaller than Kill Devil Hills, Kitty Hawk, Nags Head and Southern Shores. With an estimated 1,852 residents, Manteo is about 86 % white, 7% black, 4.5% Hispanic and 1% biracial or multiracial, according to Census data.
Some black families living in Manteo today trace their roots to the Freedmen's Colony, which the Union Army established on the north end of Roanoke Island in 1862.
Thousands of fugitives from slavery from inland towns crossed the waterways to live freely in present-day Manteo.
Darrell Collins, a Manteo commissioner since 2005, said his mother's family was part of the Freedmen's Colony, as were "names like the Scarboroughs, the Tilletts, Meekins, Simmons, Bowsers, Wescotts," he said. "Some families still are living here today."
Nearly 4,000 freed slaves resided in the colony in 1865, according to the National Park Service website, and more than 150 freedmen joined the Union Army.
"Make racists small. Drown them out. Drown out the voices of hate. Drown out the voices of institutionalized racism. Our voices must be louder!"

–Radasha Gregory, Dare Minority Coalition board member
Teachers came to the island from the North and taught children to read and write during the day and taught the same to adults at night, Collins said.
"One hundred and fifty-eight years later, Roanoke Island is still that safe haven for African Americans who live here," he said.
Nevertheless, "violence and racial injustice has always been a part of the history of this country," Collins said, and African American advancement has only ever come with bloodshed.
He cited the deaths of Abraham Lincoln after signing the 13th Amendment, and John F. Kennedy and Martin Luther King Jr. for their separate stands on civil rights in the 1960s.
"All were killed by the forces they sought to change," Collins noted. "The young people today are taking up the unfinished business of the past, that we're all the same."
Collins emphasized the importance of voting.
"This moment is about change: Political change, change in power. The only way we can make the change is for you to cast your vote. Cast your vote."
The crowd picked up his chant.
"Let's not stop with protesting," Ebony Selby said. "Don't become dormant after elections. Hold every official accountable. They are our elected officials. We the people are the fourth branch of government. We the people pay the government. They are publicly accessible to they who pay them."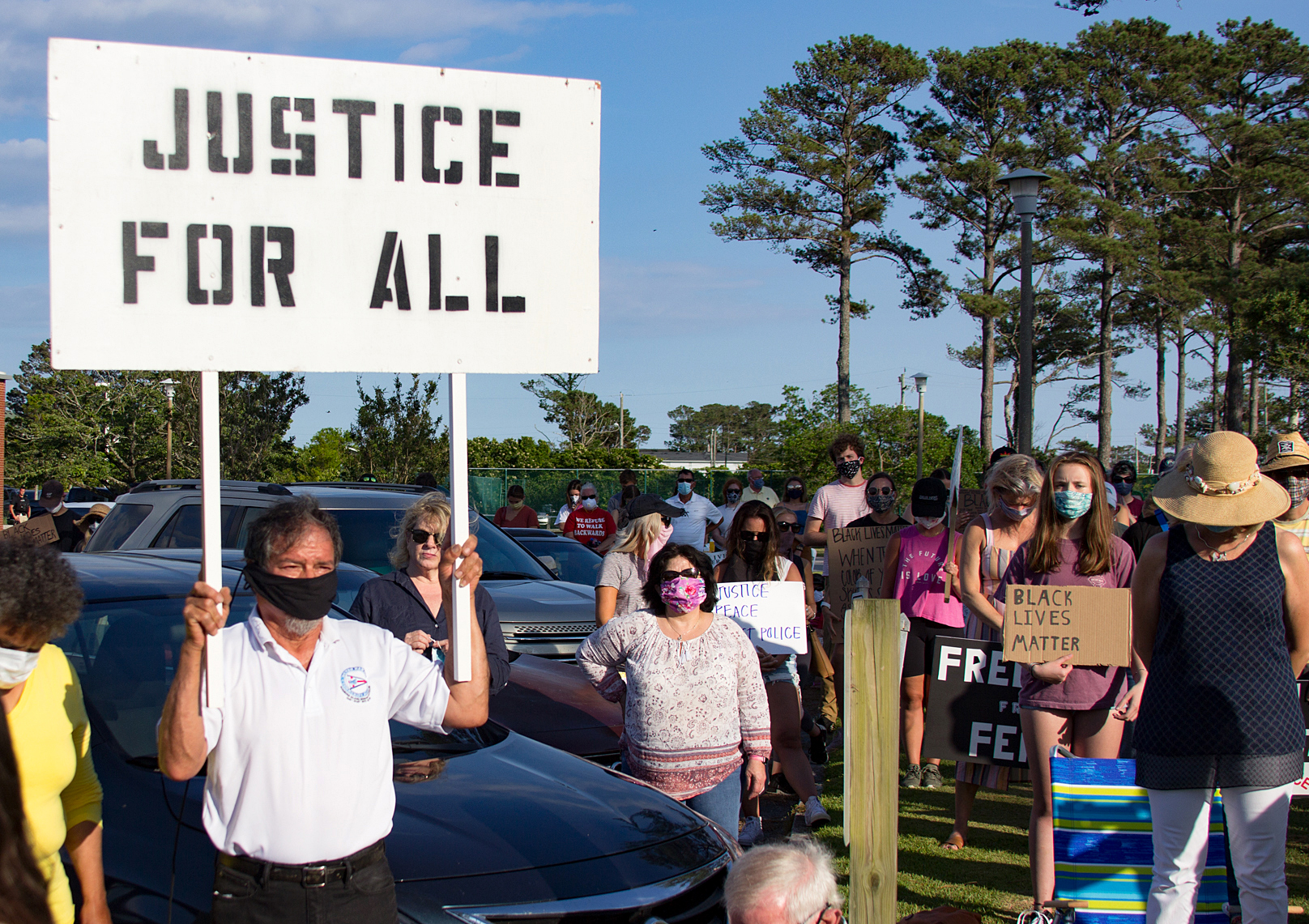 Moving forward
The coalition has existed since 2018, but Carver said it's dreaming beyond the county.
"I'm thinking big with my board members," he said. "We're going to change the world. It's going to start here in Dare County."
He's developing an app for negotiating people's more successful reentry into society from jails and prisons by pooling businesses and resources for a broad support system. Carver also hopes to tackle the persistent local issue of affordable housing.
"People who were born and raised here have a hard time buying a house," Collins agreed. "It's hard to find an affordable place to live. That's probably the main issue in the whole county."
Betty Selby, a decades-long community leader and Manteo commissioner since 2019, said there is a lack of income-based "accessible housing."
Even beyond the countywide problem of finding homes, she said the black community has fewer "opportunities in the financial arena," where she noted inequalities in bank loans, finances and grants.
Betty Selby ran for commissioner because she wants to see more "diverse businesses and more communication with both sides of the highway in Manteo," referencing the black community being centralized on the west side of the highway.
"That's where they think we should stay," she said is an attitude of some.
But she stressed that Manteo is making strides in diversity. With her election, there are now two black commissioners on a panel of six. No other boards of commissioners or town councils in Dare County have any diversity.
"Look at the boards," she said.
The Dare County Sheriff's Office now has "four or five black officers" and "does a lot of reaching out," she said.
The sheriff's office employs 70 full-time deputies, 10 of which are female, according to Maj. Jeff Deringer, who declined to provide racial demographics.
The Manteo Police Department currently has nine full-time officers who are all white. One is female.
The department has hired only one black officer since 1999, said Haskett. That officer retired from his full-time position and is now a part-time paid reserve officer.
The school system started a Spanish dual language immersion program "that's inclusive," Betty Selby said, and in recent years hired a black administrator and several black directors for the first time. Black teachers, meanwhile, are still lacking in numbers.
"We're still getting there with that, so our kids can see people who look like them."
Everyone needs to boldly address racism, said Michelle Lewis, pastor of Mighty Wind United Methodist Church in Kill Devil Hills and youth director at Mount Olivet United Methodist Church in Manteo.
"Jesus took a stand for the marginalized and the oppressed," Lewis said. "Speak out; don't be silent."