Reprinted from Carteret County News-Times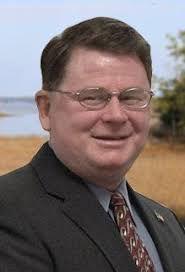 Pine Knoll Shores has lost a long-standing civil servant. Mayor Ken Jones died Thursday. He was 61 years old.
Town staff issued a release shortly after noon Thursday announcing the mayor's death. Munden Funeral Home of Morehead City is handling arrangements.
"Mayor Jones served the town of Pine Knoll Shores for many years in multiple capacities and will be deeply missed," Assistant Town Manager Julie Anderson said in the announcement. In a phone interview with the News-Times, Ms. Anderson said the mayor's death was "shocking to everyone."
No further details on his death were released.
Just prior to his death, Jones had presided over the regular town board of commissioners meeting Wednesday evening. Commissioner Ted Goetzinger said Thursday he'd sat next to the mayor that night.
"Ken seemed as happy as he's ever been," Goetzinger said. "I've known Ken for 25 years; five years ago, he was instrumental in getting me to run again (for reelection)."
Goetzinger said he's never "seen anyone as beloved as Ken was."
"He was a champion of a lot of things in this town," the commissioner said. "Ken never met a microphone he didn't like. He had a wicked sense of humor."
Goetzinger said two of Jones' strong suits were how much residents loved him and how much he cared for Pine Knoll Shores.
"He really pushed volunteerism and praised the town staff," the commissioner continued. "The town's going to go on, (but) there's going to be a void for a long time."
Jones had served as mayor for more than decade and was reelected in 2019 for his latest term. In 2012, he was a Republican candidate for the state Senate.
Jones was a veteran of the U.S. Air Force and served twice at Seymour Johnson Air Force Base.
In Indian Beach, just west of Pine Knoll Shores, Mayor Stewart Pickett said Thursday he's "shocked like everyone else" at the news of Jones' death.
"I worked closely with Ken for many years," Pickett said. "We worked well together; he will be greatly missed."
Pickett remembered Jones as an early riser, often surprising him with unexpected visits.
"He was a gentle soul," Pickett said.
Carteret County Commission Chairman Bill Smith said Mayor Jones will be "sorely missed" by his friends, family and the residents of Pine Knoll Shores.
"Ken and I had become friends over the years with me serving on the commission and him as mayor," Smith said.  "He was a great leader for Pine Knoll Shores and did good things for the town from what I can tell."
Further west along Bogue Banks, Emerald Isle Mayor Eddie Barber said he, too, was shocked by the news of Mayor Jones' death. He said he and Jones had met through the Carteret County Mayor's Association.
"Ken and I were good friends," Barber said. "I'm sorry to hear about it. I have very good memories of him. I know the town will miss him a great deal."
Barber said he remembers working with Mayor Jones through various hurricanes, as well as through the current novel coronavirus pandemic.
"Ken was very dedicated," Barber said. "My heartfelt sympathy goes out to his family and the people of Pine Knoll Shores. He was a good and faithful servant."
With his death, Mayor Pro Tem Clark Edwards now assumes the mayoral duties for the town until further notice.
Reporters Jackie Starkey and Elise Clouser contributed to this report.