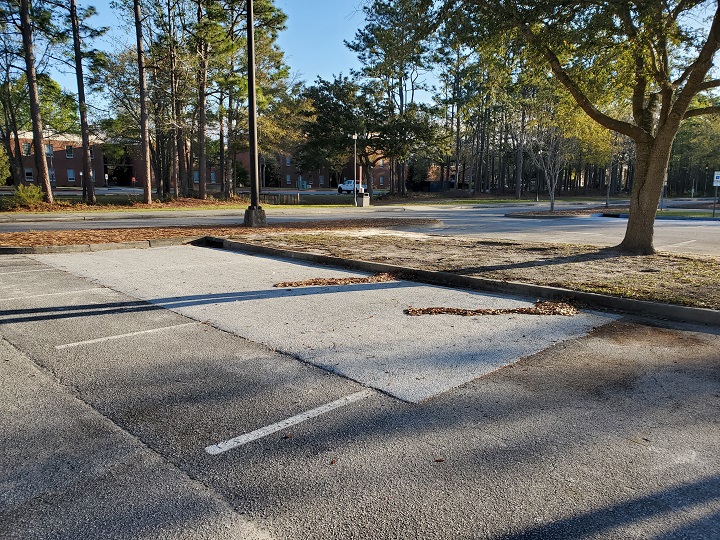 Two projects in the Wilmington area have taken place to reduce polluted stormwater runoff and flooding.
Engineering firm Coastal Stormwater Services Inc. worked with the North Carolina Coastal Federation to design and complete a project to remove more than 4,730 square feet of asphalt from UNCW's parking lot EE and replace it with permeable paving to reduce runoff, the federation announced.
The hard surfaces of parking lots usually contribute to polluted stormwater runoff and flooding by collecting rain and directing it to storm drains.
Sections of the asphalt lot around select drop inlets were sawcut, removed and taken to a local asphalt plant for recycling. The stalls were then replaced with permeable pavement that now soak in about 163,000 gallons of rain for a 3.6-inch rain event.
"Since I was a student, I've always felt a sense of commitment to protect what brought me here, the water. From a birds-eye view, UNCW stands as one of the last lines of defense before Bradley Creek. Working with Coastal Federation and other community partners to reduce stormwater has been a dream come true!" said Kat Pohlman, UNCW's chief sustainability officer, in a statement.
The Coastal Federation, UNCW, the city of Wilmington's Heal Our Waterways initiative and New Hanover Soil and Water Conservation worked together on the stormwater reduction project in the Bradley Creek Watershed to help implement the local watershed restoration plan. UNCW is the largest landowner in the watershed and a key partner in restoration efforts.
In Wrightsville Beach, permeable pavers were used to replace heavily compacted soil and concrete areas in front of the Workshop Coffee, Kohl's Frozen Custard and the Trolly Stop and the common area shared by the businesses was excavated and replaced with permeable pavers.
Audrey Logtin, owner of the Workshop spearheaded the project by contacting the Coastal Federation and Town for advice on how to remedy the nuisance flooding and ponding caused by heavy rains. The group then collaborated to retrofit the 1,100-foot area with new permeable surfaces.