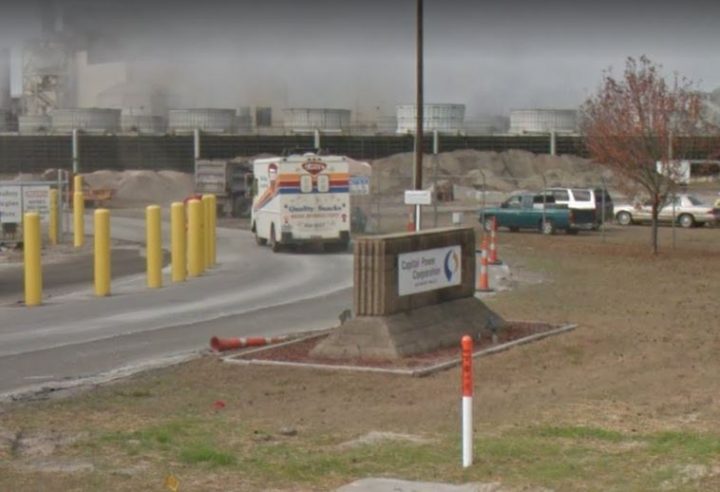 SOUTHPORT – A small power plant in Brunswick County will not be allowed to discharge bottom ash into an outfall that flows into the Atlantic Ocean off the coast of Caswell Beach.
The North Carolina Department of Environmental Quality has issued two final National Pollutant Discharge Elimination System, or NPDES, permits to CPI USA North Carolina, LLC to discharge wastewater and stormwater from its Southport plant.
The renewed permits are effective April 1, but the company has 30 days from the time the permits are issued – in this case March 13 – to request in writing an adjudicatory hearing to challenge the terms of the permits.
No such action had been filed as of March 30, according to a Division of Air Quality, or DAQ, spokesperson.
The final permits include significant changes from draft permits the state sent the company in June 2019, which include increased monitoring for multiple compounds.
The plant, which uses a combination of fuels, including coal, wood and fuel derived from tires, produces about 400,000 gallons of wastewater a day.
A portion of that wastewater includes bottom ash, about 17,000 gallons of which is discharged per year.
Bottom ash, which is the course, incombustible byproduct of coal combustion, was added to the facility's wastewater since the plant's last permit renewal.
The plant discharges stormwater and wastewater into Progress Energy's Brunswick steam electric power station effluent channel, which flows into a pipe that discharges 2,000 feet off the Caswell Beach shore.
The new wastewater permit omits discharge of bottom ash transport water, noting that it has been determined the facility's mechanical drag system equipment contains the bottom ash, which is temporarily stored in a concrete pit, according to DEQ. Bottom ash from the pit is loaded onto a truck and hauled to a landfill.
The plant will also have to increase its monitoring frequency for 126 so-called priority pollutants Analysis from once per permit cycle to annual monitoring. The 126 priority pollutants are defined in the Clean Water Act as a subset of toxic pollutants that include heavy metals and specific organic chemicals.
The stormwater permit also requires monitoring for creosote, a gummy, tarlike substance used as a wood preservative, and monthly monitoring for the first 15 months of the permit. The plant has to incorporate a hurricane preparedness plan as well.
Chandra Taylor, a senior attorney with the Southern Environmental Law Center, said in an email that the permits, "still have room for improvement."

"Dumping any coal ash, chipped tire pile, and chipped railroad wood pile wastewater into the ocean, when the primary treatment is just a settling basin, is not the best that can be done for the ocean that our residents and visitors play and swim in," she said.
About 100 Southport residents and representatives from area beach towns in Brunswick County attended a state-hosted public hearing last November where they urged state officials to strengthen regulatory oversight of the plant.
In a statement its president issued earlier this week, the Brunswick Environmental Action Team, or BEAT, thanked the state "for hearing our concerns and responding to each of them exactly how our communities asked them to."
"We are also pleased that we could serve the community by bringing these critical concerns to the attention of local governmental leaders and the people they serve. None of these changes would have been possible without their involvement. We look forward to working with our community, the NCDEQ and CPI USA to improve their environmental foot print as their air quality permits come up for review in 2020. We are learning that the impacts of air quality issues originating at CPI USA, are potentially more dangerous than the stormwater for the health of our community."
The plant was commissioned in 1987 and first received a wastewater disposal permit from the state June 1 of that year.
The 88-megawatt capacity plant sells electric power to Duke Energy and steam power to Archer Daniels Midland, a food processing company.
Area residents have been concerned particularly about air emissions from the plant.
Property owners who live near the plant shared stories about how they have to wipe down porch railings and outdoor furniture coated by black, greasy grit emitted from the plant's smoke stacks.
CPI USA North Carolina LLC has operated the plant since 2006.
In 2008, the plant retrofitted six boilers with sulfur dioxide and nitrogen oxide controls in order to increase wood/biomass firing production, according to state records.
The retrofit was completed in March 2011.
In 2016, the state Environmental Management Commission granted CPI a special order by consent, or SOC, after determining plant emissions exceeded the National Ambient Air Quality Standard.
A facility may be given an SOC if it is unable to consistently comply with the terms, conditions or limitations in an NPDES permit because of problems related to, for example, design of infrastructure.
CPI submitted in February 2016 its annual projected versus actual report.
That report indicated that the emissions of carbon monoxide, sulfur dioxide and particulate matter "were significantly higher than projected emissions contained in the original permit application for the boiler retrofit," according to state documents.
The SOC expires Dec. 31, the effective date of a new or separate SOC, or upon approval and issuance of a permit with revised emission limits requested by the company, whichever comes first, according to the order.
Last December, DAQ slapped CPI with a more than $473,000 civil penalty, citing that the plant failed to operate using the best available control technology for its sulfur dioxide emissions from March 15, 2011 through 2017, according to the civil penalty.
The plant also failed to obtain a "prevention of significant deterioration" permit prior to retrofitting six boilers with sulfur dioxide and nitrogen oxide controls.
Learn more