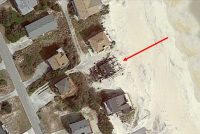 The Maryland couple whose lawsuit against the state Coastal Resources Commission was recently dismissed by a federal judge has appealed the decision.
Michael and Cathy Zito of Timonium, Maryland, sued the commission last year in federal court, alleging a taking of their property on East Seagull Drive in Nags Head without just compensation because the state regulatory board denied permits to replace a beachfront home destroyed by fire. The Zitos' plans to rebuild on the same footprint on a rapidly eroding stretch of beach did not meet oceanfront setback requirements.
U.S. District Court Judge James C. Dever III in March dismissed the complaint for lack of subject matter jurisdiction. The Zitos' attorney in the case, J. David Breemer of the nonprofit Pacific Legal Foundation, had vowed to appeal the decision.
The North Carolina Coastal Federation, which publishes Coastal Review Online, had sought to intervene in the case on behalf of the commission, but the judge denied the federation's motion as moot.