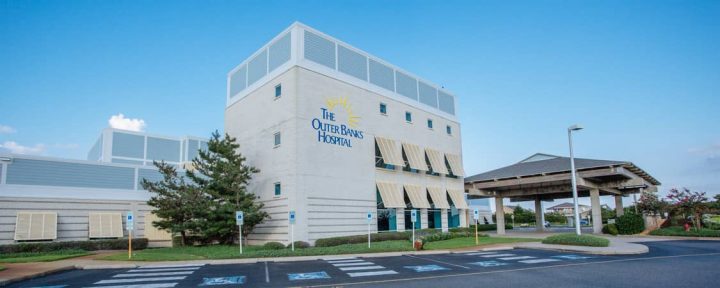 On the Outer Banks, daily life feels almost like the familiar suspension of normality in preparing for a storm: Everyone and everything is hyper-focused on stocking supplies and staying safe.
But unlike the adrenaline-fueled anxiety of hurricane readiness, anticipating the impact of looming disease is just endless churning of anxiety. No one knows what to expect or when it will end.
With the first death in North Carolina from COVID-19 reported Tuesday in Cabarrus County, and Dare County's first positive case reported Wednesday, the state is bracing for the continued spread of cases from the coronavirus pandemic. So far, few have been found in northeastern North Carolina coastal counties, but public health professionals have been gathering resources for weeks to be as ready as possible. People in these rural counties are generally poorer, older and less healthy than most North Carolinians.
"This is such a fluid situation, and there are so many unknowns," Hyde County Health Department Director Luana Gibbs said in an interview last week. "I think we're pulling together as a community … We're being very proactive."
Gibbs said that in limiting their public contacts, healthy people are protecting not only themselves, but also the frail or vulnerable folks where they live and work.
"We do have a growing population of elderly and we do have a population with chronic health conditions," she said. "Yes, that is a concern and I do worry about that."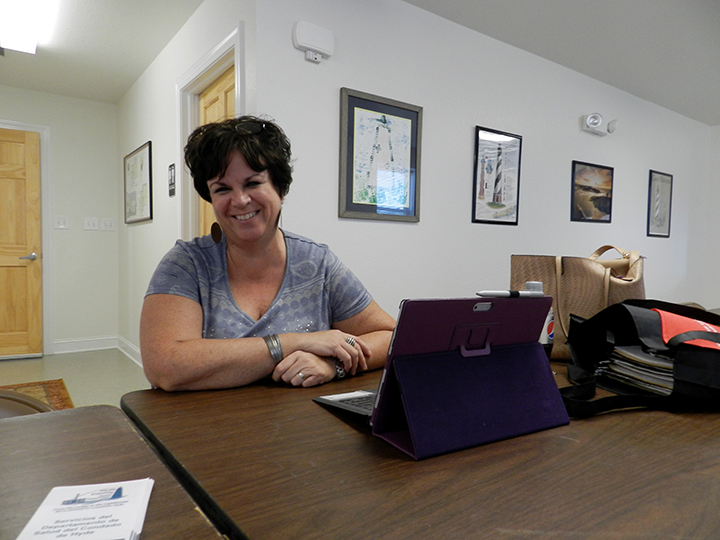 Older adults and people with serious underlying medical conditions such as heart disease and diabetes are at higher risk of severe illness from the virus.
Besides the higher percentages of folks in the high-risk population, there are other public health challenges in the region. Public transportation is sparse or nonexistent, Internet service can be spotty and high-speed broadband needed for streaming video — and virtual healthcare, or telemedicine — is still unavailable or unaffordable in some rural areas. And the area has been hit hard by the opioid addiction crisis.
The unfolding economic and health emergency is happening right on the heels of historic storm damage from Hurricane Dorian last fall, especially on Ocracoke Island in Hyde County. The 800 or so year-round residents on the island are still recovering from devastating destruction, with island businesses just starting to get back on their feet. Now, like the rest of the Outer Banks, there is a state of emergency in effect and commerce from tourism has screeched to a halt. Health care and mental health care are available at a county clinic on the island.
Recent positive cases of COVID-19 have been reported in nearby Pasquotank, Bertie, Northampton and Hertford counties. Hyde had a positive test show up last week, but it was in a person who had a Hyde address but was not in the county. The Dare County case was found in a person who did not use a Dare County address when they were tested.
With tourists barred from Dare, Hyde and Currituck counties, all bars closed and restaurants shuttered except for take-out and delivery, and museums, movie theaters, gyms and hair salons no longer open for business, more residents can be seen outside, taking long walks with their dogs and strolling beaches and trails with their children. But with social contact so limited and the health risk hovering ominously over the future, the atmosphere is hardly happy-go-lucky.
As of midday Thursday, the North Carolina Department of Health and Human Services reported there were 636 cases of COVID, up from 504 positive test results statewide Wednesday, of 12,910 tests.
Two coronavirus-linked deaths have been reported in North Carolina. A person from Cabarrus County died on March 24 from complications associated with the virus. The patient was in their late 70s and had several underlying medical conditions. A person in their 60s from Virginia who was traveling through North Carolina also died from COVID-19 complications.
Gov. Roy Cooper has ordered all K-12 public schools to stay closed through May 15, banned gatherings of 50 or more people and limited restaurants and bars to delivery and take-out service and restricting visits to long-term care facilities.
Cooper said that the recent deaths in the state should serve as a "stark warning" to residents about the serious health risk of the virus.
"All of us must do our part to stop the spread by staying at home as much as possible and practicing social distancing," the governor said in a press release.
But maintaining social distance — about 6 feet apart from other people — and other measures such as limiting group activities, are not always practiced, willfully or not.
"Based on the calls we are receiving at our call center and seeing on social media, we see some individuals expressing skepticism and others that understand the seriousness of the situation," Director of the Dare County Department of Health and Human Services Sheila Davies said in a March 20 email, responding to an inquiry from Coastal Review Online.
Like Gibbs, Davies said that since the virus is novel, disease experts are learning about its characteristics in real time. For that reason, there is little to go by to estimate the magnitude or timeline of spread of the virus, or the rate and severity of infection.
"We don't have a way to predict the numbers of individuals who could become ill from COVID-19," Davies said.
About 87% of Dare County residents have health insurance, she said, but with a population that skews older, they're at higher risk of being infected.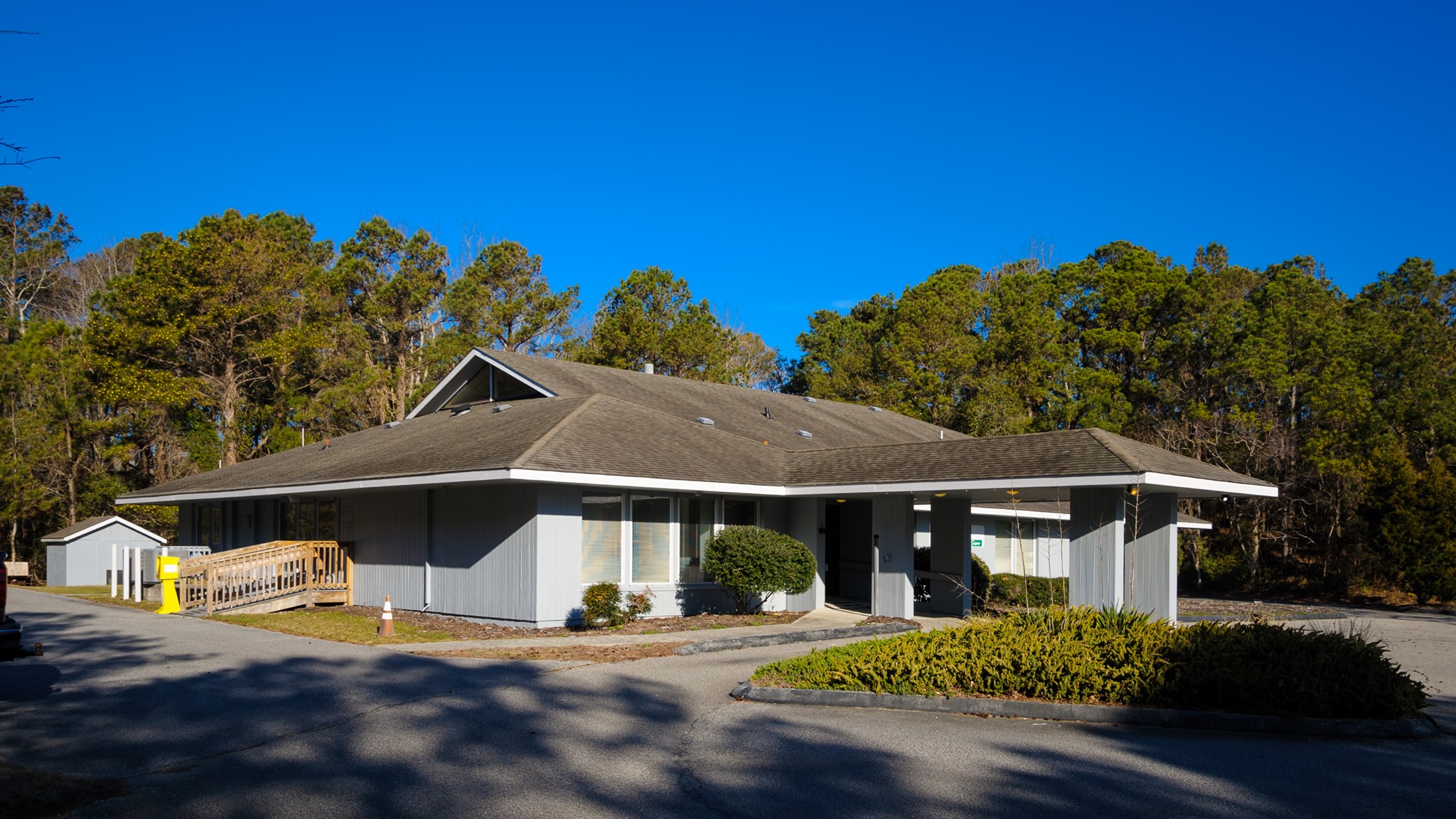 Available care
Residents in Dare County and parts of Currituck, Hyde and Tyrrell counties depend on the 26-bed Outer Banks Hospital in Nags Head for a range of health care needs that can't be treated in community health clinics. Depending on their proximity, Tyrrell and Hyde residents can also go to 142-bed Vidant Beaufort Hospital in Washington, in Beaufort County. Basic healthcare and prescription medications are provided by the Community Care Clinic of Dare in Nags Head for uninsured or under-insured Dare County residents.
There are also numerous clinics, health centers and medical practices in the region operated by Vidant Health, which is affiliated with the Brody School of Medicine at East Carolina University. The nonprofit system, which earlier this month announced a layoff of 191 "team members" serves more than 1.4 million people in 29 eastern North Carolina counties.
And if a community is overwhelmed by COVID-19 cases, help will be provided, Davies said.
"The state has a stockpile system in place where counties can request additional supplies as needed," she said.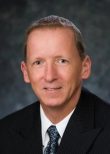 North Carolina's medical response through the Health Care Coalitions is built to augment healthcare needs for citizens during disasters. The state has recently appealed for volunteers to supplement the healthcare workforce and to provide medical supplies and protective equipment.
In an informational video released last week, Outer Banks Hospital president Ronnie Sloan said that the hospital, which is part of the Vidant system, had been "working around the clock to prepare." Weeks ago, staff started collecting samples from patients to send off to several laboratories to test for the virus. As a result, he said, the response time for results has gotten shorter. The hospital has also been doing "scenario planning" in the event the virus starts to spread.
"Daily, we are planning for a potential surge, reviewing supplies, staffing, policies, procedures, capacity and partnerships," Sloan said.
With a few exceptions, the hospital is prohibiting all visitors and outpatient appointments have been rescheduled. Plans are being made to offer some patients virtual medical visits via telephone, FaceTime or video chat.
In addition, PORT Health is providing mental health services, and has started offering virtual counseling and groups. Mental health care is also available on Ocracoke Island through the county.
College concerns
Clearly, healthcare providers have been at the front lines of the coronavirus response. At the same time, instructors have continued to teach training classes for public health and safety personnel, such as nurses, EMTs and emergency fire and law enforcement responders, at College of The Albemarle.
But Peter Graves Roberts, a Southern Shores resident, said that the continued in-person instruction at campus sites, including Roanoke Island, puts instructors in danger. One instructor he knows is at high-risk and has been worried about working, but they felt hesitant to speak up, Roberts said in an interview.
Roberts said that the teaching should be done online, or the classes should be postponed.
"This is a liability nightmare waiting to happen," Roberts wrote in an email he sent to local officials. "State funded colleges should not require civilian instructors to participate in face-to-face instruction during the current pandemic and state of emergency."
Roberts also said that the travel between counties many of the instructors must make to do their jobs puts them at additional risk of exposure to the virus.
According to Jenna Hatfield, public information officer for COA, the state considers the instruction a critical need. The system is following the guidance and recommendations from the North Carolina Community College System and other state offices.
"If we are asked as a system to stop all activities, other than online course delivery, then we will be prepared to do," she said in an email. "However, we refrain from taking actions that are not consistent with the guidance provided to all of the community colleges."
In responding to Roberts' concerns, COA president Jack Bagwell said in an email that instructors can opt out if they choose, and all safety measures are taken to keep personnel and students safe. The number of instructors and students was not immediately available.
"We have suspended all face-to-face instruction except in areas we have specifically been requested by the state to continue if we can do so safely," he wrote. "We are continuously working with our clinical sites to evaluate whether programs will be able to continue."
For recommendations from the North Carolina Community College System, visit www.albemarle.edu/coronavirus. You can find additional guidance below from the NC Community College System office at their COVID-19 Response webpage.