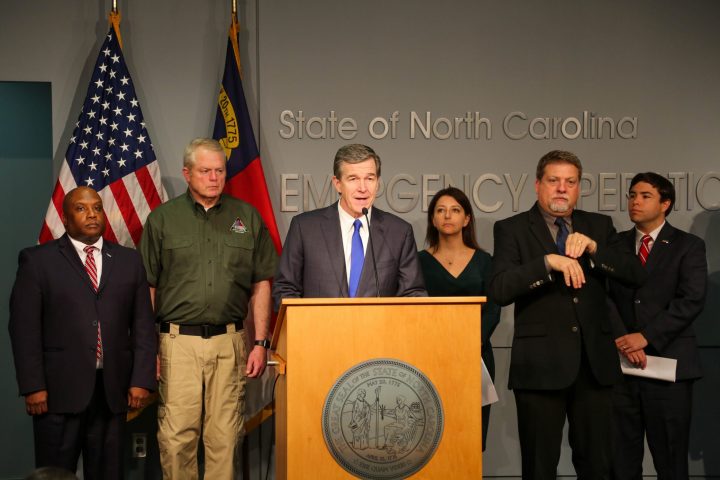 State and local officials imposed further rounds of restrictions in an attempt to head off the rapid spread of the novel coronavirus, COVID-19.
Gov. Roy Cooper signed an executive order Tuesday that bans dine-in service at bars and restaurants and includes a plan to streamline unemployment applications for affected workers.
"We did not come to this decision easily. But North Carolina must keep fighting this pandemic with the right weapons," said Cooper in a news release Tuesday evening from his office. "During this time of uncertainty, I will keep working to protect the health and safety of North Carolinians and keep our state's economy afloat."
The order directs restaurants as of 5 p.m. Tuesday to close sit-down service and are restricted to take-out or delivery orders. Onsite consumption in outside seating areas that follow social distancing guidelines of patrons at least 6 feet apart and crowds of fewer than 100 persons are permitted. The restrictions will remain in place until March 31 or until the order is rescinded or replaced.
Grocery stores, gas stations and convenience stores are exempt and will remain open, though they may not serve sit-down food, according to his office.
Additionally, the order waives the one-week wait time for applications for unemployment benefits and an in-person meeting. Recipients can apply online or over the phone and won't be required to prove they are looking for work, which Cooper said doesn't make sense given the amount of widespread job losses.
Cooper and members of his coronavirus task force held a media briefing Tuesday afternoon to give an update.
"You have my personal commitment and the commitment of my administration to work tirelessly and make the very best decisions that we can," Cooper began. Cooper continued that some things are going to have to change for a while. This will be a long and difficult road for us to travel but we are North Carolinians and we are resilient. And even as some things change, who we are will not."
Dr. Mandy Cohen, secretary of the state Department of Health and Human Services, said during the press conference the new strategies are necessary to slow the virus' spread.
"Our goal is to slow the spread of the infection so fewer people get sick at the same time and we don't overwhelm our medical system resources," she said.
Cohen said that, as of Tuesday morning, the state had 40 positive cases in 16 counties and that testing was ramping up at both state and local laboratories. Three coastal counties, Brunswick, Craven and Onslow, have each reported one case of COVID-19.
Meanwhile, Outer Banks officials opted for a storm-like response, closing access to Dare County for all visitors.
The decision by Dare County Tuesday to close to visitors came after backlash against businesses touting Outer Banks getaways for the pandemic.
In a Facebook post over the weekend, Nags Head Mayor Ben Cahoon said that, for the most part, town residents and businesses had adapted to the changes, but he criticized businesses trying to drum up more guests.
"Church services are being modified or canceled, businesses are adapting, people are refraining from close contact. Bravo!," he wrote. "But a few businesses are attempting to capitalize on out-of-state school cancellations and remote-work options and are inviting vacationers. This is absolutely contrary to the spirit of the guidelines and common sense. I would urge them to reconsider."
On Ocracoke Island, which continues to struggle in its recovery from Hurricane Dorian's devastation in September 2019, residents and business owners were anxious about their health and the health of the village's economy, said Peter Vankevich, co-publisher of the Ocracoke Observer.
Some businesses only recently reopened, and now some have voluntarily closed to protect their employees' health and that of other island residents.
Vankevich called the ordeal a "double whammy" of anxiety. "The stress factor over here is absolutely huge," he said.
The latest actions follow a major shift in the state's response last weekend over concerns about an impending acceleration in cases in North Carolina of the highly infectious virus.
Cooper and state health officials announced Saturday that schools would close statewide Monday through at least March 27 and a prohibition on public gatherings of more than 100 people.
Under the governor's March 14 executive order, the ban on gatherings of more than 100 people in spaces such as auditoriums, theaters, stadiums and meeting halls. Parades, fairs, festivals and other events in confined indoor or outdoor spaces is also under the ban. It did not apply to airports, bus and train stations, medical facilities, libraries, shopping malls, retail stores, factories, offices and grocery stores.
In addition to an extended break for the schools, the order also set up a state task force to develop ways to provide meals and other services for students during the closure period.
Cooper said he expected businesses and individuals throughout the state to take an economic hit over the shutdowns. In addition to the changes to unemployment rules, Cooper said he expected further state and federal aid.
Cooper requested Friday a Small Businesses Administration disaster declaration and State Emergency Management officials announced Friday that they were reviewing rules on an initial round of federal aid.
Last week, all three branches of state government announced delays and cancellations. North Carolina General Assembly committees preparing for the upcoming short session set for the end of April suspended work through the end of the month and staff members were encouraged to work from home. House Speaker Tim Moore announced that the earliest the legislature would restart committee work would be April 1.
The Department of Environmental Quality also postponed several hearings, including an update in Hope Mills on GenX and per- and polyfluorinated substances, or PFAS, and a public hearing in Wilmington on methyl bromide and log fumigation.
The state Coastal Resources Commission canceled its April meeting in Manteo and announced it would move all items on the agenda to its June 10-11 meeting.
Federal guidelines announced Monday also emphasized social distancing, limiting gatherings to 10 persons, avoiding visits to nursing homes, retirement and long-term care facilities and limiting discretionary travel, shopping and social visits.
On Monday, the state Ferry Division asked passengers to stay in their vehicles when possible during crossings and if using facilities to limit contact with surfaces, keep 6 feet away from other passengers and crew and wash their hands.
In New Hanover County, public libraries and the Cape Fear Museum will be closed starting Wednesday and remain so until further notice. The county's parks and gardens, including Airlie Gardens and the Arboretum, will remain open for visitors, but the education centers and enclosed areas at the county's parks and gardens will be closed.
New Hanover County's Health and Human Services Department remains open, but residents are asked to call ahead at 910-798-3500 to determine if services can be conducted over the phone prior to coming to the building.
The Onslow County Health Department announced Tuesday it would not be accepting walk-in appointments and would be limiting some services.
For more information on the virus, visit the CDC's website at www.cdc.gov/coronavirus and NCDHHS' website at www.ncdhhs.gov/coronavirus, which includes daily updates on positive COVID-19 test results in North Carolina.
Coastal Review Online Editor Mark Hibbs and Assistant Editor Jennifer Allen contributed to this report.