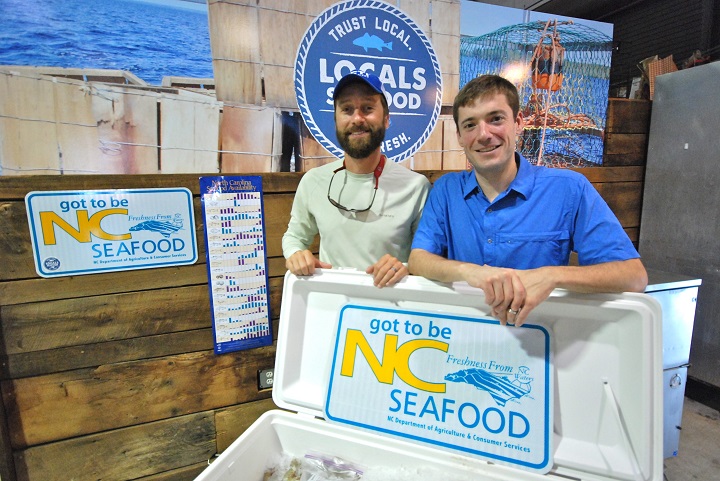 Ryan Speckman had been on the phone all morning Wednesday trying to figure out what seafood would be available that day.
"We've got a weather system coming," Speckman, cofounder of Locals Seafood of Raleigh, began, referring to the winter snow storm that was expected to hit the state Thursday evening into Friday. "We've got boats that are coming in ahead of that weather system and we're trying to figure out what's going to be available on the docks today."
Speckman mainly works with fish houses this time of year. Once he knows which fish house has what seafood, he'll send one of the company's refrigerated trucks to anywhere between Wanchese and Brunswick County to collect the product
Every day is different, he explained. "It really just depends on who's fishing, what the weather's like, what fish are around."
The trucks, after picking up the freshly caught seafood, bring it back to Locals Seafood in Raleigh, where the product is packaged and sold.
He and his college buddy Lin Peterson launched Locals Seafood 10 years ago this July from the back of a truck on the side of the road in the Raleigh area.
Speckman lived on the Outer Banks for several years before relocating to Raleigh over a decade ago. He said he realized that there was very little "truly local" seafood in the marketplace accessible to the average seafood consumer in the area.
He and Peterson would head to the coast on Thursdays and Fridays to collect seafood fresh off boats of fishermen he knew from his time on the Outer Banks and bring it back to Raleigh. They'd sell the seafood at three or four different locations from a cooler in the back of a truck. Word got around and they started selling to a couple chefs, who told other chefs and now, their seafood is in more than 60 different restaurants, Whole Foods, Weaver Street Market and several other larger entities in the Triangle area.
"We felt like there was a niche for selling truly local North Carolina seafood," he said. Adding that they just started selling shrimp on the side of the road and it grew into a multi-million-dollar business.
Locals Seafood partnered with Person Street Bar to open Locals Oyster Bar in late 2018 at Transfer Co. Food Hall in downtown Raleigh, where the eighth annual NC Catch Summit will be held March 2.
The first time not held on the coast, the summit, Sea to Table: Opportunities and Trends for North Carolina's Seafood Industry, provides an opportunity each year to discuss North Carolina seafood and the industry as a whole.
"We chose to bring the Summit inland to engage a new audience, mostly consumers, in the conversation," Mark Hooper, NC Catch board chair, said in a statement.
Promotion, education
Established in 2011, NC Catch is a nonprofit organization working to strengthen the North Carolina seafood economy by promoting the local marine resource and educating consumers about the latest trends and issues facing the seafood industry.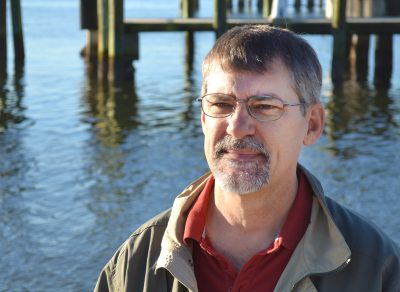 During the full-day summit March 2 inside the Transfer Co. ballroom, there will be presentations and panel discussions about fisheries management, product mislabeling, the growing shellfish farming industry, the role of media in promoting the industry, branding and marketing seafood, and a panel on consumer demand. Admission is free but reservations are encouraged.
Speakers lined up for the event include the state Department of North Carolina Chief Deputy Secretary John Nicholson, state Division of Marine Fisheries Director Steve Murphey, North Carolina Fisheries Association Director Glenn Skinner, Rossie Izzlar of UNC-TV and chefs Ricky Moore of Saltbox Seafood Joint and Eric Montagne of Locals Oyster Bar.
"I look forward to sharing updates on our current management measures and where I see fisheries management heading. Like many who attend the NC Catch Summit, the mission of the Division of Marine Fisheries is to ensure sustainable fisheries in our state," Murphey told Coastal Review Online.
"We typically look at it from a commercial and a recreational standpoint, but the largest user of the resource is the seafood consumer and that's often forgotten about."

— Ryan Speckman, Locals Seafood
Speckman, who is on the NC Catch board, said that the idea to have the summit in Raleigh came about last year. He said by moving the summit inland, they could reach a different audience and bring more seafood consumer awareness.
"We typically look at it from a commercial and a recreational standpoint, but the largest user of the resource is the seafood consumer and that's often forgotten about," he said. Right now, there's roughly 10 million people in North Carolina and it's been reported that on the national scale, 25% of people in the United States eat multiple seafood meals a week.
"Extrapolate that to North Carolina and you're talking about a few million folks that probably eat seafood on a regular basis," he said.
Kicking off the summit from noon to 4 p.m. March 1, is Locals Seafood's sixth annual Winter Seafood Jubilee. There will be a fish fry and oyster roast on the patio at Transfer Co. Food Hall, giving folks a chance to meet with oyster growers, fishermen and women, policy makers and industry stakeholders at the free, educational event. Attendees will be able to buy fish fry baskets and steamed oysters while there, in addition to the other dining choices Transfer Co. Food Hall.
Speckman said that during the jubilee, consumers can meet with legislators and other folks from the seafood industry as well as hear from education and conservation organizations.
Speckman explained that Locals Seafood first began hosting the jubilee to bring awareness to the seafood industry in the winter, when it's a little bit slower, and bring more awareness to the species being caught that time of year, which he said aren't always the prettiest or well known.
This is the sixth year of the jubilee and while each year has been different but not on this scale, he said. When it was decided that the summit would be held in Raleigh, they chose to move the jubilee date to the night before. "It was just a perfect opportunity to dovetail the two events and make it kind of a two-day seafood celebration."
NC Catch Summit Schedule
The NC Catch Summit begins at 9:30 a.m. March 2 with opening remarks by Hooper followed by a welcome from Nicholson of DEQ.
NC Catch Vice President Jess Hawkins will moderate at 10 a.m. the panel, "What's the Forecast? Managing our Fisheries for the Future," when DMF Director Murphey will discuss what's working and what's changing, Scott Baker with North Carolina Sea Grant will review trends and Skinner, director of North Carolina Fisheries Association, will cover the perspective from the fishermen and industry.
At 11 a.m., the panel "What's the Story? Communicating the Seafood Message" will be moderated by NC Catch Board Member Elizabeth Weigand. Speaking will be Barbara Garrity-Blake on fish camp and messaging for the next generation, Izlar of UNC-TV on the role of social media in promoting seafood, Julie Leibach with North Carolina Sea Grant will discuss the program's Coastwatch publication and Adam Tesh of Blue Red marketing will review promoting commercial fishing.
Following lunch, NC Catch Board Member Mark Blevins will moderate at 1:30 p.m. the panel, "What's in a Name? Innovations in Branding North Carolina's Finest" with John Aydlett of the state Department of Agriculture and Consumer Services "Got to Be NC Seafood" Program, Hooper with NC Catch and the Local Catch Network, Nathan King with Seaview Crab Co. and Jane Harrison, coastal economics specialist with NC Sea Grant on the Oyster Trail Initiative.
"What do Seafood Consumers Want?" with moderator NC Catch Board Member Jimmy Johnson begins at 2:30 p.m. Hear from Durham's Saltbox Seafood Joint chef Ricky Moore; chef Eric Montagne of Locals Oyster Bar in Raleigh; entrepreneur, producer and distributor Ana Shellum from Wilmington; processor, distributor and restauranteur Tony Trip in Washington; and Micah Daniels a dealer and distributor in Wanchese.