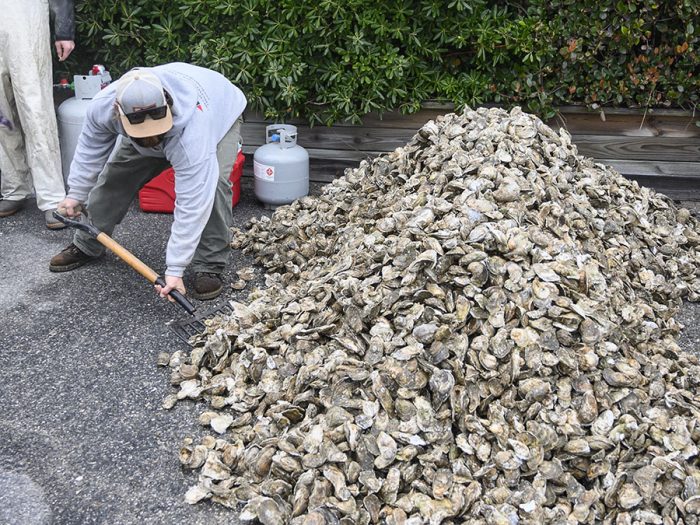 Reprinted from Island Free Press
Due to the relatively new and welcome addition of oyster farms in our estuarine system, this cherished bivalve is available year round, even when there is no "R" in a month.
But "the season" continues to be heralded with excitement and celebration. It represents a time for communities to bundle up and gather in our quiet time to catch up, to warm our hearts, and to slurp salty oysters as we also warm our hands and tummies over an open fire and a steaming pile of oysters.
Seven years ago, the North Carolina Coastal Federation hosted their first annual Hatteras Island Oyster Roast along the docks in Hatteras village.
There was some slight concern that it may not be the ideal site because who wants to come to Hatteras in the winter? Well, it turns out, a lot of oyster lovers do!
It has become not only a lucrative fundraiser for the Coastal Federation, but just as importantly, a highly anticipated social gathering and a key promotional tool for the work of the organization that is dedicated to clean water. (Editor's note: Supporting the Coastal Federation also supports Coastal Review Online.)
This year's "Shellebration of Clean Water" sold out a full two weeks before the event.
Many eyes were continuously on the seven-day forecast app from www.forecast.weather.gov, and the weather cooperated again. The rain ended in the morning, and by show time, the skies, while not clear, were not dripping rain either, just as they said, It was, as many noted, "Oyster Roast Weather," and everyone showed up.
More than 400 people plus an army of volunteers filled the parking lot at Oden's Dock, thanks to the hospitality of Dan Oden and his family.
Federation staff, board members and volunteers worked side by side with volunteers to present a wintertime outdoor oyster feast that mimics the considerably smaller family and friends gatherings that we know and love.
This year's oysters at the annual Hatteras Island Oyster Roast were from North Carolina, harvested from the Newport River, and coordinated and delivered from Fulcher's Seafood.
Led by Kelsey and Taylor Aiken of Jeffrey's Seafood, and Parc Greene, owner of Risky Business Seafood, hardy Hatterasmen spent hours transporting, cleaning and cooking oysters and delivering them piping hot and steaming to the long tables and the waiting diners, many of whom came with their own well-used oyster knives, ready to go and some even brought their favorite condiments to supplement the hot sauce and crackers provided.
Breakwater Restaurant chef Tracey Morris produced gallons and gallons of his delectable homemade, traditional Hatteras style clam chowder, and Conner's Supermarket provided rich corn bread, an essential accompaniment and a real crowd pleaser.
This year, with a major nod to the concern over our over-dependence on plastic, rented metal spoons and ceramic cups were provided.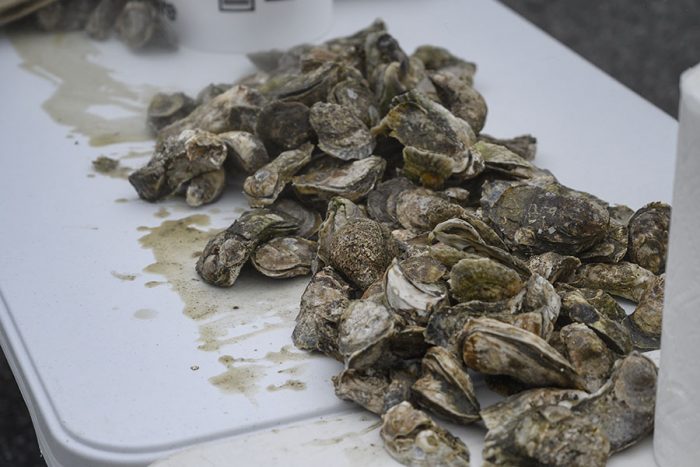 Friendly islanders sliced the big pans of cornbread and ladled the chowder while they got to enjoy a quick "hi" to everyone as they passed through the line. Thank you, Beth Midgett, Tracie Shisler, Ricki Shepherd, Sue Mattingly, Jennie Veal, Marcia Lyons, and Linda and Bill Lengyel for making everyone feel welcome.
It was easy to share happy greetings, since nearly everyone who was served had a big smile and a warm thank you.
Volunteers brought sweet treats for the dessert bake sale, and local artists, artisans, restaurants, and small businesses generously donated amazingly varied items for the hugely successful silent auction. This year, there was even a wine tasting for 12 on offer from Trio on the Outer Banks.
There was, as always, a burn barrel or two with local wood salvaged from recent storm damage for hand warming, (and some oyster grilling while we're at it), provided by Jon Kelmer and tended by Jim Lyons, and even more volunteers were busily collecting and recycling the shells for restoration. Noah Dixon headed up the recycling effort for other items.
All the while, local musicians Blurky's Quirky Friends, kept the music rolling all afternoon, adding to the jollity.
To cite a cliché: it was definitely a win-win situation.
We all had a great time feasting and visiting together. Our local Pamlico Sound got more materials for future oyster reefs, North Carolina Coastal Federation had an opportunity to showcase their success story and raise awareness to hundreds of people, as well as funds for their all-important work.
The Coastal Federation vision is "A natural, beautiful coast that is a great place to live, work, and visit." Their stated mission: "The North Carolina Coastal Federation empowers coastal residents and visitors from all walks of life to protect and restore the water quality and critically important natural habitats of the North Carolina coast."
Make time to visit their website and consider a membership so you too can be a part of this grassroots, truly community-oriented organization, learn about their many year-round volunteer opportunities, and receive updates on their fascinating work all along our coast. While you are there, why not Adopt-an-Oyster (or a bushel) in honor of this special event?
Crassostrea virginica, our native oysters, are vital to the ecological balance of the North Carolina waters. "In three years, your baby oyster(s) will be all grown up, filtering 50 gallons of water a day and providing a home for shrimps, crabs, and fish!"
Now, let's explore the many ways to enjoy oysters. I informally surveyed friends to see how they like to eat or serve them and what a great response. People who love oysters really, really love 'em and they were more than ready to enthusiastically share.
Here is a sampling of their tastes:
"Salty, ice cold, and fresh! With lemon and horseradish on the side! And sliced kiwi!" Kiwi? That's new to me, Catherine James of Fox Watersports and local artist. Have to try it.
"Flecks of ice. Tiny splash of squeezed fresh lemon. And every third one, a single dot of Tabasco." (Every third one, Mike Voiland, retired director of North Carolina Sea Grant? Why?)
Ice is a recurring ingredient.
Ricky Moore, chef advocate of local seafood delivered fresh from the Carolina coast, including lesser known species familiar only to natives, and owner of Saltbox Seafood Joint in two locations in Durham, likes his "raw on the half shell, served ice cold on crushed ice, so that the shell is semi buried. (I like them) with fresh traditional garnish and I enjoy them with one of my favorite Muscadet … 2014 Domaine de la Pepiere Muscadet Sevre-et-Maine Sur Lie 'Les Gras Moutons', Loire, France."
I don't know that wine, but Loire wines are often "flinty" which would pair well with oysters.
Ricky's menu is inspired by "the classic American fish camps and waterside seafood shacks" and he believes that "ordinary, simple food can be extraordinary when executed at the highest level."
David Glenn, Science and Operation Officer at the National Weather Service, Newport/Morehead City office, likes his "Steamed, dipped in butter, then across a saltine cracker with a little Tabasco hot sauce …  great, now I want some oysters."
From Frank Tursi, former Cape Lookout Coastkeeper, founding editor of Coastal Review Online and present Mayor Pro Tem of Swansboro, a colorful, sentimental tale:
"Like we used to do them at Cape Lookout before they cleaned up the place and hauled all the old, derelict cars away: dig a hole on the beach, start a fire from driftwood or downed limbs – old live oak was the best. When you have good, glowing coals, throw a rusty hood retrieved from the dunes from an old Ford or Desoto over the hole. Empty a bushel of oysters on the hood, and cover with wet burlap. When you hear the pops, they're ready. I still occasionally have dreams about those smoky, salty oysters."
A number of people suggested variations on that theme.
"SC Lowcountry style – slow steamed by covering in wet burlap suspended on a steel sheet over a wood fire." From Jessica Whitehead, North Carolina's first Chief Resilience Officer.
A method used here, too, with the fire contained in a homemade cinder block "fireplace" and oysters shoveled onto the grate and then onto the serving table.
"Open, place on a rack. Keep the liquid in the shell, add a pat of butter, and ground fennel, put on the grill or in the oven until bubbling away." Ah, fennel, as told by Kal Gancsos, my purple martin guru and neighbor
Most people will eat them any which way: raw, chilled, steamed, grilled, or deep fried. Several mentioned loving the tiny live crabs sometimes found in the oyster shell, and everyone wants them salty.
Stewed and scalloped are favorite preparations along with fritters, and Oysters Rockefeller, (traditional and with cheese, bacon, and spinach). A lot of mentions of saltines and butter and hot sauce and horseradish.
One Hatterasman, Richie Midgett, said he likes oysters "out of Pamlico Sound," and another, loves "Chargrilled in NOLA!" This responder also loves oyster shooters. Raw oyster, vodka, tomato juice, lime juice, horseradish sauce in a shot glass – oh, yes!
Who is the oyster shooter fan? You guessed it – Dennis Robinson.
Coastal Federation Advisory Board member and chef-owner of Coastal Provisions Oyster Bar and Wine Cafe in Southern Shores, Coastal Cantina (Duck), and Cravings Steak and Seafood (also in Duck) Dan Lewis, serves them with a take on the classic French mignonette sauce.
"We call ours Hog Island Mignonette, after the Hog Island Oyster Company's on the Sonoma Coast. It's rice vinegar, cilantro, jalapeño, and black pepper. It's best on raw oysters as putting on a hot one makes the vinegar more potent."
They also serve an oyster Po' Boy Taco with "crispy fried oysters, lettuce, tomatoes, Old Bay tartar sauce on a flour tortilla." Now, that's a different taco.
Coincidentally, I have a favorite Hog Island sauce too. And it includes bourbon, which is not an  ingredient usually associated with seafood. You may want to serve it with bourbon on the rocks. People seem to enjoy that surprise.
Hog Island Grilled Oysters With Garlic Chipotle Butter
50 fresh, local oysters
1 pound (4 sticks) unsalted butter softened to room temperature
1/2 cup brown sugar
1/4 cup bourbon (plus a nip for the chef)
2/3 cup finely chopped garlic
1 10-oz can of chipotle chilies in adobo sauce, chopped
Hatteras Saltworks Smoked Pecan sea salt (Thank you, Michael & Alyson Flynn, for that great suggestion)
In a medium bowl, dissolve the brown sugar into the bourbon
Combine the butter, brown sugar/bourbon mixture, and other ingredients in a medium bowl and mix well though it will remain a bit lumpy in texture. You can use a food processor if desired.
Pile the butter along the center of a sheet of parchment paper, working to form a "log." Wrap it in to a log shape and refrigerate at least one hour. The finished roll should be about the dimension of a cube of butter only longer – about a foot.
Fire up the grill to medium hot. Shuck the oysters and remove butter from the fridge and slice into thin pats, about 1/4" long.
Place the oysters on the grill and top each with a pat of butter. They are ready when the butter and oysters are bubbling and sizzling for and the edges of the meat begin to curl. Remove from grill and let cool briefly.
Sprinkle a dash of smoked pecan sea salt for added depth of flavor.
NOTE:
You'll get the same effect by combining the ingredients as above and spooning the mixture onto the shucked oyster. Do it when they are on the grill to avoid spilling the butter sauce as you move the oysters.
And another grilling recipe from Hog Island incorporates exotic flavorings that I love.
Harissa Grilled Oysters
24 fresh, local oysters
8 piquillo peppers
2 arbol chilies, dried
1/2 teaspoon cumin, finely ground
1/2 teaspoon coriander, finely ground
1/4 cup Italian parsley, chopped
1 garlic clove, peeled
Extra Virgin olive oil
rock salt for broiling and serving
Place piquillo peppers, arbol chilies, cumin, coriander, parsley, and garlic in a food processor and process on high. Slowly drizzle olive oil as needed to emulsify to the consistency of thick ketchup.
Place Harissa sauce in a glass container with a lid or a squeeze bottle, and refrigerate.
Shuck the oysters keeping the liquid in the shell with the meat and set aside on a baking sheet or a platter.
Put a tablespoon or a squeeze on each oyster.
Pace directly on a medium hot grill or under a broiler for approximately 5-7 minutes until the sauce is bubbling and the meat is beginning to curl.
Garnish with the parsley and serve hot, on a platter lined with rock salt to keep oyster shells from tipping.
Undeniably indulgent, the following recipes are worth straying from your normally healthy menu repertoire once in a while.
For a substantially decadent oyster meal, stew them as Lynne Rossetti Kasper of The Splendid Table does.
Classic Creamy Oyster Stew
1 pint shucked fresh oysters in their liquid
4 tablespoons butter
2 medium shallots, minced
1 small garlic clove, minced
Kosher salt and fresh ground pepper to taste
4 cups whole milk
2 cups heavy cream
2 or 3 drops Tabasco sauce (or to taste)
Oyster Crackers or Saltines
Extra butter
Lift the oysters out of their shells, checking for bits of sand and shell.
Pass the liquid through a fine strainer.
Chill both oysters and liquid separately.
In 3 to 4 quart saucepan melt the butter over medium heat, stir in the shallots and saute until the shallots are softened and clear. Do not brown them.
Cook 30 seconds and stir in the milk, cream, oyster liquid and Tabasco. Bring to simmer.
Cook 2 minutes at a gentle bubble, take care they don't boil over, and keep at a simmer.
Turn the heat down so the liquid barely bubbles, blend in the oysters and cook them for just a minute or until their edges begin to curl. You want them very tender.
Serve the stew right away with crackers.
Some people can't resist swirling extra slivers of butter into their serving. Why not? What's a little more in an already decadent dish?
Another oh-so-sinfully-rich recipe is this Southern Living scalloped oyster casserole.
Scalloped Oysters
This recipe is from Southern Living Magazine and "calls for minimal ingredients, effectively highlighting the fresh, briny flavor of the oysters."
Alternating layers of oysters and buttered saltines with extra butter that melt and form pockets in the casserole is further enriched with cream poured over it all just before it goes into the oven. No other ingredients required or even desired. A classic on many southern Thanksgiving tables, it is welcome any time.
8 tablespoons cold butter, divided into 1/2 inch pieces, plus more for greasing the dish.
1 1/2 teaspoons kosher salt
1 teaspoon fresh ground black pepper
2 pints fresh shucked oysters, undrained
1 cup heavy whipping cream
5 cups finely crushed saltine crackers (from 2 cracker sleeves)
2 tablespoons chopped fresh flat-leaf (Italian) parsley
Generously butter a 13×9 inch baking dish. Preheat oven to 350. Cut 6 tablespoons of the butter into 1/2 inch pieces, and set aside.
Pour oysters in liquid over a fine mesh sieve into a medium bowl. Measure 1/3 cup of the strained oyster liquid into a small bowl. Discard remaining liquid or reserve for another use.
Stir cream into oyster liquid.
Cut the oysters into 2 or 3 pieces.
Microwave remaining 2 tablespoons butter in e medium glass bowl on HIGH until melted, about 30 seconds.
Sprinkle bottom of prepared baking dish with 1 cup of the crushed crackers. Arrange 1/4 of the oysters, spaced a few inches apart, over crackers. Sprinkle with 1/4 of the salt and pepper mix. Arrange 1/4 of the butter pieces around the oysters.
Repeat layers 3 times and top with reserved melted butter-cracker mixture.
Pour oyster liquid-cream mixture over all. Bake on preheated oven until puffed up, firm, and heated through, 30 to 35 minutes.
Sprinkle with parsley and serve hot or warm.
Oysters make for wonderful appetizers, satisfying dinners, and great excuses to get messy with friends. So, enjoy them every way possible and recycle the shells so there will be oysters in the sound for years to come.
And, reserve a few to toss around the base of your fig tree. The old-timers said they promote healthy growth and good fruit.
The Outer Banks Visitors Bureau is the prime sponsor for the Hatteras Island Oyster Roast and can be credited for in its success in the past few years. The support from this Visitors Bureau event grant has helped the Oyster Roast grow and expand to exceed capacity, with so many attendees making a weekend trip out it.
Other sponsors include Atlantic Reefmaker, Buxton Auto and Marine, City Beverage Co., Coastal Engineering and Surveying, Dixon and Dixon Law Offices, Mellow Marsh Farm, Midgett Realty, Quible and Associates, Scenic Consulting Group, Shore Details
Southern Bank, Towne Bank and Wild Water Protein.
This story is provided courtesy of the Island Free Press, a digital newspaper covering Hatteras and Ocracoke islands. Coastal Review Online is partnering with the Free Press to provide readers with more environmental and lifestyle stories of interest along our coast.