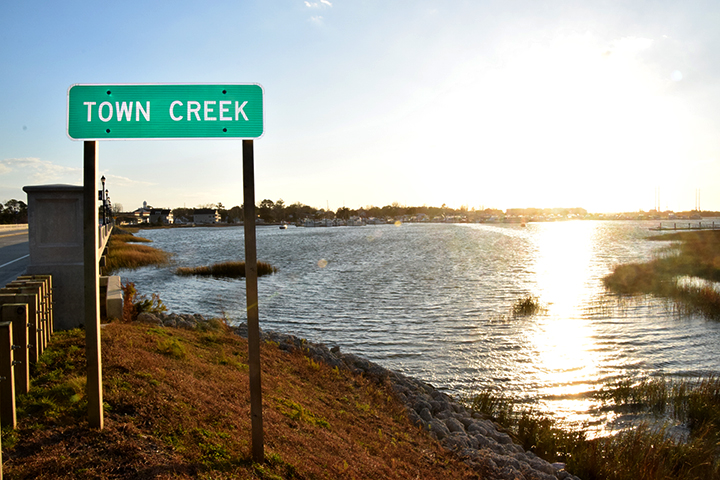 University of North Carolina undergraduates at coastal campuses spent the fall semester undertaking projects to answer pressing environmental questions, making their capstone presentations in December. This is the second of two reports stemming from presentations on water quality. Read the first report.
MOREHEAD CITY – There was a definite "no" from one of the 15 undergraduates who spent the fall studying Town Creek's water quality when asked if they'd swim in the Beaufort estuary for a half an hour.
The University of North Carolina Chapel Hill student told the audience during the December presentation of their findings at UNC-Institute of Marine Sciences that while she did get in the water when they began the research project to collect oysters, she was very careful not to put her head underwater, and doesn't know if she would do that now after the testing. "I wouldn't, personally," she added.
"As long as you're not ingesting the water, then perhaps. If you're not drinking it or you don't have any open wounds, then for a half an hour, I would consider swimming in Town Creek," said her classmate, while another student added that if you do go swimming, you should make sure you disinfect any cuts after getting out of the water.
A part of the UNC Institute for the Environment's Field Site program, the students set out at the beginning of last semester as their capstone project to figure out how contaminants get into Town Creek, which is surrounded by the two new bridges leading into town, two marinas and the county airport, and what happens once the contaminants are in the water. Professors Johanna Rosman and Nathan Hall were the program instructors.
Student Hayley Russo began the presentation of "An Integrated Assessment of Water Quality in Town Creek, an Estuary in Beaufort, North Carolina" by explaining that Beaufort, the client for the research project, plans to develop and improve existing sewer and stormwater infrastructure.
"So, a detailed assessment of the water quality in Town Creek will provide them with a baseline dataset that encompasses the overall potential contaminants within Town Creek, as well as the existing state of the system," she said.
The students found that water flushes out of the system too rapidly for nutrient loading to cause eutrophication and harmful algal blooms. Fecal indicator bacteria are present and exceed state-regulated standards at some stormwater locations. Vibrio bacteria are highest near stormwater outfalls. And oysters and marshes do not have sufficient time to remove nutrients and microbes because of the quick flushing time.
Hall told Coastal Review Online following the presentation that, under the direction of Beaufort Mayor Rett Newton and Town Manager John Day, the town was very interested in learning more about the factors that affect fecal pollution and nutrient pollution in Town Creek.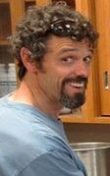 "The team hopes to provide the Town of Beaufort a baseline data set of water quality measurements and an improved understanding of the sources and fate of pollutants in Town Creek," Hall said. "This information will be critical for assessing, predicting, and managing changes in water quality, positive or negative, associated with expected future increases in development pressure but also planned improvements to waste/stormwater infrastructure."
Newton said after the presentation that the town appreciates the collaboration with UNC-IMS as the effort continues to clean up town waterways.
"We know there are some challenges in Town Creek. This capstone research effort was professional, thoughtful, thorough and will help us find and mitigate or eliminate the sources of contaminants. We will continue to look for opportunities to work with the spectacular marine science capabilities in Carteret County to improve our community and the surrounding areas," he said.
Day explained that the next step is underway for the town.
"We are currently working with USDA Rural Development on a funding package for utility improvements in the $15 million range," he said, referring to the U.S. Department of Agriculture program. "The information from the UNC-IMS water quality analysis will assist us in prioritizing the improvement projects, and, very importantly, help us qualify for grant funding by illustrating the need to mitigate water quality issues through sewer line improvements."
Hall explained that previous capstone projects at the institute included investigating the role of living shorelines in stabilizing property loss due to erosion, effects of marine debris on coastal ecosystems, potential for wind energy development along the North Carolina coast, impacts of marinas on water quality, ecosystem services of oyster reefs, and factors influencing water quality in highly developed canal systems in Pine Knoll Shores and Atlantic Beach.
"This year's project on the factors influencing water quality in Town Creek in Beaufort was modeled around the latter two studies, which had successfully provided useful information to Pine Knoll Shores and Atlantic Beach regarding water quality of their canal systems," he said.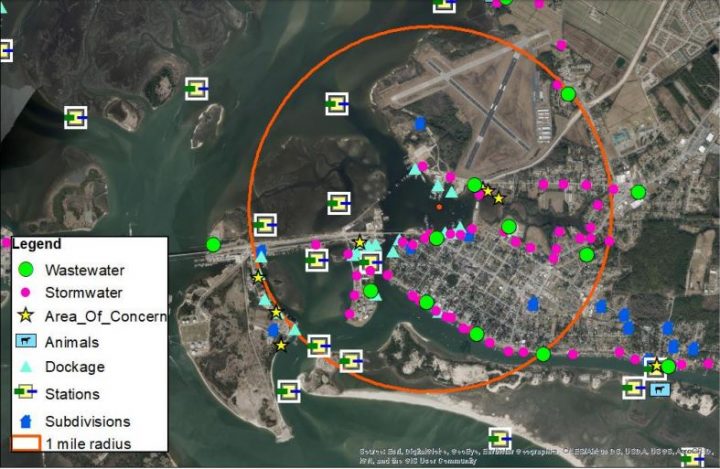 About the project
Hall told Coastal Review Online that the goal for the students with the project was to assess the current water quality in Town Creek and to learn about the factors and processes that affect it.
Primarily, they were interested in nutrient pollution that can cause eutrophication, or an excess of nutrients, and pollution by microbes that can cause illness, he said.
The students split into groups to address different aspects of the problem.
"One group mapped potential sources of nutrients and fecal contamination within the watershed, and conducted a survey of Beaufort residents and businesses to learn how Town Creek is used — boating, fishing, swimming, etc. — and what water quality issues are seen as most important," Hall explained.
Two groups of students collected water samples throughout Town Creek, including near marinas and stormwater outfalls, which are potential sites where pollutants could enter the body of water, Hall continued. "The students then analyzed the samples at IMS to determine the concentrations of bacteria species indicative of fecal pollution, nutrients (fertilizers) that can stimulate algal growth, and different types of microscopic algae in the water."
A third group used GPS-equipped sampling devices called drifters to measure how fast or slow pollutants in the creek are flushed by the tides and two other groups looked at Town Creek's marshes and oyster beds to estimate the ability of these habitats to remove algae and nutrients from the creek, he said.
"The students combined results from these project components to assess the main sources of pollutants to Town Creek, and the extent to which they are removed from the system by tidal flushing and filtration by marshes and oyster reefs," Hall explained.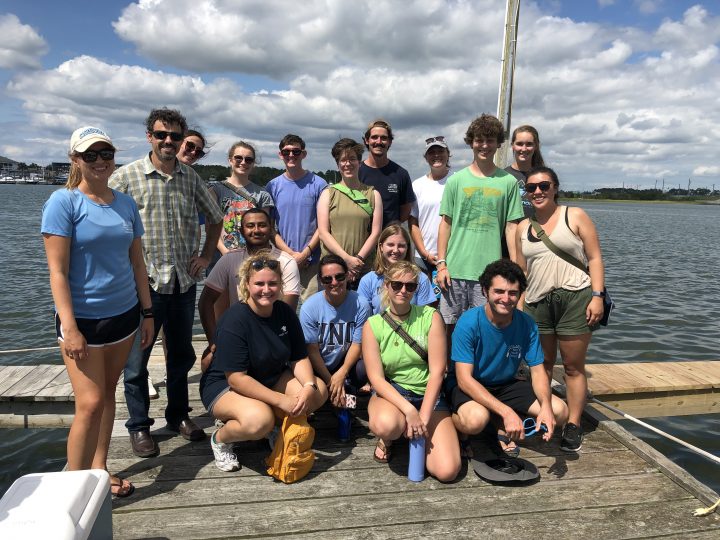 The findings
The students presented their findings Dec. 6 to an audience of about two dozen in a second-floor meeting room on the Morehead City campus.
Russo explained early in the presentation that the students determined that within a 1-mile radius of  Town Creek, the potential contamination sources include 16 dockage sources, 44 stormwater sources, seven wastewater sources and five housing subdivision sources. Additionally, there are four areas of concerns, with three located adjacent to the public access site next to Town Creek Marina.  Seven sampling stations were used to check the data.
After assessing potential contamination sources for Town Creek, the students worked to find where the pollutants go once they enter the water. Students, to better understand circulation in the system, calculated the flushing time, or how long it takes for all of the creek's water to be completely refreshed with new water, and residence time, or how long it takes for a specific section of water to leave the system. They determined that contaminants are flushed out between 25 to 52 hours, overall. The residence time was calculated to be about four hours or less.
Contaminants near the back of the embayment are likely to remain in the system longer but overall, the students found that Town Creek is a well-flushed system.
Student Rebecca Williams explained that a group looked at samples from Town Creek and Gallants Channel, which feeds Town Creek, and found that chlorophyll a, an indicator of the algae growing in water, and nutrient concentrations were low in Town Creek compared to North Carolina standards and likely flushed out before they can accumulate. The students also concluded that the system is not experiencing algal bloom.
Overall, stormwater drains showed consistently higher nutrient concentrations than other site types, which suggests that stormwater outflows are a source of nutrient input into the system, Williams continued. The significantly lower nutrient concentrations in the channel sites suggests that nutrients and chlorophyll a are being flushed out of the system at a fast flushing time.
The students looked at the impact of rainfall events on nutrient concentrates in stormwater outflow sites. Although rainfall increased nutrient concentrations in Town Creek, it is not reflected in the channelsites due to the fast residence time .
The fecal indicator bacteria, or FIB, such as E.coli and enterococcus, which are not naturally occurring in estuarine systems, serve as a proxy for pathogens like norovirus, salmonella and hepatitis a, which can be very expensive to monitor and quantify, Williams said.
The high FIB concentrations are potentially entering Town Creek by way of the stormwater outfall pipes, as well as possible other nonpoint sources of pollution and are influenced by tide fluctuations, Williams added. The naturally occurring vibrio populations behave similarly to FIB but are not entering through pipes.
Eric Von Amsberg explained that the group that looked at how marshes and oysters can change the concentrations of nutrients estimated that the marsh grass removal rate of nitrogen is about 20 days and phosphorus is around 90 days. The group calculated that the best estimate for clearance time is 6.6 days for oysters, significantly longer than the flushing time of about two days.
In Von Amsberg's summary of the findings, he explained that due to the short flushing and residence time, water leaves the system very quickly. Nutrient concentrations, fecal indicator bacteria and vibrio are high nearest stormwater outfalls while chlorophyll a concentrations were low.
FIB, which are not native to the estuary, exists in high concentrations around stormwater outfalls, and because they do not exist in nature, the input of that is likely due to stormwater, he continued.
The high natural concentration of Vibrio near stormwater outfalls could be due to the addition of nutrients as well as other qualities of the water like the stagnation of water near stormwater drains.
"Because the flushing time is one to two days and a lot of these marsh and oyster processes take a number of days, they do not have sufficient time or coverage to effectively filter the water in Town Creek, however if the areas of marsh and oyster reef were expanded, it may make a more significant impact on water quality," he said.
FIB are present at some stormwater locations, where they often exceed state-regulated standards. Stormwater might be the largest area to look at in the future, as well as Vibrio concentration near stormwater outfalls. "And as mentioned earlier, oysters and marshes do not have sufficient time to remove nutrients and microbes due to flushing, however if the areas were larger, they might make a significant impact," he added.
Hall told Coastal Review Online that as instructors, "We hope that the team has gained an appreciation for how different parts of natural ecosystems are connected, how people pollute but also value and protect ecosystems, and how working as a team can simultaneously be challenging and rewarding."