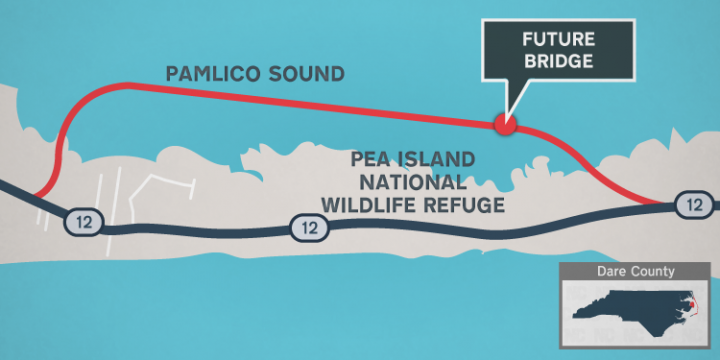 Reprinted from the Outer Banks Voice
RODANTHE —  State Department of Transportation resident engineer Pablo Hernandez told the about 30 attending an informational meeting Thursday that the Rodanthe "jug handle" bridge project is about a quarter complete and has cost nearly $75 million, about half the overall price tag, as of Nov. 22.
A work trestle at the north end of the bridge is nearly erected, and construction on that end will start soon, Hernandez said. The earthwork for the roundabout off the bridge is underway, and paving and concrete work will continue through the winter.
The bridge is expected to be completed by early 2021, but Hernandez, referring to Hurricane Dorian and other recent storms, warned that, "As we've all seen over the past few months, the weather can have a significant impact." Hernandez also told residents they should expect short-term lane closures over the next few months.
The bridge is designed to be a long-term transportation solution to severe storms that cause breaches on N.C. 12. NCDOT is raising N.C. 12 onto a 2.4-mile bridge that extends between the southern end of the Pea Island National Wildlife Refuge over the Pamlico Sound and Rodanthe. After the bridge is constructed, the existing N.C. 12 in the refuge will be removed and the land returned to the refuge.
Also at the informational meeting at the Rodanthe-Waves-Salvo Community Center Thursday were Diane Wilson, a senior public involvement officer with NCDOT; David Hering, design build project engineer; and John Conforti, senior project manager.
There were several questions concerning the potential removal of sandbags along N.C. 12, which can help protect against severe flooding. Wilson confirmed that while sandbags are in place at this time to protect the road, they will be removed after the old bridge is removed.
Wilson also discussed NCDOT's decision to build a roundabout off the bridge instead of a T-type intersection, which would create a long line of vehicles during the busy summer months. A T-type intersection would require a traffic signal in the future and the accompanying maintenance during high winds and power outages, Wilson explained.
Attendees were also concerned about N.C. 12's ability to withstand the storms that often seem to batter Hatteras and its highway. Residents at the meeting complained they found driving on N.C. 12 at night on Hatteras "scary," as there is sometimes no road shoulder and sand is strewn across the road at several points.
Wes Hutchinson of Mirlo Beach brought up concerns regarding long-range planning to deal with increased risks of hurricanes and other storms. He also raised the issue of NCDOT's budget problems, and asked if NCDOT would continue to be able to conduct post-storm cleanup in a timely manner.
Conforti, the project manager, said that North Carolina State University and the U.S. Navy are preparing a series of reports on sand dunes and erosion to aid NCDOT in long-term planning.
In regard to budgetary concerns, Hernandez responded that NCDOT service levels would be maintained. "Our intent is not to do anything different. N.C. 12 is still a vital access road for people and law enforcement," he asserted. "We are still going to go out and do the right thing."
The next public information meeting will be from 6 to 8 p.m. March 5 at the Rodanthe-Waves-Salvo Community Center.