The Sea Turtle Assistance and Rehabilitation Center at the North Carolina Aquarium on Roanoke Island will be closed Monday through Nov. 15 while upgrades are made to the facility's HVAC system, but the rest of the aquarium will be open to the public.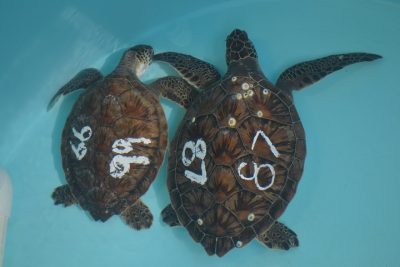 Called the STAR Center, the upgrades  are a much-needed improvement to ensure the comfort and care of future STAR Center patients, said the aquarium's Associate Director Allen McDowell.
The STAR Center treats many of the cold-stunned turtles found drifting or beached after a rapid drop in sea temperatures.
Because of several successful sea turtle releases in recent months, there are only a few patients in the STAR Center at this time.
Having fewer patients will make it easier to transfer the few turtles to a behind-the-scenes facility where they will continue to receive treatment during the HVAC upgrade.
"The timing for this replacement helps us avoid interruption during the peak summer season, but also gives us time to be ready for cold-stun season," McDowell added.
The rest of the Roanoke Island aquarium will remain open during the STAR Center closure, including all galleries, exhibits and outdoor areas.
The aquarium extended in a statement its thanks to those who continue to support its conservation and species preservation efforts, including the STAR Center.