Reprinted from Island Free Press
The Chicamacomico Life-Saving Station Historic Site and Museum in Rodanthe has a wave of special events and activities planned this week as part of their annual Season's End Festivities.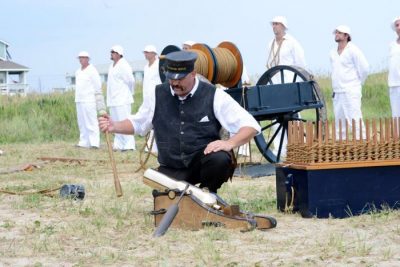 Visitors will have an opportunity to go back in time at 2 p.m. Tuesday to the Life-Saving Station's early 20th-century heyday by watching the beach apparatus drill.
Performed by volunteers in period uniforms, the drill is an action-packed display that honors the heroes who practiced this drill every Thursday at four bells, or 2 p.m., when the original stations were still in commission. The event is free with the price of admission.
The community is invited to dig into a pre-Thanksgiving barbecue feast at noon Wednesday during the Life-Saving Station's afternoon Pig Pickin'.
For $12 a plate, visitors can enjoy a plate of barbecue pork, baked beans, slaw and drinks. All proceeds from the pig pickin' will benefit the nonprofit Chicamacomico Life-Saving Station Historic Site and Museum.
Vsitors can meet and greet with Santa Claus at 1 p.m. Friday, who will be making a special early holiday appearance at the Life-Saving Station the day after Thanksgiving.
The first 100 children who visit will receive a commemorative T-shirt along with a treat bag, and snacks and drinks will also be available. Visitors can bring a donation to the local food pantry as their admission ticket to the historic site and museum.
For more information on these upcoming events, as well as more info on the Chicamacomico Life-Saving Station Historic Site & Museum, visit the website or Facebook page.
This story is provided courtesy of the Island Free Press, a digital newspaper covering Hatteras and Ocracoke islands. Coastal Review Online is partnering with the Free Press to provide readers with more environmental and lifestyle stories of interest along our coast.