Published in partnership with Carolina Public Press
Gov. Roy Cooper and members of the state's congressional delegation say they will continue to press the case for assistance for individual victims of Hurricane Dorian after the Federal Emergency Management Agency's recent decision to deny the state's request.
State officials received a letter Tuesday saying the damage from Hurricane Dorian did not meet the threshold for the additional aid.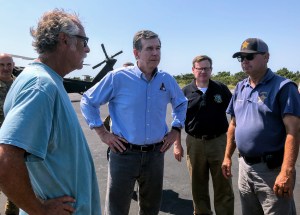 In a letter to Cooper announcing the decision on Tuesday, FEMA Associate Administrator for the Office of Response Jeff Byard said "the impact to the individuals and households from this event is not of such severity and magnitude to warrant the designation of Individual Assistance under FEMA-444-Dr."
Individual Assistance is a form of disaster aid that provides financial help and services for people who are unable to meet their needs through other means. The funds are typically used for home repairs and making residences livable, with a $33,000 limit per residence per year. It can also cover the costs of temporary housing, medical needs, lost clothing and moving and storage expenses.
North Carolina's request for Individual Assistance was sent to FEMA Sept. 21 and covered Hyde, Dare, Carteret and New Hanover counties where a state assessment showed damage exceeded thresholds for the additional assistance.
Tuesday's decision doesn't affect other FEMA assistance already in the pipeline.
Last week, President Trump signed off on the state's prior request for Public Assistance, a category of disaster aid that covers public buildings, road and infrastructure cleanup and repair.
In all, 14 counties will receive some form of assistance. They include Brunswick, Carteret, Craven, Currituck, Dare, Duplin, Hyde, Jones, New Hanover, Pamlico, Pender, Sampson, Tyrrell, and Washington counties. Cooper recently requested that 12 more counties — Beaufort, Camden, Columbus, Greene, Hoke, Lenoir, Onslow, Pasquotank, Perquimans, Pitt, Robeson and Wayne — be added to the list. Additional counties could be added as damage assessments are completed.
On hard-hit Ocracoke Island, where hundreds of residents are contemplating a long fall and winter rebuilding homes and businesses, the news of FEMA's decision spread quickly Tuesday over social media.
Tom Pahl, Ocracoke's representative on the Hyde County Board of Commissioners, said he and other Hyde County officials spent much of Wednesday in meetings with state and federal officials to talk about next steps in the wake of the decision.
He said residents are disappointed and mystified over FEMA's decision.
"You look around the village and you see how many people have been displaced and how many houses are damaged. It's just hard for us to comprehend how FEMA could look at that and see it in any way similar to how we're looking at it and determine that it wasn't enough damage for individual assistance," he said.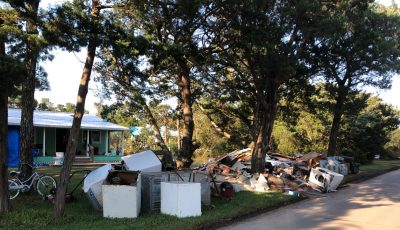 Pahl said the latest estimates are that about 400 of the roughly 1,000 residents on the island have been displaced by the storm. Their homes are either destroyed or the renovation and repair work so extensive that they have to move out until work is finished.
It doesn't make sense that a village could have 40% its population displaced and yet not be damaged enough for Individual Assistance, Pahl said.

According to the governor's request, an initial damage assessment listed 2,001 homes affected by the storm with 56 properties destroyed and 112 with major damage.
Although Hyde County tops the list for the most damaged homes, Carteret County, where a series of tornadoes spawned by the storm damaged structures, had 38 homes destroyed, the highest number of any county.
The state has 30 days to appeal FEMA's decision.
Cooper spokesperson Ford Porter said Wednesday morning that the governor would continue to press for federal aid and would review state options as well.
"This is disappointing news for families who lost everything in Hurricane Dorian and still need help," Porter said. "The Governor will continue to work with our federal and state partners and North Carolina's congressional delegation to determine a path forward to deliver assistance to those who need it."
Porter said the governor wants any solution to get aid to the communities quickly.
State Emergency Management Director Mike Sprayberry was in Washington, D.C., Wednesday reviewing recovery issues with the state's congressional delegation.
A spokesperson for Sen. Richard Burr confirmed that Sprayberry met with  Burr's staff on Wednesday. Sen. Thom Tillis did not respond to a request for comment.

Newly elected Congressman Greg Murphy, whose 3rd District includes most of the affected counties, also said time is important.
"I am disappointed to hear that Individual Assistance for Hurricane Dorian has been denied under the requirements set forth in the 1987 Stafford Act," Murphy said. "That said, we are committed to working with the Governor to explore all avenues, either appeal or seeking a state disaster declaration, that will provide relief to those in need as quickly as possible."
While the options for federal assistance are reviewed, the prospect for additional assistance from the state could speed up as a result of the FEMA decision.
On Wednesday, Rep. Bobby Hanig, R-Currituck, told OBX Today that he wants to see legislative action.
"I will be working at the state level to find funding to help the folks that are in need," Hanig said.
The legislature typically waits until damage assessments are mostly complete before announcing a session aimed at disaster relief, but there are no hard and fast rules for the timing.
The 2016 special session after Hurricane Matthew took place Dec. 12 and the 2018 Hurricane Florence special session took place Oct. 2.
Last month, legislators said it was too soon after the event to develop legislation in response to the storm, but a recent disaster funding bill covering past hurricanes included an additional $5 million appropriation that could be applied toward Hurricane Dorian expenses.