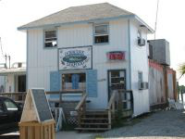 A restaurant in Raleigh is hosting a special seafood dinner to help raise funds for repairs to the last fish house on the island, which was flooded during last month's Hurricane Dorian.
Ocracoke Seafood Co. a base of operations for more than 30 watermen from Ocracoke and nearby coastal communities, is owned by the Ocracoke Foundation, a nonprofit for the benefit of area watermen who manage the business.
Locals Oyster Bar in Transfer Co. Food Hall in Raleigh is hosting a special four-course dinner 5 p.m. Oct. 9, with proceeds marked for Ocracoke Foundation's efforts to repair flood damage at Ocracoke Seafood.
Tickets are $60 per person for dinner only, or $90 each for dinner with drink pairings. The dinner will end with island-made Ocracoke Fig Cake. Tickets can be purchased on the website.
Core Sound Waterfowl Museum and Heritage Center on Harkers Island has organized an auction with unique items from Down East and Ocracoke to benefit the fish house as well.Auction items and bid opportunities are online.
Other ways to support Ocracoke Seafood is to order the Ocracoke Platter through Oct. 9 at Locals Oyster Bar. The platter includes fried fish, shrimp, hush puppies, and slaw, and $10 of each platter sold will be donated to efforts to rebuild Ocracoke Seafood.
The fish house has been in jeopardy before when it was put up for sale. Watermen joined together in 2006 and with the aid of the community, area nonprofits, volunteers and state organizations the fish house was purchased, renovated and the Ocracoke Working Watermen's Association formed.