WILMINGTON – Far from being a destructive force, fire is essential to North Carolina's forests. Without fire, North Carolina's state tree, the pine, and specifically the longleaf pine, as well as many other plants and animals that live in our forests, could disappear.
"Like rainforests need rain, our pine forests need fire," said Angie Carl, coastal fire and restoration manager for the Nature Conservatory.
That's why controlled, or prescribed, burns, which are fires that are purposely ignited to restore ecosystem health, recycle nutrients, or prepare an area for new trees or vegetation, are set in southeastern North Carolina's forests every two to four years.
Controlled burns are so important the area hosts an annual Fire in the Pines Festival, at which children and adults can learn about these beneficial fires as well as a host of other environmental issues. This year the Fire in the Pines Festival will be 10 a.m.-3 p.m. Saturday at its location since 2013, Halyburton Park, 4099 S. 17th St.
The Southeast's forests developed with fires, which occurred naturally and regularly. These fires achieved many of the same goals as today's controlled burns — they cleared the forest ground layer and allowed sunlight to reach the forest floor. This enables a rich, diverse ecosystem to grow and thrive.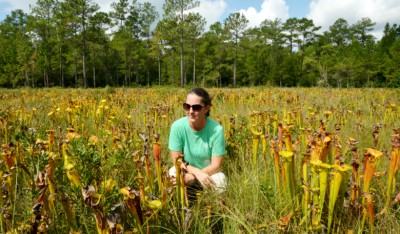 "These forests favor plants that are pollinators and the like, the ones that produce food and berries for the carnivorous plants and animals. Then the animals that are associated with those plant species prefer that area," said Carl.
Hundreds of different plants in North Carolina's forest must have fire to prosper. For example, there are tree cones that only open after a fire crosses them, plants that use smoke for pollination and other plants that don't seed until they are burned. Some plants, such as the Venus flytrap, pitcher plant and orchids, depend on fire to remove grasses and other vegetation so their seeds can grow in bare ground.
Forests that develop with fire are good for birds and animals, too, said Carl. They produce flowers and insects that birds such as the red cockaded woodpecker feed on, as well as huckleberries, persimmons and acorns that make up the diets of large animals such as deer and bear. Also, forests that have been cleared by fire are more open, which some animals prefer.
Controlled burns are also a safety measure — they reduce the risk of wildfire. This is important, because North Carolina has the potential to have large wildfires. It has the largest area of wildland-urban interface, or more houses within the forests, than any other state in the country.
"The forests like to burn, they want to burn, they were developed with fire," said Carl. "If we don't burn them, the forests will burn at some point. Controlled burns reduce the effect of wildfires by slowing them down or even stopping them."
Finally, controlled burns are vital to helping preserve our forests, and especially the longleaf pine forests, Carl said. Longleaf pine forests, which have the highest biodiversity east of the Mississippi River, used to be in nine states. Now, due to agriculture and the growth of cities and suburbs, only 5% of the longleaf pine forests remain.
"We're losing this valuable resource and asset with all this biodiversity," said Carl. "Doing controlled burns provides a great ecosystem that makes our southern forests really special."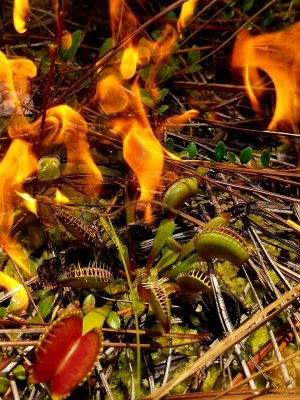 The Nature Conservatory, North Carolina Forest Service and Wilmington Parks and Recreation joined forces in 2010 to educate the public about the importance of controlled burns, and the Fire in the Pines Festival was born.
While festivalgoers can learn all about controlled burns, the area's forests, their ecosystems and other environmental issues, they can also have a whole lot of fun.
A highlight of the day, weather permitting,  is the controlled burn demonstration, which Wilmington Mayor Bill Saffo and a local celebrity help with, but it faces stiff competition from Smokey Bear, Burner Bob and the fire engine and helicopter tours.
In addition, more than 60 environmental organizations and other participants will be on hand to answer questions and provide interactive, hands-on activities. And there will be animal exhibits including turtles, snakes and lizards, birds of prey demonstrations, carnivorous and rare plant displays, hayrides, games, arts and crafts, face painting, scavenger hunts and opportunities to win prizes — all accompanied by live music by the Folkstone String Duo. Attendees can satisfy hunger pangs at some of the area's favorite food trucks, including Wheelz Pizza, Trolley Stop, A & M Red Food Truck and Poor Piggy's BBQ & Catering. Except for food purchases the entire festival is free.
"The festival is a wonderful opportunity for families to come together with nature, have fun and learn about importance of environmental protection and controlled burning," said festival organizer Francine DeCoursey.
Festivalgoers are encouraged to ride their bikes or hike to Halyburton Park via the cross-city trail. Drivers should park at 3147 S. 17th St., which is at the corner of Independence Boulevard and S. 17th St., and take the free festival trolley to the park.
Learn More
The Fire in the Pines Festival is Saturday at Halyburton Park, 4099 S. 17th St., Wilmington.