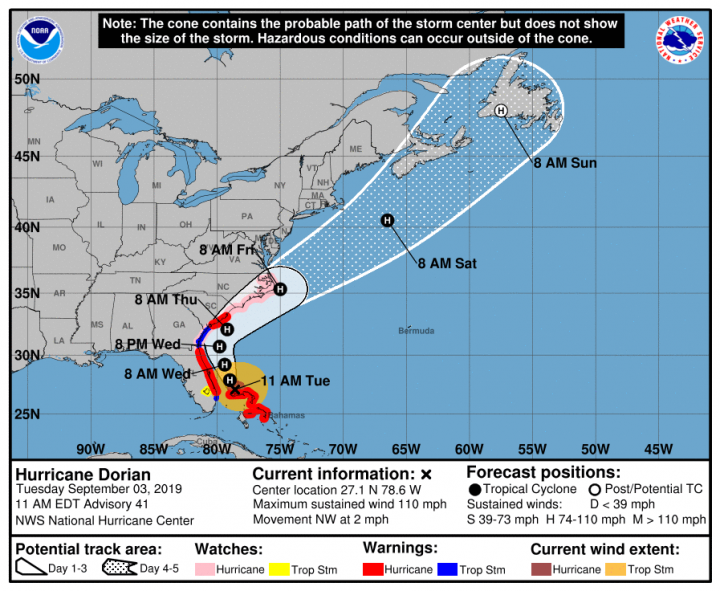 This story has been updated
Labor Day in North Carolina was under a state of emergency in preparation for deadly but still-distant Hurricane Dorian, which was stalled over Grand Bahama Island Monday night where it had been for much of the day — wreaking havoc there and causing prolonged uncertainty for folks here.
Gov. Roy Cooper declared the state of emergency for all 100 counties on Sunday, setting up for state resources to be mobilized and beginning the process for state and local governments to seek federal aid.
The powerful and dangerous storm, which left five dead as it devastated much of the Bahamas on Monday with Category 5 winds and a 20-foot storm surge, was expected to weaken and speed up once it makes its expected turn north.
Evacuations, mandatory for visitors, were underway along the Outer Banks and other local government officials up and down the North Carolina coast were set to meet Tuesday to decide on evacuations, school closings and other matters as forecasters put a weakened but still powerful Hurricane Dorian approaching the North Carolina coast late Thursday.
In a briefing on North Carolina storm preparations Monday, Cooper urged residents to step up their storm preparations.
"Because this storm is anticipated to pick up speed, time is running out to get ready," Cooper said.
On Tuesday, a hurricane watch was issued from north of South Santee River in South Carolina to Duck, including the Pamlico and Albemarle sounds.
As of noon Tuesday, the center of Dorian, a Category 2 storm on the Saffir-Simpson Hurricane Wind Scale, was at 27.2 degrees north, 78.6 degrees west, or about 105 miles east of Fort Pierce, Florida. The storm was moving northwest at about 2 mph with maximum sustained winds of 110 mph with stronger gusts and minimum central pressure of 28.2 inches. A storm surge watch has been extended northward to Cape Lookout.
The storm has finally begun to make its expected turn toward the northwest. The hurricane is expected to move dangerously close to Florida's east coast late Tuesday through Wednesday evening, very near the Georgia and South Carolina coasts Wednesday night and Thursday, and near or over the North Carolina coast late Thursday and Friday.
Hurricane-force winds extend outward up to 45 miles from the center and tropical-storm-force winds extend outward up to 150 miles.
Hurricane #Dorian continues to hammer Grand Bahama Island this evening. As of 9 pm Dorian remains stationary 25 mi NE of Freeport. Max winds are 140 mph & most of the Island remains within the eyewall. Radar loop is from the Melbourne FL & runs 35 hours from 10 am Sun to 9 pm Mon pic.twitter.com/TP9tZWTZlh

— NWS Eastern Region (@NWSEastern) September 3, 2019

Katie Webster, meteorologist with the state Emergency Management said the forecast change could reduce the amount of flooding from the storm.
"Our thinking now is that while we could see a deviations from the track whether it be eastward or westward, this is fairly fast-moving storm. After talking with the Hurricane Center we have good confidence that the storm will be moving quickly as it crosses our coast," she said. "I don't think at this point we are anticipating the large amounts of rain we saw in Hurricane Florence."
Webster said for now the forecast is for 5 to 10 inches with some areas along the coast possibly seeing as much as 15 inches.
State Emergency Management Director Michael Sprayberry said the state is prepositioning supplies and rescue crews. In addition to a larger number of swift-water rescue teams, Sprayberry said there's a fleet of high-water vehicles around the region, especially in the Wilmington area, where land access was severely limited after the Hurricane Florence.
State transportation officials said there is still concern about potential flooding along Interstate 40, but that the temporary bridge on U.S. 421 near the Pender and New Hanover County line should remain functioning through the storm.
Tim Little, chief engineer with the state Department of Transportation, said the permanent bridge over a deep gash cut in the roadway during Hurricane Florence is nearly ready to open and is being readied to be used after the storm if necessary.
Visitors Must Leave
Dare County officials Monday afternoon issued a state of emergency and ordered a mandatory evacuation for all visitors starting at noon Tuesday. A mandatory evacuation order for all residents takes effect at 6 a.m. Wednesday. Visitors should evacuate with all personal belongings and follow instructions from their property management company.
Hyde County's state of emergency went into effect at 5 a.m. Monday, and county commissioners ordered a mandatory evacuation of all visitors from Ocracoke Island effective 5 a.m. Tuesday. A mandatory evacuation of Ocracoke residents takes effect 5 a.m. Wednesday.
Only residents, homeowners or vendors with an Ocracoke reentry pass on their vehicles will be allowed on ferries inbound to Ocracoke beginning at 5 a.m. Tuesday. Priority boarding will be suspended for all vessels leaving Ocracoke, and tolls have been waived for ferries heading from Ocracoke to Cedar Island or Swan Quarter.
The Ocracoke-Hatteras, Ocracoke-Cedar Island and Ocracoke-Swan Quarter ferry routes will run their published schedules. The final departure from Ocracoke to Swan Quarter will be at 3:45 p.m. Wednesday. The final departure from Ocracoke to Cedar Island will be 1 p.m. Wednesday and the final departure from Ocracoke to Hatteras will be  2 p.m. Wednesday.
Those evacuating to areas north of Dare County are encouraged to travel westbound on Highway 64 to Interstate 95. Evacuating through the rural areas to the west of Dare County will help avoid traffic backups and congestion that may prolong evacuation by traveling northbound through the Hampton Roads portion of Virginia.
Dare County's new online reentry permitting system is now in effect and reentry permits from previous years are no longer valid. Permanent residents may still use a valid driver's license with a Dare County address for reentry. A current tax bill or parcel data sheet with matching current government issued ID will also be accepted.
Monday was the last day of the season for the passenger ferry, Ocracoke Express, per the North Carolina Department of Transportation Ferry Division.
Central and Southern Coast
State of emergency declarations give emergency management officials authority to deploy measures to protect lives and property. Declarations have varied in their time frames up and down the North Carolina coast.
New Hanover County plans to declare a state of emergency at 5 p.m. Tuesday, the county announced. The county will activate its Emergency Operations Center at 7 a.m. Tuesday. To staff the center, as well as prepare for the storm, county government offices and services will close Tuesday and remain closed until further notice, including libraries, Senior Resource Center, Airlie Gardens, Arboretum, Cape Fear Museum and New Hanover County Parks. The county landfill will be open 6:30 a.m. to 5 p.m. Tuesday and then will be closed until further notice.
Evacuation information is expected to be announced Tuesday. Shelters will likely open Wednesday morning. The 24-hour public information hotline will be open 9 a.m. Tuesday residents and visitors of New Hanover County. The hotline will be available 24 hours a day and can be reached at 910-798-6800, with Spanish speakers available. Use 911 only for true emergencies, and the hotline for questions.
Wilmington's city operations will be open Tuesday but city offices will be closed Wednesday and Thursday.
Brunswick County's government buildings are scheduled to open as usual Tuesday, according to a 2:30 p.m. Monday update.
The county issued a state of emergency effective 7 a.m. Tuesday to prepare for the potential threats Hurricane Dorian poses to the county and to continue preparations with state and other partners, the county announced Tuesday morning. Emergency Services is preparing to possibly open shelters should the projected path of Hurricane Dorian continue to track toward the county. More information about emergency kits, emergency plans and communication channels on the county website.
A voluntary evacuation and state of emergency was issued Monday for Carteret County effective 8 a.m. Tuesday.
Pamlico County has declared a state of emergency in preparation for the storm, according to Pamlico County Emergency Management.
Craven County declared a state of emergency effective at 5 p.m. Monday. "Craven County is taking steps to prepare for the worst while continuing to hope for the best," said Jack Veit, Craven County manager.
The Onslow County Board of Commissioners Tuesday morning and issued a State of Emergency starting at 8 a.m. Tuesday and has declared a voluntary evacuation order, which is in effect for the unincorporated areas of Onslow County.
New Bern and Beaufort each declared states of emergency Monday. In Beaufort, a mandatory evacuation may be issued by 10 a.m. Tuesday to begin at 3 p.m.
Emerald Isle announced a state of emergency effective 8 a.m. Tuesday. A voluntary evacuation is recommended and if conditions warrant, a mandatory evacuation may be ordered.  Rental generators, storm water pumps and fuel cells were scheduled to arrive by Wednesday and local homeowners associations are asked to pump down detention ponds and prepare for heavy rainfall. Rip currents and hazardous seas are expected to continue through next weekend.
Surf City's state of emergency went into effect at  1 p.m. Sunday, North Topsail Beach's at 1 p.m. Sunday.
A state of emergency will go into effect for Southport at 7 a.m. Tuesday.
School Closings
Carteret County schools were to operate under a normal schedule Tuesday. Decisions about Wednesday were to be made by noon Tuesday.
Pender County Schools will be open Tuesday but classes for Wednesday and Thursday have been canceled. Cape Fear Community College will close Wednesday and Thursday. The schools will monitor the storm to determine the Friday schedule.
The University of North Carolina Wilmington  has canceled classes Tuesday through Friday. All students must be evacuated from campus by 5 p.m. Tuesday.
All Brunswick County Schools will be on an early dismissal schedule Tuesday for students and staff to prepare for the impacts of Hurricane Dorian.
New Hanover County Schools will operate on a normal, full-day schedule for students and staff on Tuesday but there will be no evening activities such as athletics and Drivers education. Schools will be closed for students on Wednesday, and is an optional workday with early release for employees. Schools will be closed for students and staff on Thursday. Friday's schedule will e announced.
Maritime Interests
The State Ports Authority announced Monday that the ports of Wilmington and Morehead City would operate under normal gate hours Tuesday. Commercial gate hours at the ports of Wilmington and Morehead City will now operate 7 a.m. to noon Wednesday instead of the originally announced closure.
DORIAN UPD 3: At this time, the ports of Wilmington & Morehead City are operating under normal gate hours. Based on current forecasts, commercial gate hours at both facilities will NOW operate 0700-1200 Wed., 9/4 instead of the originally announced closure #ncports #ncwx #Dorian pic.twitter.com/5tXdXWsfyn

— NC Ports (@NCPorts) September 3, 2019

The state Division of Marine Fisheries is reminding fishers to remove fishing gear from the water well before the storm's arrival, especially crab pots and gill nets, which are prone to damage and displacement during storms.
Vessel owners should check to ensure all safety equipment is in working order and plan to remove their boats from the water or take them to safe harbor as the storm approaches. Vessels that remain in the water should be secured with extra mooring lines.
Park Closures
Moores Creek National Battlefield will close at noon Tuesday and will remain closed until the storm passes and staff has time to assess park conditions.
Cape Lookout National Seashore will close at 10 a.m. Tuesday. On Monday, the Harkers Island Visitor Center, Beaufort Visitor Information Center, Light Station Visitor Center and the Keepers Quarters Museum closed and Island Express Ferry Service ceased operations out of Beaufort and Harkers Island.
Reservations from Tuesday to Friday at Great Island and Long Point cabin camps were canceled, with additional closure beyond this time frame pending the storm's arrival. Reservations cancelled due to weather will be issued a full refund at www.recreation.gov, or call 877-444-6777.
"I hope this thing goes out to sea, but hope is not a plan. I really hate to impact people's plans, and we aim to reopen as soon as possible afterwards," said Superintendent Jeff West.
Cape Hatteras National Seashore, Fort Raleigh National Historic Site and Wright Brothers National Memorial staff are currently preparing for potential storm impacts. A high risk of rip currents, causing life threatening conditions, will persist throughout the week all along Cape Hatteras National Seashore.
"Park users should stay out of the Atlantic ocean until Hurricane Dorian passes and the risk of rip currents and hazardous beach conditions declines," said Superintendent David Hallac.
Visitor services including the campground, visitor center, ranger programs and off-road vehicle permit sales office will be suspended at 10 a.m. Tuesday on Ocracoke Island for the duration of the weather event.
Visitor centers and visitor services are likely to be suspended later this week at Fort Raleigh National Historic Site and Wright Brothers National Memorial.
Croatan National Forest campgrounds, recreation areas and gated roads will temporarily close at noon Tuesday. The ranger district office in New Bern will  close 4:30 p.m. Tuesday. Sites will reopen as soon as hazards have been evaluated and mitigated.
Learn More
Access hurricane preparation information at ReadyNC.org or download the free ReadyNC app.
Coastal Review Editor Mark Hibbs, Assistant Editor Jennifer Allen and legislative reporter Kirk Ross contributed to this report.