Reprinted with permission from Carteret County News-Times
PINE KNOLL SHORES — The Carteret County Beach Commission voted unanimously Monday during its meeting to accept a $28.2 million bid for a Bogue Banks beach nourishment project to begin early next year.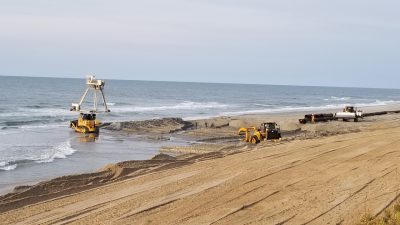 The county opened bids for the beach project Friday in Emerald Isle with Great Lakes Dredge and Dock Co. of Illinois submitting the low and winning bid,  nearly $2 million below the projection of Greg Rudolph, manager of the Carteret County Shore Protection Office.
Work will start in western Atlantic Beach in February. After completing that work, the project will move into Pine Knoll Shores and a small portion of Salter Path, then western Emerald Isle near the beginning of April.
Initially expected to begin work in November, the change in the schedule was needed because Great Lakes had other commitments. Rudolph said the anticipated project should be finished before the beginning of the 2020 tourism season.
Rudolph said that the price was especially gratifying because more sand is involved in this project than in the winter-spring 2019 project, which totaled less than 1 million cubic yards of sand and cost $20.1 million. The coming project is to be about 2 million cubic yards.
Rudolph said Monday that Pine Knoll Shores and Atlantic Beach won't have to contribute funds for the work but will be funded by the county's beach nourishment fund, with state and Federal Emergency Management Agency money.
Rudolph said that Indian Beach will repay the county for the last project with more than $6 million from FEMA soon, contributing to the county fund.  In addition to FEMA money, the project will be funded by about $12 million from the county nourishment fund and $15.3 million from the $18 million the General Assembly set aside last year to help local governments nourish beaches after Hurricane Florence, which robbed Bogue Banks of about 3.6 million cubic yards of sand.