Reprinted with permission from the Carteret County News-Times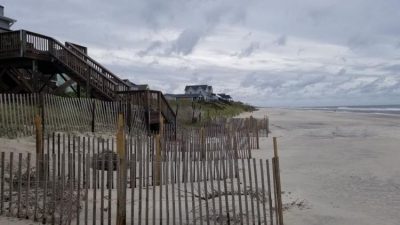 EMERALD ISLE — Carteret County Shore Protection Office Manager Greg Rudolph said early Friday morning Bogue Banks beaches appear at first blush to have fared well during Hurricane Dorian.
"So far it's looking good," he said after making his way through part of Emerald Isle, in the Ocean Oaks area, which was not nourished as part of a sand project completed this spring. Ocean Oaks is off Coast Guard Road in the western end of town.
"I've passed through part of the nourished area, too, and it looks really good; it held up well," Rudolph said.
The nourishment project in Emerald Isle was from the border with Indian Beach to the "dogleg" of Ocean Drive. Most of Salter Path and all of Indian Beach also received sand in the project.
Mr. Rudolph said he expects the rest of Bogue Banks, down to Atlantic Beach at the eastern end, probably fared as well as what he had seen Friday morning in Emerald Isle.
"The storm was remarkably reminiscent of Hurricane Matthew (in 2016)," he said. "Same path, pretty much the same forward speed."
Matthew was a Category 1 storm transitioning to a tropical storm, while Dorian was a Category 2 storm that transitioned to a Category 1 as it approached the county. Neither made a landfall in in the county, but were not far offshore when they passed by.
Although county officials in 2016 at first feared Matthew might have eroded the beaches, the county's survey after that storm, by Geodynamics of Newport, showed it actually pushed sand up from the nearshore waters of the ocean to the flat beach, resulting in a net gain, or accretion, instead of erosion.
Rudolph said Friday it's too early to say if Dorian resulted in accretion because it's hard to tell what happened to the sand in the nearshore waters. But he said the county will almost surely get Geodynamics to do a survey as soon as possible. He contacted the firm earlier this week and its crews are ready to work.
He'll also complete his own so-called "windshield" survey of the island as soon as possible and should have more firsthand observations to report.
Earlier in the week, Rudolph said he wasn't sure if the county would do a full survey after Dorian, in part because of the similarities between its path and that of Matthew. But, he said Friday morning, he feels like people will want the survey to know exactly what happened in case sand was lost.
A survey is necessary if the county wants to apply for Federal Emergency Management Agency funds to reimburse the cost of replacing the sand. The survey includes 122 beach "profiles" from the eastern tip of Atlantic Beach at Beaufort Inlet to the western tip of Emerald Isle at Bogue Inlet, a distance of more than 25 miles.
Hurricane Florence last September robbed Bogue Banks of millions of cubic yards of sand, and Emerald Isle alone is seeking more than $40 million in FEMA money for the cost of replacing it in the project this spring.
The county is planning another nourishment project for this fall in western Atlantic Beach, all of Pine Knoll Shores, a small part of Salter Path and western Emerald Isle, and officials hope FEMA money for the Florence nourishment will help pay for it.
The bid opening for that project is scheduled for 5 p.m. Tuesday at the shore protection office in Emerald Isle.