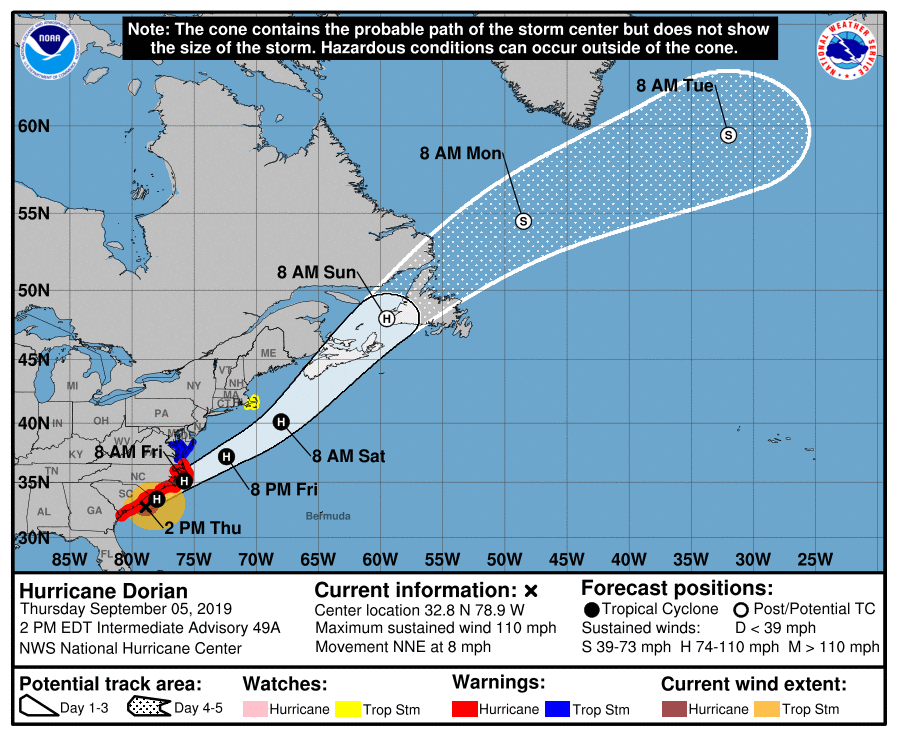 Updated at 2:15 p.m.
The threat of tornadoes accompanied Hurricane Dorian's arrival Thursday on the North Carolina coast.
A tornado watch was in effect until 4 p.m. Thursday. Tropical storm conditions were spreading along the North Carolina coast, and hurricane conditions were expected to begin later Thursday. Storm surge remains a dangerous threat with coastal areas from Myrtle Beach to Duck, including Pamlico and Albemarle sounds and the Neuse and Pamlico rivers could see a 4- to 7-foot surge. Rainfall could total 6 to 12 inches with isolated totals of as much as 15 inches in the coastal Carolinas.
The National Hurricane Center said the center of the storm was at 32.8 degrees north, 78.9 degrees west, or about 115 miles south-southwest of Wilmington and moving toward the north-northwest at about 8 mph at 2 p.m. Thursday.
Maximum sustained winds were 110 mph with stronger gusts, making Dorian a Category 2 storm, which are sustained winds of 96-110 mph on the Saffir-Simpson Hurricane Wind Scale.
The entire North Carolina coast is under a hurricane warning and a storm surge warning is in effect for Pamlico and Albemarle sounds and the Neuse and Pamlico rivers.
A turn toward the northeast is anticipated by Thursday night, and a northeastward motion at a faster forward speed is forecast on Friday, forecasters said. On the forecast track, the center of Dorian will continue to move close to the coast of South Carolina Thursday, and then move near or over the coast of North Carolina Thursday night and Friday. The center should move to the southeast of extreme southeastern New England Friday night and Saturday morning, and approach Nova Scotia later on Saturday.
Fluctuations in intensity were expected Thursday morning, followed by slow weakening through Saturday. However, Dorian is expected to remain a hurricane for the next few days.
Hurricane-force winds extend outward up to 60 miles from the center, and tropical-storm-force winds extend outward up to 195 miles.